How to Create A Free Account or Upgrade?¶
OnlineExamMaker has a free version of the application, which can be used to test the functionality and assess the value of our product before the acquisition of Paid Service.
How to create a free OnlineExamMaker account ?¶
Here is the step-by-step guide on creating a free OnlineExamMaker account
Step 1: Go to Sign up page.
Click the [Sign up] button on navigation bar.
Step 2: Get verification code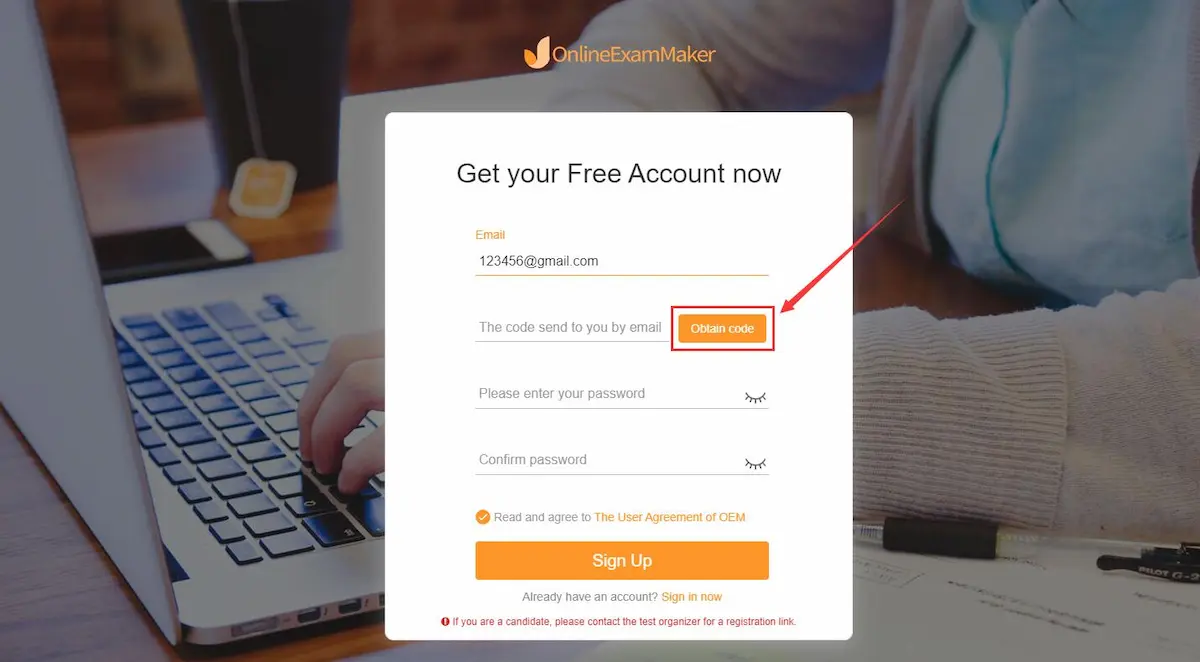 Enter your email address as your Login account, and then click the [obtain code].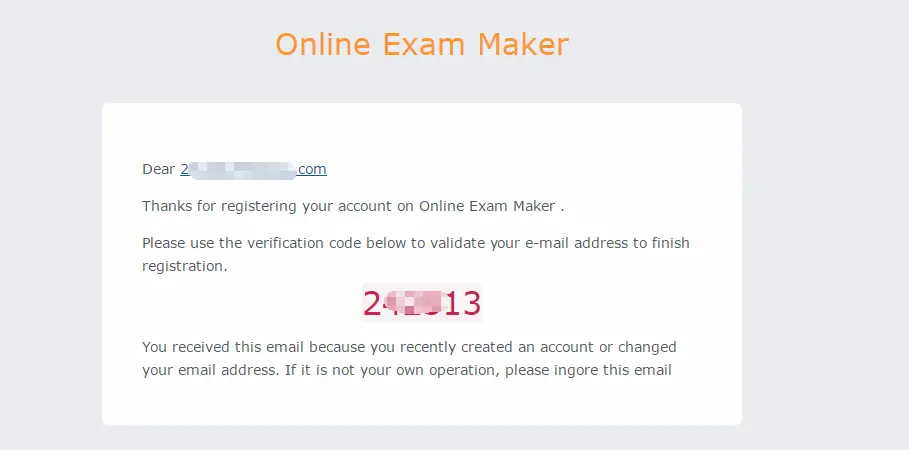 The verification code will be sent to your email. Then fill in the code and your password.
Step 3: Set password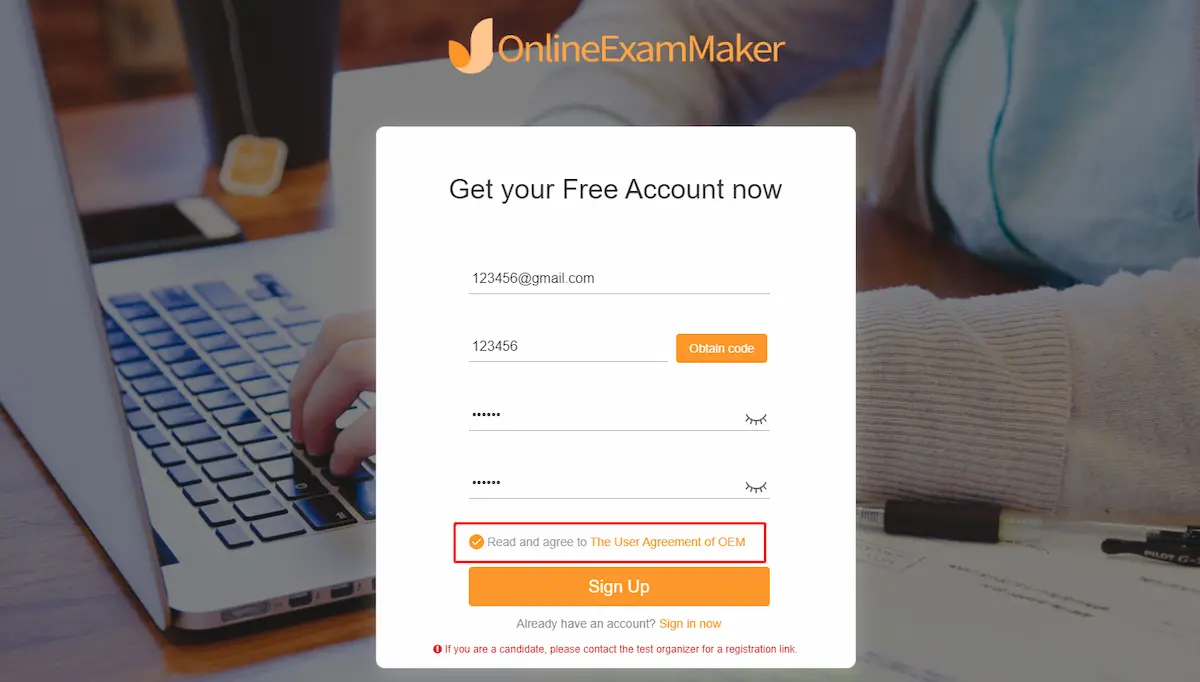 Enter verification code, fill & confirm account password, then you can tick [Read and agree to The User Agreement of OEM] and click [Sign Up] button to continue.
After completing the steps above, your account has been successfully created and you can start to sign in to OnlineExamMaker dashboard and create online assessments now.
Ho to upgrade my account?¶
If you want to access the paid features in OnlineExamMaker platform, you are required to upgrade your account.
You can upgrade your account follow these steps:
Step 1: Login to your account
Step 2: Go to Upgrade page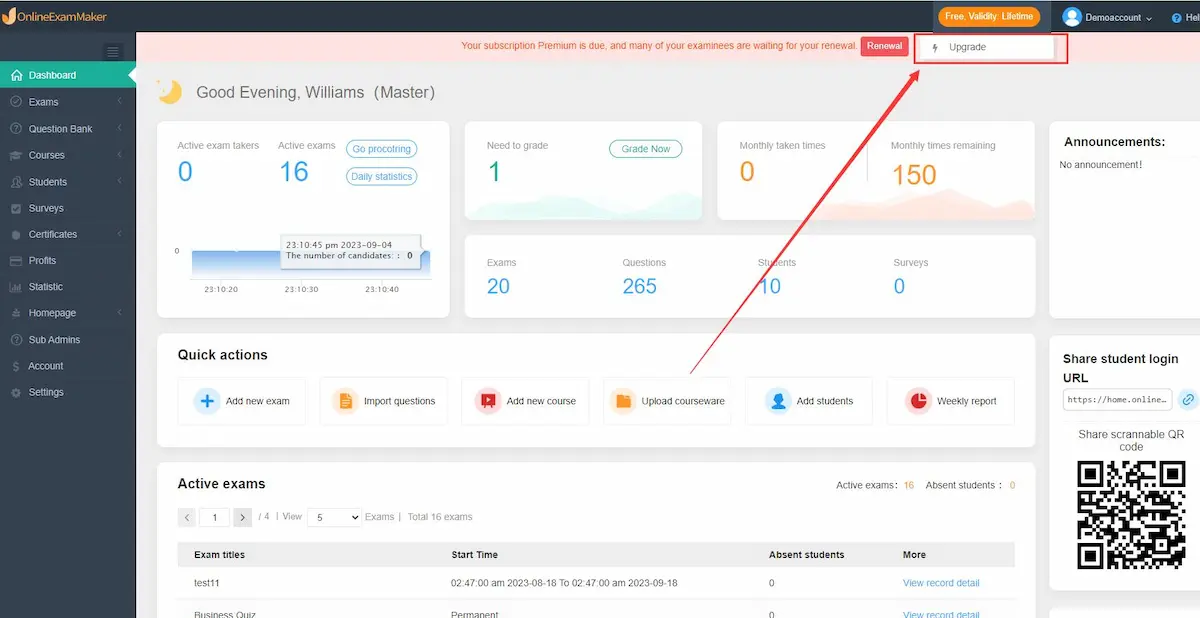 Once logged in, navigate to the top-right corner of the homepage, then click "Upgrade" to continue.
Step 3: Select a plan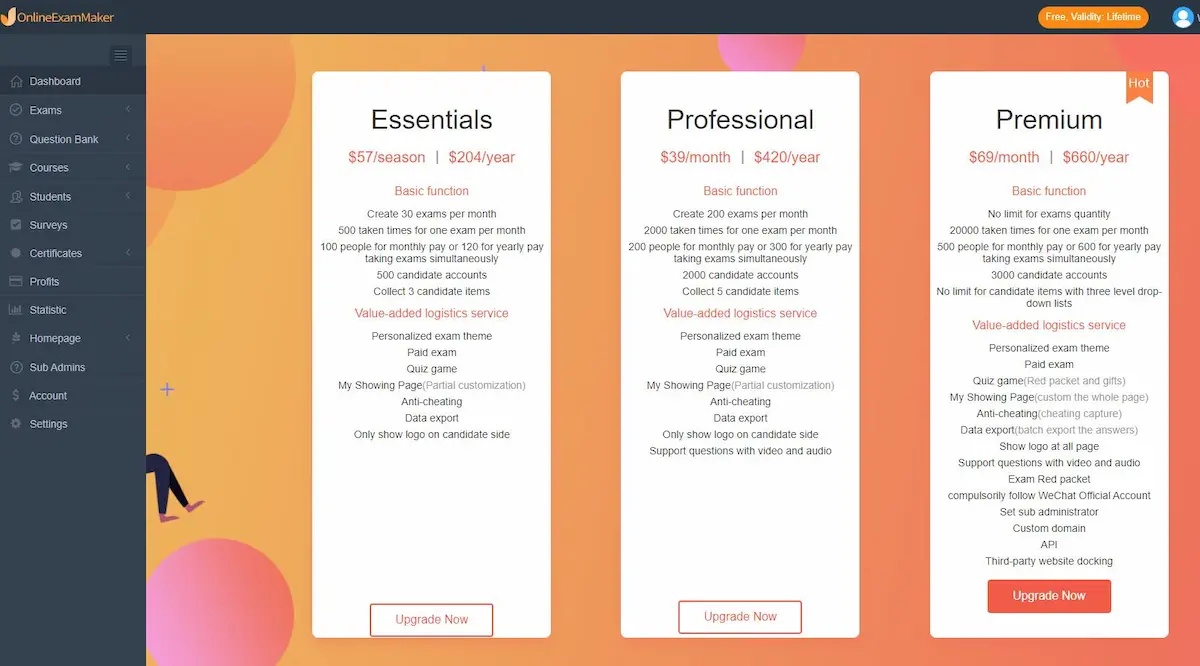 OnlineExamMaker offers 3 subscription plans, including Essentials, Professional, and Premium. You can compare the pricing, response limits, features, then choose the plan that best suits your needs by clicking on it.
Step 4: Made the payment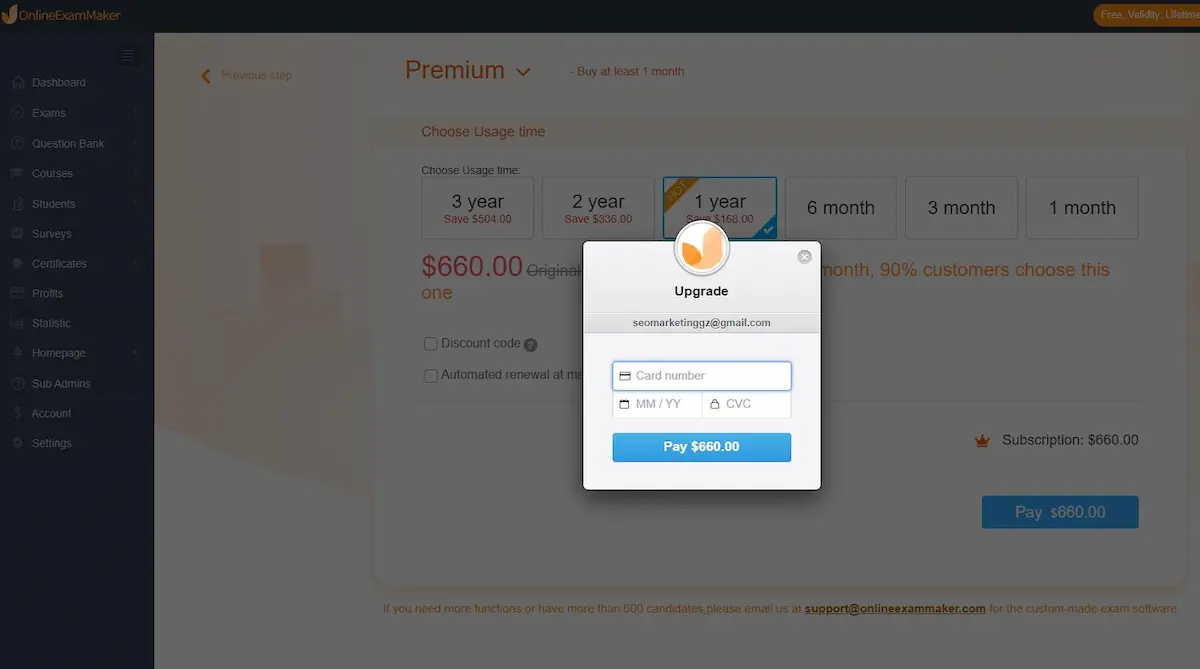 Once you've selected a plan, you'll be prompted to enter your payment information. After you finish the payment, your account should now be updated to the new subscription.
Can I upgrade my account for free?¶
OnlineExamMaker's partner program allows webmasters, video editors, bloggers or popular writers to write a review to get a Premium account for free.
How to write a review and win a free Premium membership?
Step 1: Write a Review or Make a Video
Post at least 300 words OnlineExamMaker review on your website or blog;
Publish a review (at least 200 words) at software review sites (G2, Capterra, Trustpilot) or at social platforms (Twitter, Facebook);
Publish a video(at least 2 mins) on your YouTube channel.
Step 2: Send Review or Video URL
Send email with subject "Review for Free Premium Account" to support@onlineexammaker.com including the review or video URL once you posted the review of OnlineExamMaker. You can send the link via Live Chat as well.
Step 3: Get Your Free Premium Account
We will upgrade your account within 2-5 business days once we verify the link!
Free Premium account levels
For websites: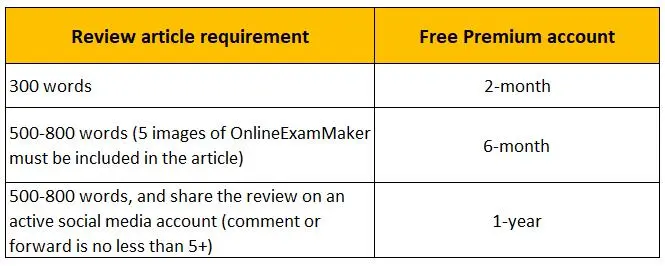 For software review sites:
If you write a at least 200-words review at the software review sites, such as G2, Capterra, or Trustpilot, we will give you 1-month Premium account for free.
For YouTube channels:
For social medias:

Tips:
If you write the article on your personal blog or website, please add a link to our official website: https://onlineexammaker.com
Copying in any form from our site or another site is unacceptable;
We reserve the right to block your license if we find your post to be spam or deleted or the account is misused.