What Settings Can Users Make When Creating A Prize Quiz?¶
**When creating a prize quiz, users can also make some useful settings. There are 2 modes of quiz, ordinary mode and multiplayer mode. Next is the detailed illustrations on the quiz settings. **
★ Permissions¶
⑴ Opening Hours Users can set a valid time and participants should attend during the valid time. ⑵ Prize Quiz Taken Times For multiplayer mode: each person can only take the prize quiz once. ⑶ Exam Login Option Users can set that one can just login to answer the prize quiz. Also, to be more private, users can just appoint the group numbers to answer the prize quiz.

**★ Collecting Candidates Information¶
**Users can collect the candidates' information when they signing in to answer the prize quiz, such as name, phone number, email address, etc.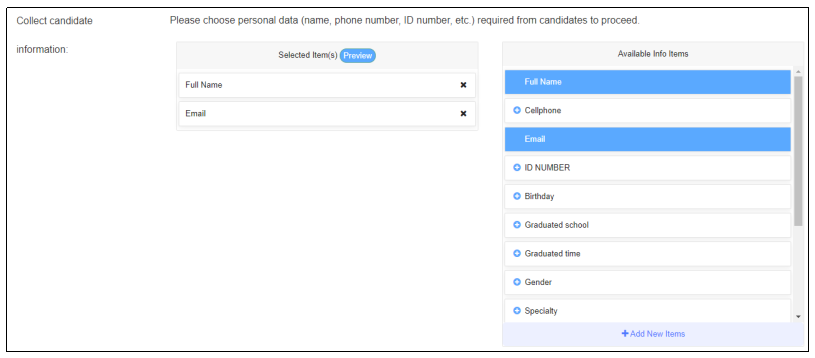 ★ Rule Description¶
The system will automatically show its default rules. But users can also customize the rule description. Besides, users can limit the time that the participant spends on each question.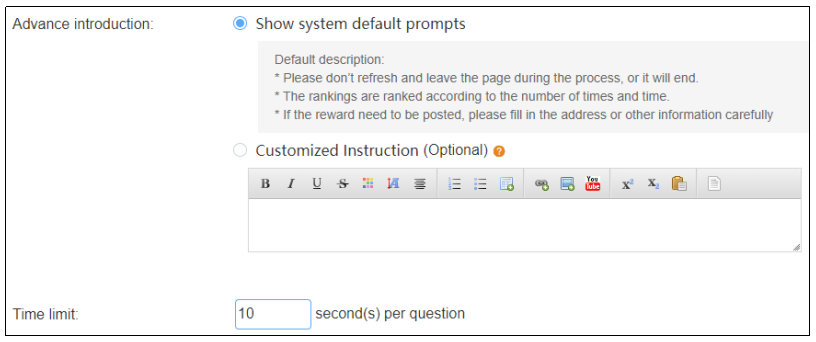 ★ Share results page¶
Users can set the display upper limit of the ranking list and the sharing statement.

★ Custom Settings¶
User can set a theme according to the quiz contents. Besides, users can set background music, such as the answer sound and the sound of wrong answers.