Quizzes have taken a lot of forms through the years of teaching. Some have form essays, identification forms, and conditional forms. But one standout the rest as this form of question has been the most used and preferred by educators and marketers in their surveys, quizzes, and exam, which is the multiple-choice form.
In this article, we will list the seven best quiz makers with multiple-choice Question Editor for teaching and marketing. To help you determine the right program for your needs, we compare features, pros, cons, and price points of each multiple choice quiz software, and review each of these tools.
Table of Contents
What Is A Multiple Choice Quiz?
Multiple Choice is a question type wherein the question gives a set of four options, from which the respondent or exam takers choose the correct one that corresponds to the question. The choices are in letters, A to D, or list type. This is the preferred form of quiz because it is relatively straightforward, making it easy to grade, gather data from quizzes and surveys, and create questions.
So when choosing a quiz maker, it is vital to have this form of a question as it is essential and a basic form of a question to improve quizzes and surveys.
What Are The Usages of Multiple Choice Quizzes?
Multiple Choice Quizzes are a popular and effective way to assess knowledge and understanding in various educational and professional settings.
Education
Formative Assessment: Teachers use multiple choice quizzes as a form of ongoing assessment to gauge students' understanding of a topic. It helps identify areas where students may need additional support.
Summative Assessment: Multiple choice questions are commonly used in exams to assess a student's overall comprehension of a subject.
Professional Training
In corporate settings, multiple choice quizzes are used for training purposes. They help assess employees' understanding of new policies, procedures, or training materials.
Certification Exams
Many professional certification exams use multiple choice questions to evaluate candidates. This format allows for efficient and standardized testing across a large number of individuals.
Surveys and Market Research
Multiple choice questions are often used in surveys and market research to collect quantitative data. Respondents can quickly and easily select their answers from predefined options.
Gamification
In gamified learning environments, multiple choice quizzes can be integrated to make the learning experience more engaging. Correct answers may lead to rewards or progression within the game.
Comparison Table about Multiple Choice Quiz Maker Tools
Top 8 Multiple Choice Quiz Makers for Teaching & Marketing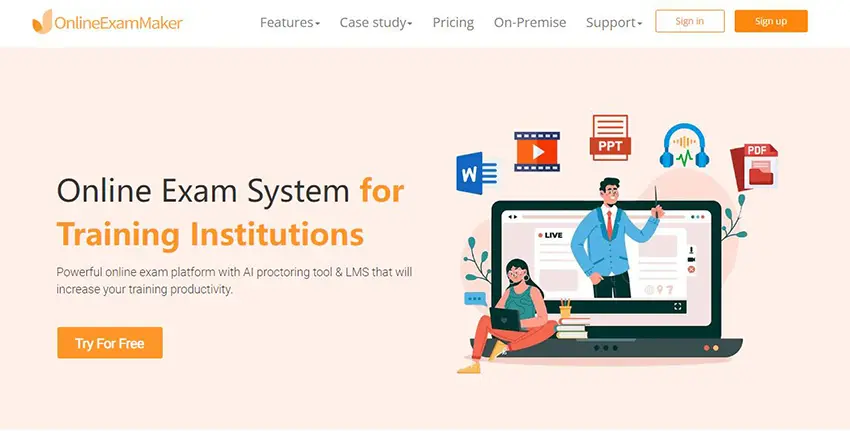 G2 Rating: 4.5/5
Supported Question Types: 10
Pricing: Free, no credit card required. Essentials plan, $17/month; Professional plan, $35/month; Premium plan, $55/month.
OnlineExamMaker is one of the top multiple choice quiz maker tools as it can customize, conduct, and automatically grade tests , quizzes, and survey with the help of Ai in each of its features. It is run independently by the HZ team, which focuses on helping educators, institutions, and governments with their survey and assessment needs. OnlineExamMaker is also helpful in providing comprehensive data as an analytic tool that provides valuable insights and interpretation of the results of the quizzes and surveys. With these many features, OnlineExamMaker can deliver convenient, efficient, and time-saving online quizzes and surveys.
Unique Features::
• Flexible Exam Administrator – The software has an easy panel for administering quizzes and surveys, showing the current status.
• Enormous Question Bank – Capable of holding thousands of questions and can also cite other questions created from the software
• AI Anti-Cheating System – A secure way to maintain the integrity of quizzes and surveys that runs on ai but can also combine with live proctoring and log reports
• Result Benchmarking – An advanced auto-grading system where it shows the weakness and strengths through the result of the surveys and quizzes
• Whole Personalization – Ability to personalize the software, from the public homepage, and welcome page, up to quizzes. You can add a background, colors, and more.
• Monetization of Your Work – Earn additional income through your created quizzes and surveys.
Create Your Next Quiz/Exam with OnlineExamMaker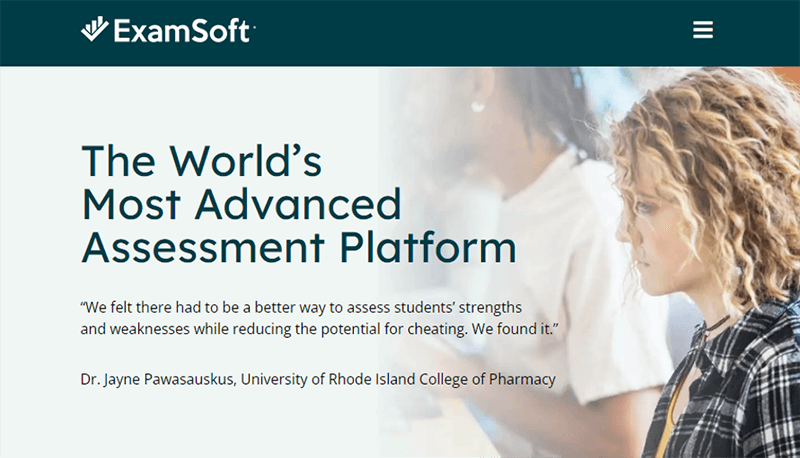 G2 Rating: 4.0/5
Supported Question Types: 6
Pricing: Free demo. Custom pricing.
ExamSoft is an online quiz software run and developed by Turnitin whose goal is to provide a computer-based assessment that gives a detailed report that is valuable for teachers and marketers. ExamSoft is a popular choice in education, but they are now branching to corporate and government with their innovative quizzes and surveys.
Unique Features:
• Secured Verification – A secure way to verify students and exam takers from any place.
• Proctoring System – Helps to maintain integrity in quizzes and surveys with the help of the AI system and other tools.
• Unique Grading system – It is a simple automated grading system, but it is rubric-based making it easy to interpret.
• Assessment System – A different approach to a student and market behavior that helps keep track of students' situation or the market.
• Exam Blueprinting – Map assessments to learning outcomes for alignment and curriculum mapping.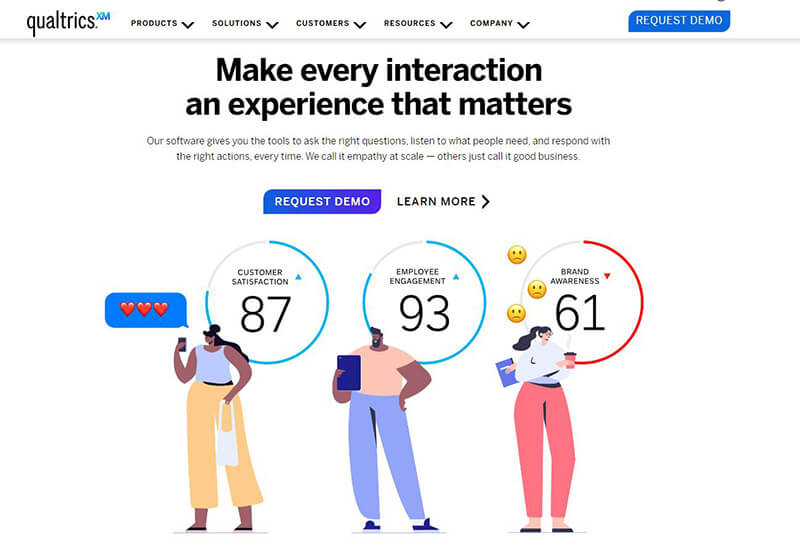 G2 Rating: 4.4/5
Supported Question Types: 11
Pricing: Free demo. Custom pricing.
Qualtrics provides a fast and informative result with the help of their market and assessment tool, designed to be unique and better. Qualtrics is used for education, but its main focus is marketing, as they have many tools, like competitor benchmarking. Qualtrics also achieve different awards from Capterra, like Emerging Favorite for AB testing and market research software and Noteworthy product for survey Software.
Unique Features:
• Complete Customization – The software is fully customizable, and you can add your branding to surveys and quizzes
• Data Analysis Tools – Use different kinds of tools and solutions to give proper insights and valuable interpretation to marketers and teachers.
• Predictive Analysis – Unique for Marketers as the software helps predict an outcome based on the result of surveys.
• Mobile Reach – Connect with every customer in every location.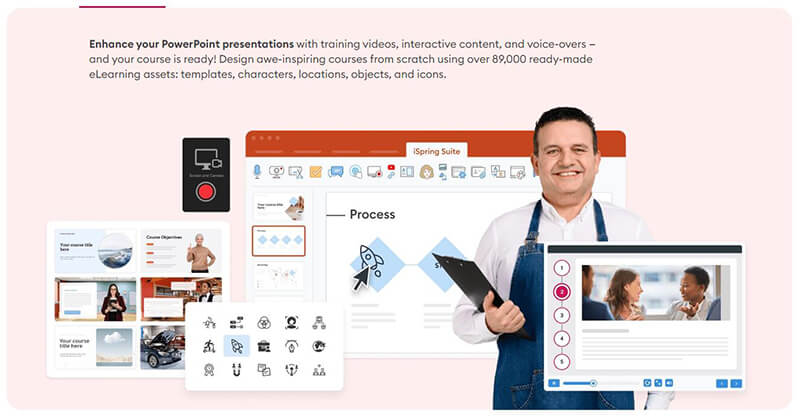 Capterra Rating: 4.6/5
Supported Question Types: 14
Pricing: Desktop software with free trial. For premium versions, iSpring Suite, $770 per author/year; iSpring Suite Max, $970 per author/year; iSpring Suite Premium, $1970 per author/year.
iSpring QuizMaker is another great assessment tool perfect for educators and marketers as they provide engaging quiz formats that brings a new sense to quizzes and surveys. iSpring QuizMaker uses conventional and unique tools for its quizzes and surveys, making them both simple and interactive. Another noteworthy thing in iSpring QuizMaker is there intuitive interface making quizzes and survey easy to create
Unique Features:
• 14 Question Types – There are 14 different question types to choose from when using spring to make your quizzes and surveys better
• Live Feedback – Give detailed feedback, either customized or automated, after every question or the actual test.
• Advanced Test Formats – Can handle complex questions like math equations and symbols to make quizzes comprehensive.
• Certificate Builder – Create quiz certificates for recognizing learners' achievements.
• LMS Tool – Branching and navigation to create personalized learning paths.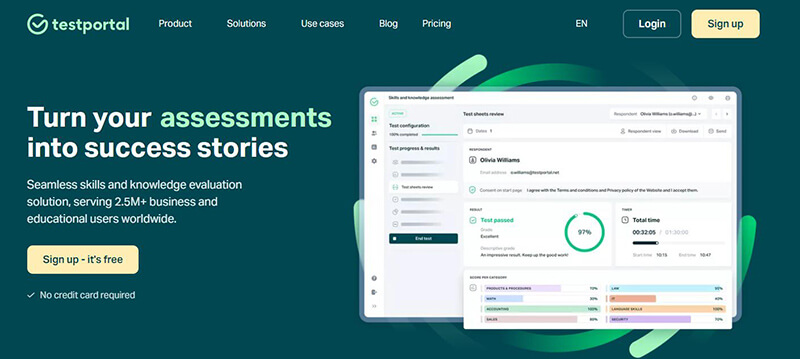 Capterra Rating: 4.5/5
Supported Question Types: 8
Pricing: Free to use. TestPortal paid plans start at $29/month for Standard plan, 59/month for PRO plan, 99/month for MAX plan.
TestPortal is a famous Quiz maker tool because it is easy to create engaging online quizzes and assessments. The software is user-friendly, making it easy to create quizzes and surveys instantly, saving you from wasted time. TestPortal test-sharing is also high quality paired with its high security, ensuring the integrity and privacy of each test while sharing it. Because of its many tool and feature, TestPortal has garnered awards from Crozdesk as Quality Choice and High User Satisfaction.
Unique Features:
• Easy Assessments – the software notifies whenever a user starts their review and helps keep track of the progress.
• Ample Storage – You can create as many quizzes and surveys as you like.
• AI Question Generator – Automatically create questions for your assessments using AI technology.
• Hiring Tests – Elevate your recruitment processes with online tests.
• Quiz Feedback – Decide which information to share with students automatically.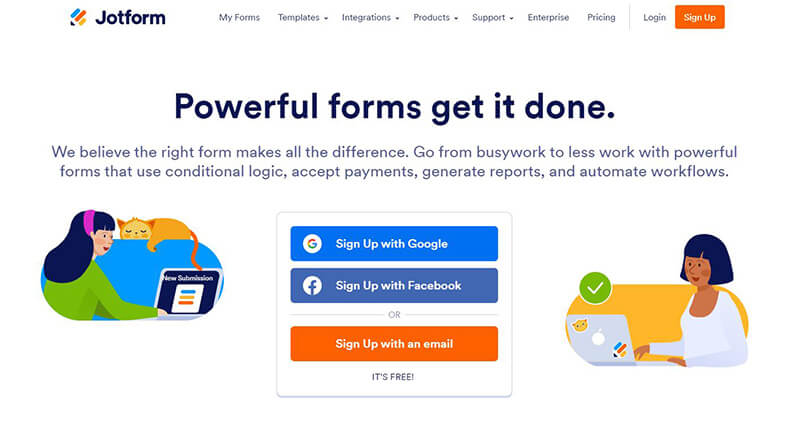 G2 Rating: 4.7/5
Supported Question Types: 8
Pricing: Free. 3 subscription plans, $34/month for Bronze plan, $39/month for Silver plan, $99/month for Gold plan.
JotForm is a famous quiz-making tool trusted by 18 million users thanks to its easy way of creating and publishing quizzes and surveys on any device with the internet. It makes accessible multiple choice quizzes and surveys because of the ready-made template that a company or school uses for the examinations and surveys. The collaboration, as well as other apps, makes Jotform flexible to use. JotForm flexibility in form also makes it a solution for various problems.
Unique Features:
• Thousands of Templates – Easily create forms with the help of different templates according to other devices and is provided by JotForm.
• Drag & Drop Quiz Maker – Create interactive questions easily in Jotform Question Editor.
• Export Quiz Reports – Share your results by exporting them to CSV, Excel, or PDF files.
• Embed to Website – Generate embed code to help you embed quiz form to a website in seconds.
• Jotform Tables – View your form's quiz responses in Jotform Tables for further analyze.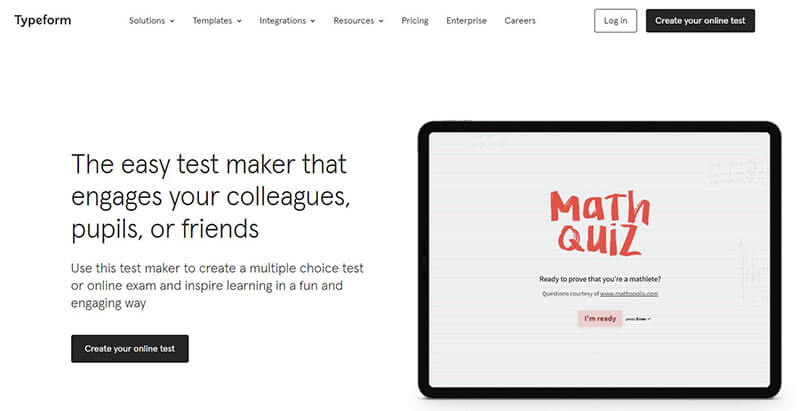 G2 Rating: 4.5/5
Supported Question Types: 7
Pricing: Free. Basic plan for $25 per month, Plus plan for $50 per month, Business plan for $83 per month,
TypeForm is one of the most accessible training quiz software to create and administer quizzes and surveys as their interface is friendly and thoughtfully planned to make a smooth experience for users. TypeForm is both versatile data collection and interactive quizzes, a massive benefit for takers and creators of quizzes and surveys. TypeForm is popular because they focus on customer satisfaction in making its quiz software.
Unique Features:
• Super Friendly Interface – Its friendly interface makes it very fun to use and will be comfortable at the very start.
• Versatile Quiz Maker – Its numerous template and tools make it a versatile tool for creating a quiz that leads to engaging forms, exams, and surveys.
• ocial Share – Share online quizzes to social platform from Typeform platform directly.
• Embed Multimedia – Enhance quizzes with images, videos, and audio elements for a rich and interactive experience.
• Lead Generation – Collect leads using responsive forms before quiz.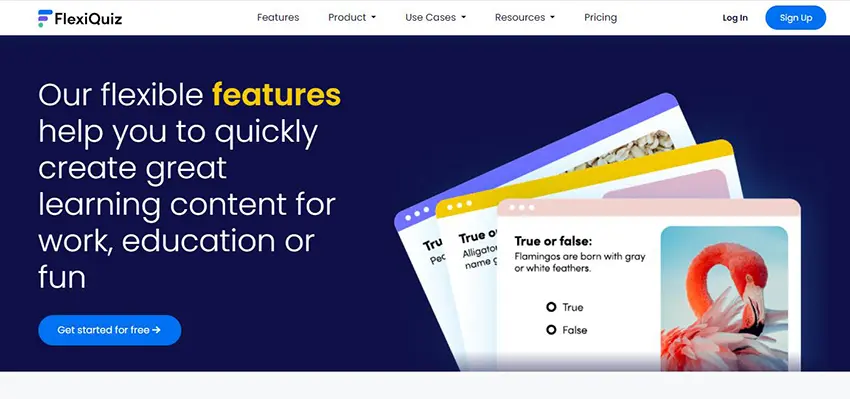 Capterra Rating: 4.7/5
Supported Question Types: 9
Pricing: Free trial. Flexiquiz offers a range of paid plans starting from around $17 per month for their Essentials plan, up to $60 per month for their Enterprise plan.
As a leading online quiz platform, FlexiQuiz helps teachers, digital marketers, and trainers to create, customize, and manage quizzes and assessments. It's designed to be user-friendly and offers various features for creating interactive quizzes.
FlexiQuiz allows users to create quizzes with different question types, including multiple-choice questions, true/false questions, short answer questions, and more. The platform typically supports automatically grading feature, allowing quiz creators to assign points to each question and set passing scores.
Unique Features:
• Course Creation – Build a course with varied lessons for your training.
• Add Rich Media – Add images, videos, gifs or audio to any page or question type.
• Share & Download – Share downloadable files such as PDFs, Word or Excel documents.
• Thank You Page – Create a custom thank your page to share more information.
• Question Types – Supports 9 question types that you can customize for almost any kind of quiz.
How to Make A Multiple Choice Quiz Maker with OnlineExamMaker?
Follow these simple steps below to learn how to make an interactive multiple choice online quiz with OnlineExamMaker, the best free online quiz making platform.
Step 1: Register an account in OnlineExamMaker, the login to dashboard.
Step 2: Select "Question Bank" and then "Question list, create "New question" button to add multiple choice question title, edit answer options to create a question. You can repeat this step to generate more questions.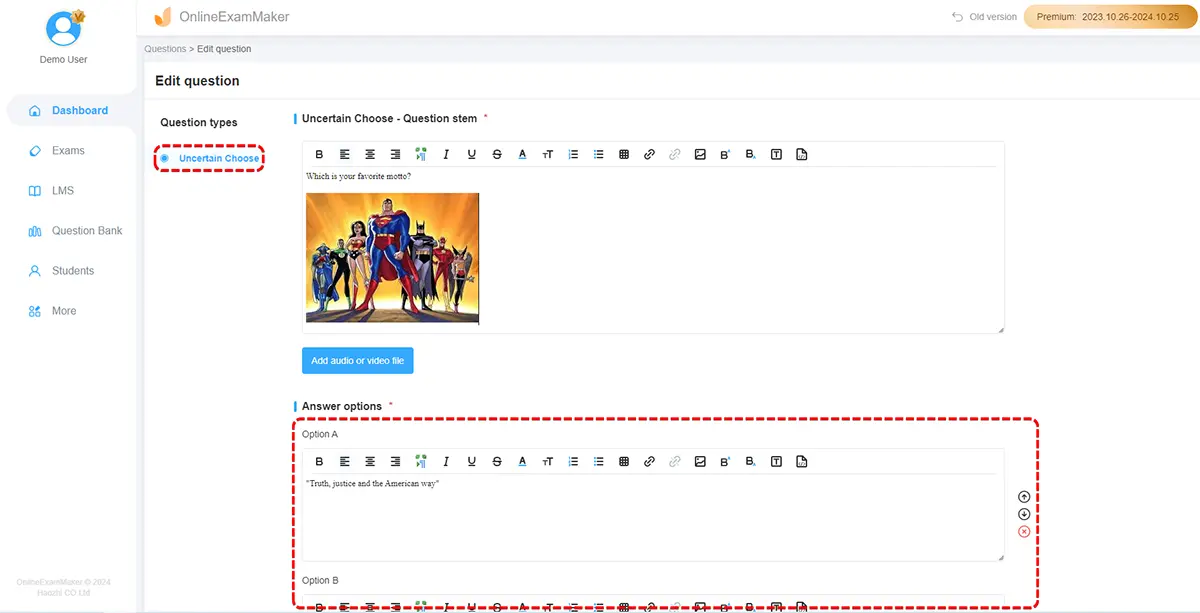 Step 3: Create a new quiz, fill quiz information, add quiz cover, select a quiz category. Once the quiz is created, you can add multiple questions from OnlineExamMaker Question Bank directly.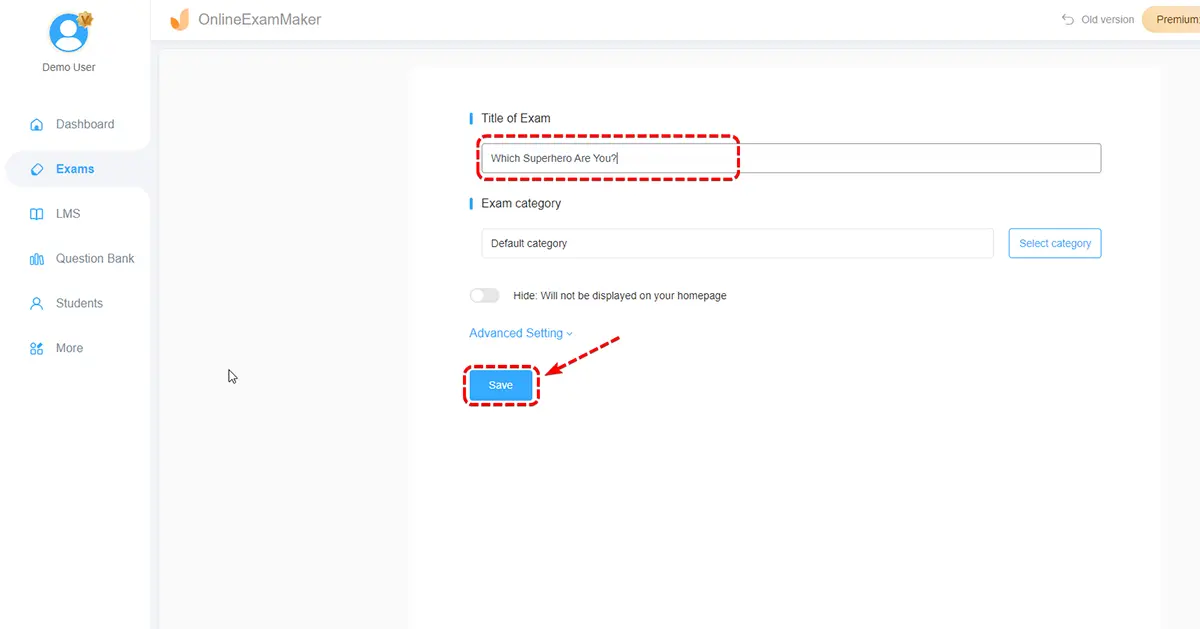 Step 4: Then you can customize your quiz settings the way you like it. It could be the attempts, quiz themes, quiz background, access code and anti-cheating settings.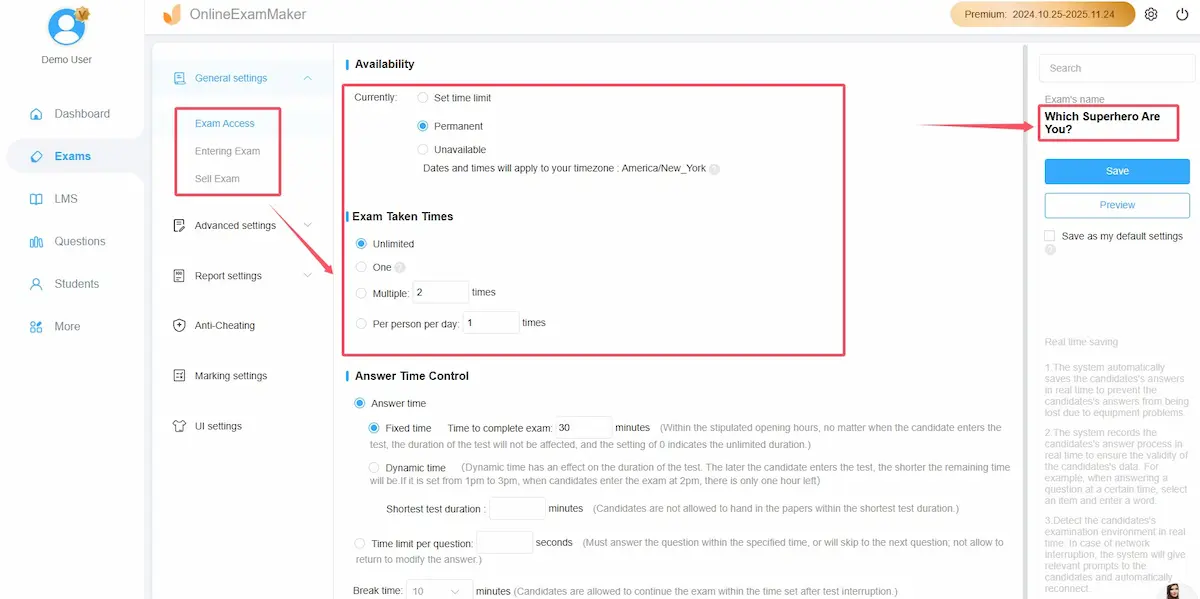 Step 5: Click "Publish" button to publish the quiz. You can assign the live quiz to a student group, or share quiz link to email, SMS, or social channels.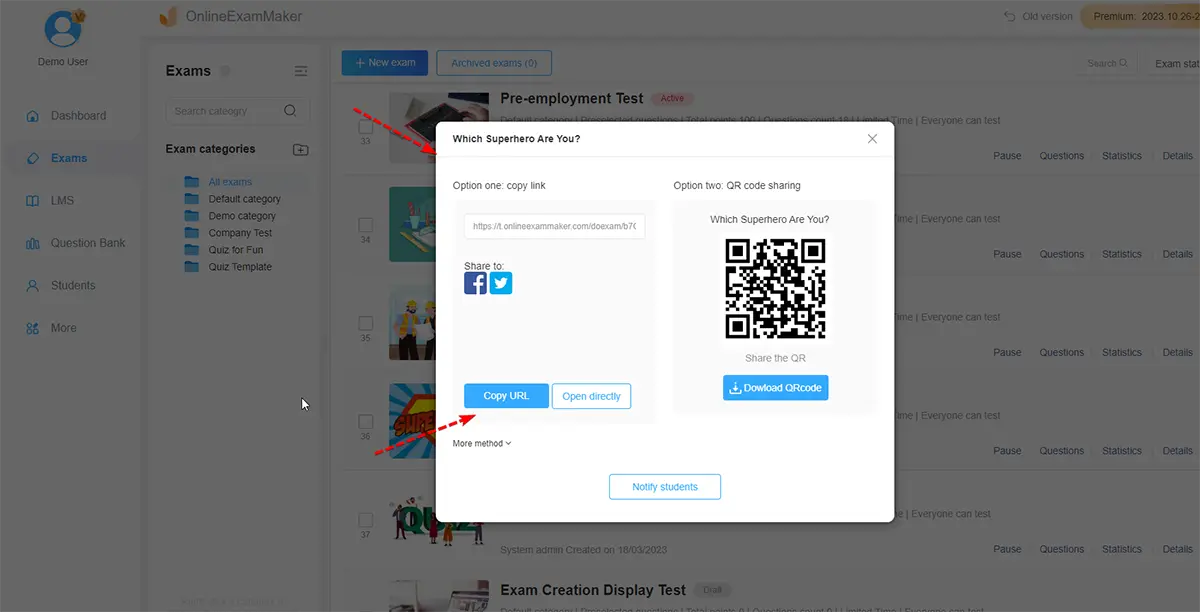 Multiple Choice Quiz Maker FAQ
Where Can I Find Multiple Choice Quiz Template with Questions & Answers?
If you want to generate multiple choice quiz questions automatically, you can use AI tools, such as ChatGPT. You can also create an account in OnlineExamMaker and download free quiz questions for free in out Questions & answers Library.
What is a Multiple Choice Quiz Maker?
A Multiple Choice Quiz Maker is an online tool or platform that allows users to create, customize, and deploy quizzes with multiple-choice questions.
How do Multiple Choice Quiz Makers Work?
Quiz organizers start by creating a quiz, adding questions, and defining answer choices. Once the quiz is ready, it can be shared with participants who can select their answers. The quiz maker often provides scoring and analytics features.
Can I Customize the Appearance of My Quizzes?
Yes, many quiz makers offer customization options. You can often add images, videos, and branding elements to make your quizzes visually appealing and aligned with your organization's identity.
What Security Measures are in Place to Protect Quiz Data?
Security features vary, but a reputable quiz maker should include measures like encryption, secure data storage, and user authentication to protect sensitive information.
How Scalable are Multiple Choice Quiz Makers?
Scalability varies among platforms. It's important to choose a quiz maker that can accommodate your needs as your user base and quiz complexity grow.
What is the Pricing Model for Multiple Choice Quiz Makers?
Most software provides free trial. If you use OnlineExamMaker, you can conduct 150 quiz attempts for free. You can publish quizzes with unlimited quiz attempts if you upgrade to Premium plan, which cost $55 per month.
Are There Reviews or Testimonials from Other Users?
We analyze the reviews of software in this article, you can read the detailed review content in G2, Capterra, or GetApp.
What Features Should I Look For in an Intro Video Maker?
The top five features you should look for are:
1. Question bank with question editor;
2. AI anti-cheating technologies;
3. Multiple sub-admin accounts for teamwork;
4. Embed video, audio to question;
5. Quiz certification maker for quiz takers.