A matching quiz is an objective assessment form widely used by different fields. It usually consists of 2 columns wherein the candidates connect column A to column B. Matching quizzes are perfectly made for recognition assessment and recall. Examinees can train their lower-order thinking skills, including comprehension, remembering, and knowledge. If the matching questions are well-crafted, it can also cater to the students' higher-order thinking skills. This form of assessment can provide various advantages to the exam administrator. It can help the administrator to diagnose the examinees' level of understanding about a specific topic.
Table of Contents
What Is A Matching Quiz and Its Usages?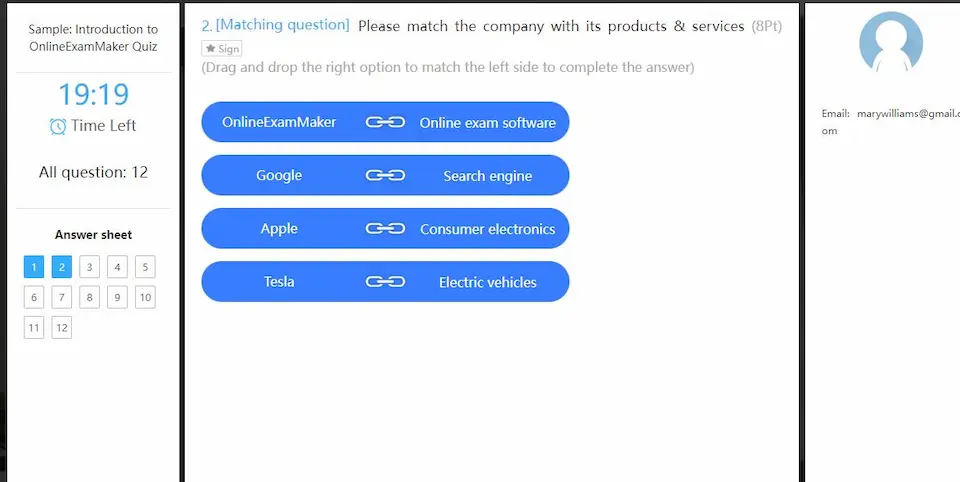 Matching quizzes assist professionals and educators to further improve and develop themselves, especially in terms of delivering a new set of skills and knowledge. It also provides all the necessary information to know which specific skill and knowledge must be attained and adapted.
Matching quizzes are versatile since they can be used in various topics. They can also contain multiple questions wherein candidates must think about their answers, which prevents them from wild guessing their answers. An interactive matching quiz also provides engagement and fun for the students, allowing them to retain all the information obtained during the discussions effectively.
Some of the uses of matching quizzes are as follows:
Terms and Definitions
Matching quizzes can be a perfect fit for remembering terms and definitions. This will allow the candidates to reflect and remember all the essential terms used within a specific field of study. By administering a matching quiz containing terms and definitions, you can also determine the candidate's understanding of particular terms.
Order of Operations
Using matching quizzes for the order of operations allows the candidates to remember the sequencing of processes used in a specific field. The result of this form of assessment can tell you whether a candidate can perform a skill-based task or not. Given that the matching quiz is a written form of check, using it for the order of operations will also require the candidates to use their psychomotor skills.
Element Symbol Match
Element symbol match is another use for matching quizzes. Just like in terms and definitions, this assessment form allows the candidates to think and remember the important symbols used in a specific field. For example, in electrical engineering, candidates must be well aware of the various symbols used to avoid miscommunication, especially if they are dealing with the blueprint of a building. By checking their level of understanding regarding the element symbols, you can ensure that candidates can effectively use these symbols appropriately.
Scenarios and Responses
Another use of a matching quiz is providing scenarios and responses that require the candidates to think of the appropriate response to a specific scenario; by giving them why and how questions, candidates can put themselves into the position of the person described in the question. This will enhance the candidate's affective and psychomotor domains of learning.
How To Choose the Best Matching Quiz Makers?
Multiple matching quiz creating tools are available online, so how will you select the best? Here are some factors that you must consider when choosing a quiz making software:
Accessibility
Accessibility is one of the vital factors when choosing a matching quiz maker. Choosing an accessible platform may result in easier data gathering and will provide flexible options among your users. You also must make sure that it can be accessed through various devices. Some quiz-making software is only available on computers, which makes it time-consuming for the respondents to answer.
Security
Another factor that you must investigate is the security feature of your chosen quiz-making software. You must ensure that the software you're about to use can store all data gathered safely. This will protect all confidential information about you and your professionals.
User Interface
You must consider the user interface when selecting a matching quiz maker. Check if the platform uses labels and instructions that are easy to comprehend. An interactive and user-friendly interface allows users to navigate the platform quickly and avoids miscommunication between the quiz administrator and the examinees.
Customization
Personalization and customization provide the sensation of ownership. If the users can customize their accounts, it can give positive reinforcement and encourage them to answer all the tasks and quizzes given to them.
Pricing
Lastly, when choosing a matching quiz software, consider its cost. Check whether the cost required to implement such a platform in your workspace is affordable. If you think the price doesn't equal the number of features the software offers, try looking for a more suitable application for your institution.
8 Best Matching Quiz Makers Comparison Chart
| Software | Ratting | Question Types | AI Technologies | Pricing | Free Trial |
| --- | --- | --- | --- | --- | --- |
| OnlineExamMaker | G2, 4.5/5 | 10 | AI proctoring, intelligent reports, AI retake wrong questions | $17/month | Signup Free |
| eSkill | Capterra, 4.5/5 | 8 | AI anti-cheating | Custom pricing | Signup Free |
| Cloud Assess | Capterra, 4.7/5 | 6 | Some | $50/month | Signup Free |
| Quizizz | Capterra, 4.8/5 | 11 | AI quiz creator | $50/month | Signup Free |
| Top Hat | Capterra, 3.8/5 | 14 | No | $53/year | Free Demo |
| ProProfs | G2, 4.4/5 | 12 | AI question generator | $20/month | Signup Free |
| ExamOnline | G2, 5.0/5 | 10 | AI exam monitoring | Custom pricing | Signup Free |
| Digiexam | G2, 4.5/5 | 6 | AI screen freezing | Custom pricing | Signup Free |
8 Best Matching Quiz Makers to Create Online Assessments
G2 Rating: 4.5/5
Support Question Types: 10
Pricing: Free, Subscription available for $17/month for Essential plan, $35/month for Professional plan, or $55/month for Premium plan.
Key Features
● Supports up to 10 question types, including matching, sorting, multiple choice, fill-in-the-blank, and more.
● Online Exam Maker supports social media sharing, providing accessibility to its users. It also lets you choose whether you'll share a link or a QR code with the examinees.
● It allows users to simultaneously use various media formats to make their exams challenging and fun!
● Provides remote proctoring and honest response technology, which will allow you to monitor the screens of the examinees throughout the examination and lock their browsers to ensure that no cheating incident will occur.
● Automatic grading, provides teachers with a detailed report and exam results—allowing you to see the examinees' performance immediately!
Who It's For?
This software is ideal for professionals, educators, and trainers who is looking to create matching quizzes. This will let you to track your progress and improvement areas. It can provide insightful data as to what skills you must improve.
Why We Picked It
Online Exam Maker is one of the well-known web-based matching quiz creator software. It allows users to create exams and evaluations. It is made suitable for training, requirements, and course assessment. The software is beginner-friendly, you can easily understand and use every feature of this platform. It is also equipped with all the tools to create a practical assessment at an affordable price!
Create Your Next Quiz/Exam with OnlineExamMaker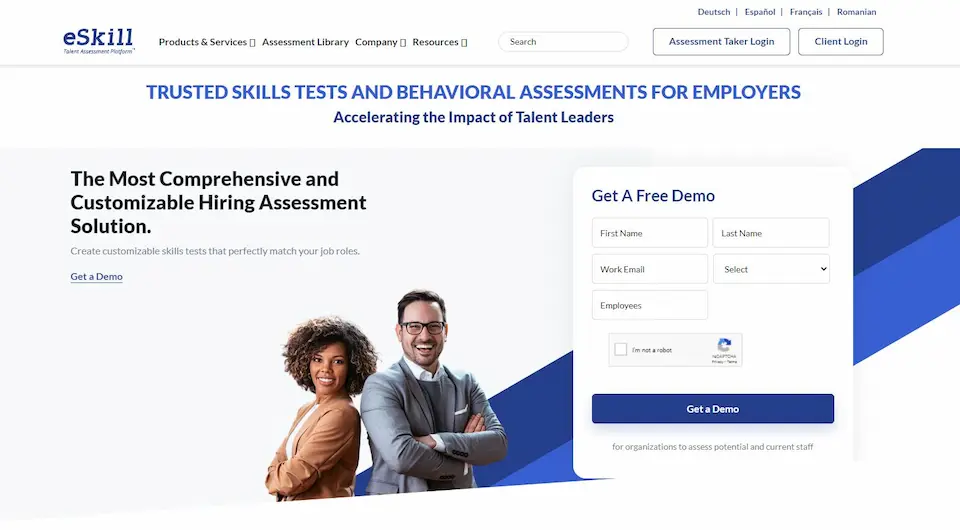 Capterra Rating: 4.5/5
Support Question Types: 8
Pricing: Free demo. Custom pricing.
Key Features
● eSkill has pre-employment and behavioural assessment tools companies can use to develop hiring outcomes.
● It is accessible through the web, android phones, iPhones, and iPads.
● eSkill also provides support options for their users, including email help desk, chat assistance, 24/7 live representative, and phone support.
● Job-Based assessments to assess candidates online easily.
Who It's For?
eSkill is perfect for organizations and employers as it provides skill-testing services. It can also be used in educational institutions as a pen-and-paper exam substitution, as highlighted in assessment tools.
Why We Picked It
eSkill provides cost-effective results that allow users to thrive and improve their hiring timetable.
Capterra Rating: 4.7/5
Support Question Types: 6
Pricing: Free trial. $50 per month for Lite plan. For their Pro and Premium plans, you need to contact Cloud Assess team for price quote.
Key Features
● Cloud Assess is built with a resource library where all learning resources can be accessed.
● It also has a calendar that allows users to plan their schedules effectively.
● Cloud Assess also has a messaging feature that allows users to interact and collaborate.
● It also allows users to check their accounts even without an internet connection.
Who It's For?
Cloud Assess is the perfect companion for frontline and deskless workers. It helps companies to ensure that their workers are skilled and knowledgeable. Incorporating this platform into your institution will ensure your candidates get the growth they need in their learning journey.
Why We Picked It
Cloud Assess can provide all the necessary insights for career growth and development. It measures the skill set of the candidates by administering skill-based tests.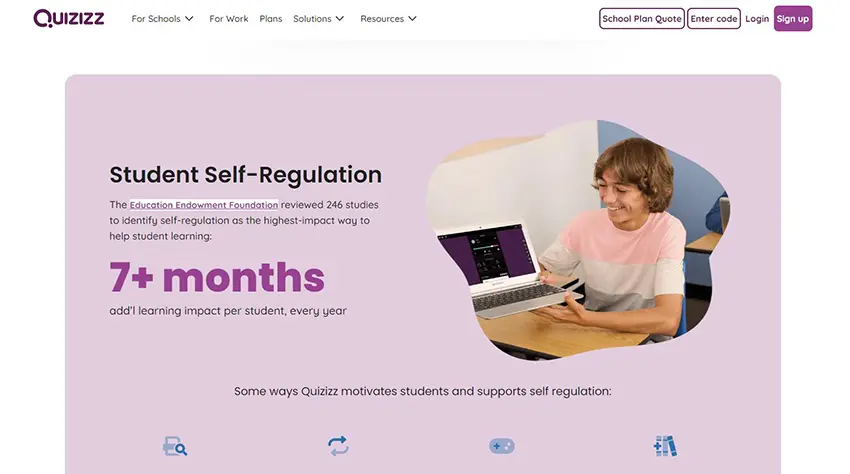 Capterra Rating: 4.8/5
Support Question Types: 11
Pricing: Free. Quizizz's paid plans starting at $50/month for up to 100 active participants.
Key Features
● Quizizz can be accessed through various devices such as smartphones, laptops, and computers.
● Users can customize their assessment with multiple question types.
● Supports multiple media formats such as visual, audio-visual, and audio media.
● Users can choose whether the quiz will be instructor-paced or learner-paced. An instructor-paced examination lets the instructor decide when to move to the next question.
Who It's For?
This software is made for various users, from educators to field professionals. Incorporating Quizizz into your workplace can improve engagement among your colleagues.
Why We Picked It
Quizizz offers fun and interactive assessment, lessening the examinees' stress levels.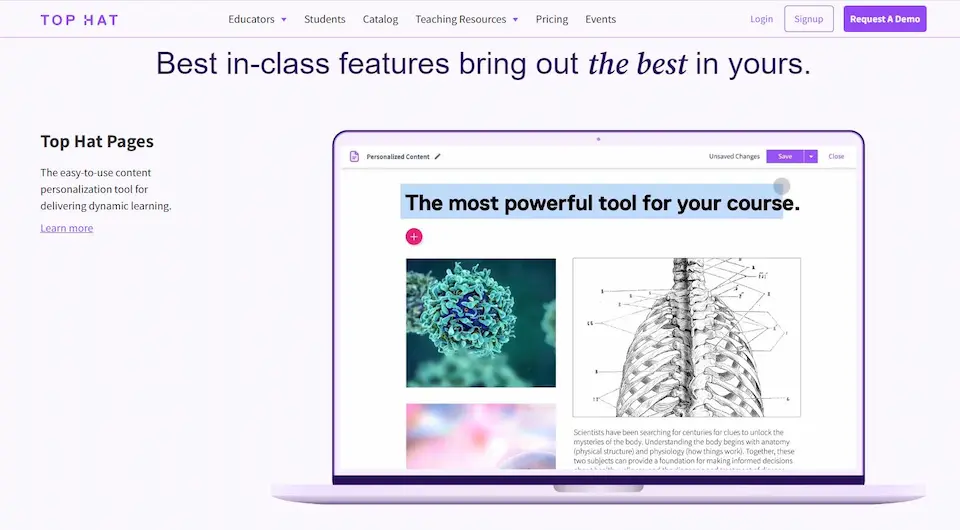 Capterra Rating: 3.8/5
Support Question Types: 14
Pricing: Free demo. $53/year per student.
Key Features
● Top Hat has actionable insights such as attendance, test data, etc.
● It encourages collaborative authoring, where multiple users can access one quiz file—allowing them to brainstorm about the questions given in the exam.
● Learning Management System integration that allows users to input learning resources and contents.
● Keep your students engaged with 14 question types, make polls, surveys, quizzes easily.
Who It's For?
Top Hat is made for professionals and teachers alike. It is used to deepen the examinees' knowledge and explore new ways to obtain it. Including Top Hat in your company will surely improve the skill set of your professionals.
Why We Picked It
Top Hat can serve as an engagement tool that can help retain the skills and knowledge gathered by the learners. It can also provide real-time actionable insights through polling and others.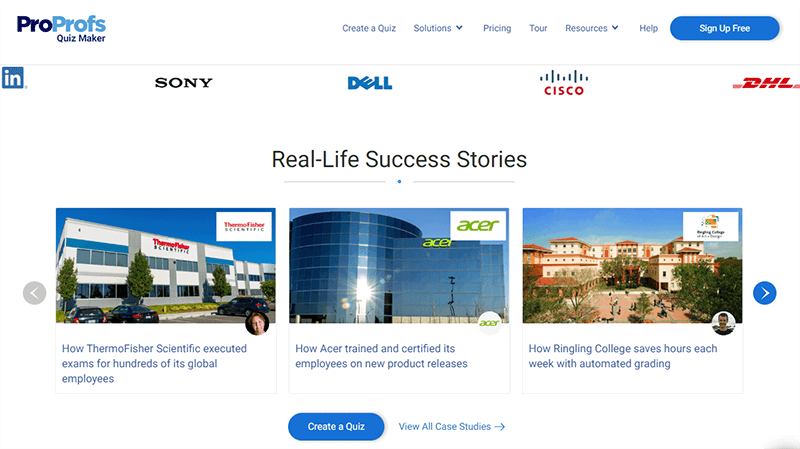 G2 Rating: 4.4/5
Support Question Types: 12
Pricing: Free. The premium plans range from $20/month for Essential plan, to $200/month for Business + plan.
Key Features
● ProProfs has an AI quiz builder to help you write and check the questions you included in your quiz.
● It also offers various ready-to-use templates.
● ProProfs also encourages collaborative authoring through shared folders between users.
● After the assessment, ProProfs also provides reports and analytics to help you interpret the exam result.
Who It's For?
ProProfs can serve as an assisting tool for professionals and educators alike. It can help improve productivity in workplaces.
Why We Picked It
ProProfs can serve as a tool to empower professional growth and development among employees.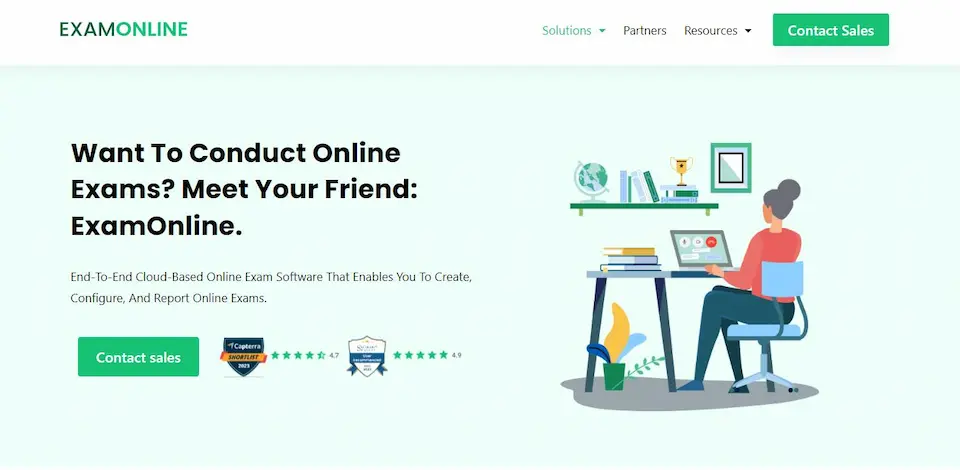 G2 Rating: 5.0/5
Support Question Types: 6
Pricing: Free trial. Custom price quote.
Key Features
● ExamOnline has a secure browser that prevents candidates from getting answers elsewhere.
● Powered with data encryption, ensuring all user information is safe and secured from unauthorized access.
● It also uses user authentication, in which candidates must undergo an authentication process to ensure their identity before the exam.
● ExamOnline possesses access controls that ensure that only authorized users can access the data gathered during the assessment.
Who It's For?
ExamOnline is specially made for both educators and professionals. It can assist in assessment-making for both academic learners and professionals. This software can be a great addition to your company to improve your professionals' performance further.
Why We Picked It
We chose ExamOnline because of its enhanced security and convenience for various fields. It can be a powerful tool to the users however they wish to implement it.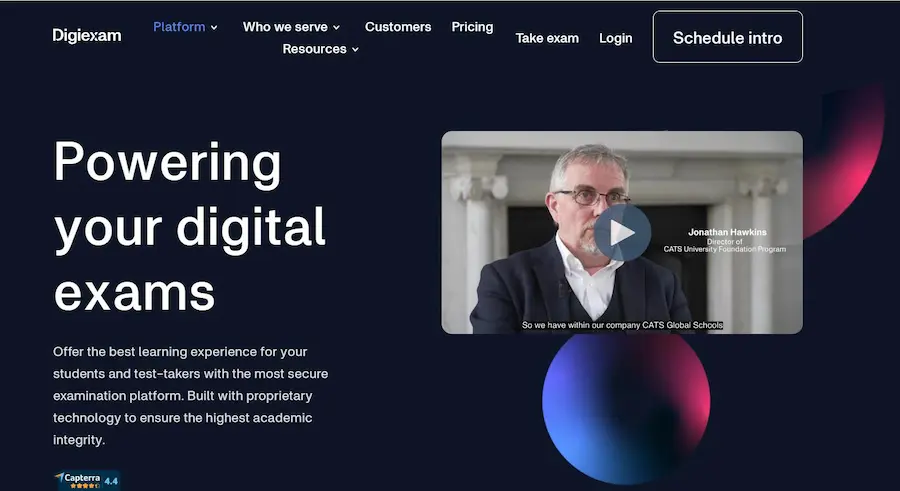 G2 Rating: 4.5/5
Support Question Types: 6
Pricing: Free trial. Custom pricing.
Key Features
● Digiexam is an environment-independent software that allows users to access it on various devices.
● It also provides the users with various options in assessment creation. You can create your assessment directly to the software or reuse an existing exam.
● It also has a scheduling option, which will help proctors to distribute the exam efficiently.
● Digiexam will implement the device lockdown feature during the assessment, wherein candidates cannot access any learning material and online resources.
Who It's For?
Digiexam is a suitable companion for both educators and professionals in various fields. It helps to empower learning development across the areas. Having such software in your company can help improve the overall skill and performance of every professional within the institution.
Why We Picked It
Digiexam provides a more accessible option for making and modifying matching quizzes. You can quickly modify it according to the needs of your candidates.
How To Create a Matching Quiz in OnlineExamMaker?
Creating a matching quiz takes time, especially if it will cover a lot of topics. But with Online Exam Maker, you can create a superb matching quiz quickly! Just follow these steps:
Step 1: You can start creating the quiz by adding questions using your desired question types. You can also add various media formats to add variety to your questions. You can generate questions through the software or import an existing file.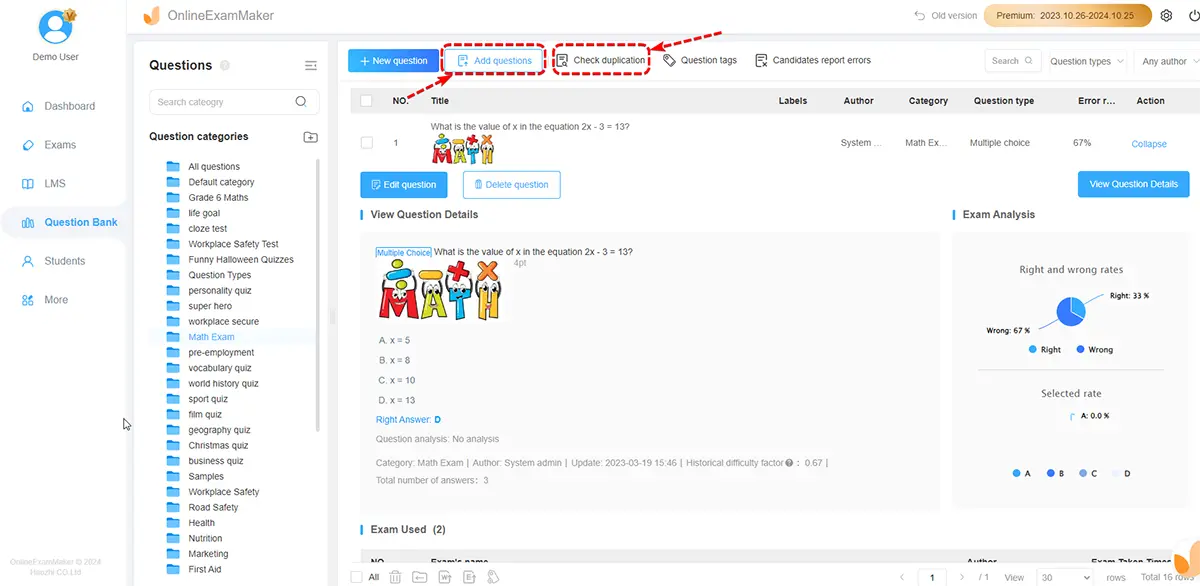 Step 2: You can start personalizing the quiz. You can edit the login option, time, or your candidate's details. You can also customize the background, logo, text, or fonts.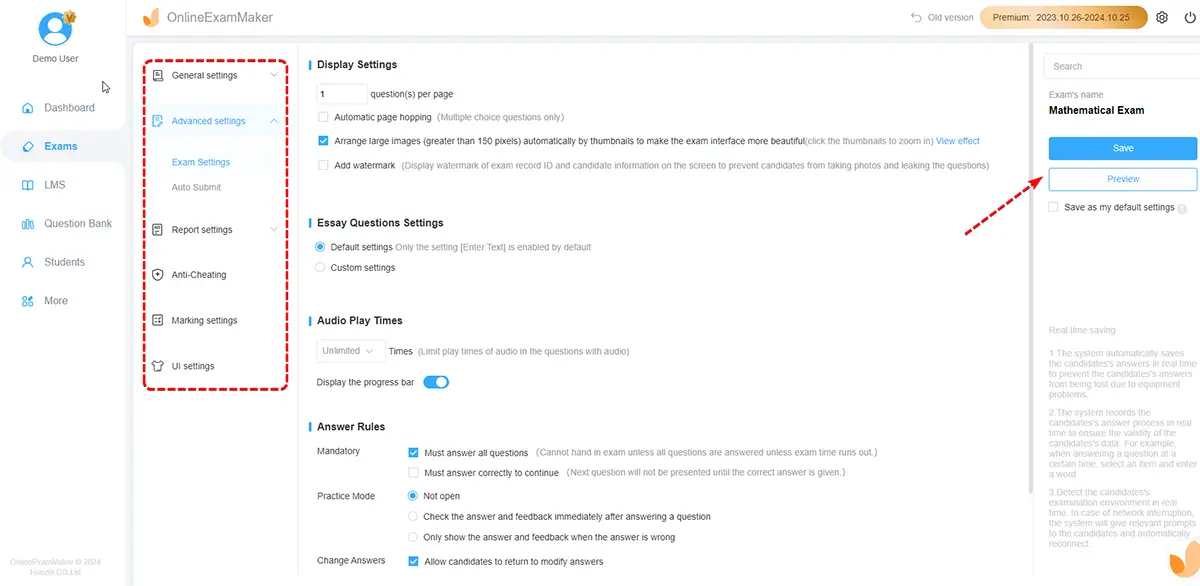 Step 3: Once done, you can publish your quiz and share it with your respondents. You can choose whether to generate a QR code or link, whichever will be more convenient for you and your candidates. Then, share it on various social media platforms if you please.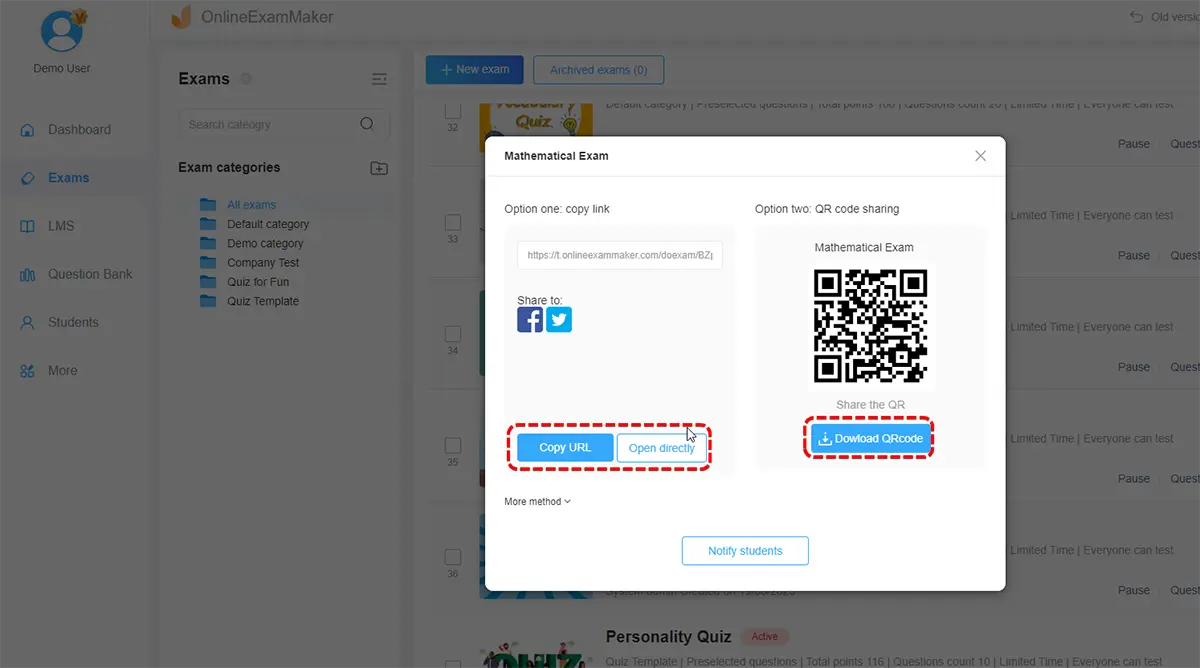 Step 4: After the quiz, you can immediately access the result by auto-grading. The software will do the checking for you! It will also provide you with detailed reports and scores of the candidates.
Just like that, you're done with your matching quiz! You don't have to spend your whole day making a matching quiz for your candidates. Let Online Exam Maker help you, and you'll be done soon! Incorporating such excellent technology into your teaching won't be a waste of time; it will give you more time!
Matching Quiz Maker Software FAQ
What is matching quiz maker software?
Matching quiz maker software is a tool to create, customize, and proctor matching quizzes. It lets users develop assessments with different question types, set timers, and immediate assessment results!
How does matching quiz creating software work?
Users usually start by creating a quiz, adding all necessary professional questions, and editing settings such as scoring and time limits. The software will also provide an option for customization. Once the quiz is ready, it can be published and shared with the candidates, and the software will check the responses for you.
What features should I look for in matching quiz maker software?
When looking for a matching quiz maker, you must look for one that supports various question types, an AI generator, provides sharing or publishing options, immediate analytics and results, and, of course, affordable!
Can I use matching quiz maker software for online exams?
When looking for a matching quiz maker, you must look for one that supports various question types, an AI generator, provides sharing or publishing options, immediate analytics and results, and, of course, affordable!
Is matching quiz maker for educational purposes?
Yes! Matching quiz maker software is perfect for educational purposes. It can empower growth and development among learners. Giving you all the data you need to improve your teaching and learning techniques.
Can I analyze the performance of candidates using Matching Quiz Maker software?
Most matching quiz maker software is equipped with an auto-grading system paired with a report generator, which will allow you to save time checking and reviewing the assessment results. With this feature, you can instantly analyze the candidate's performance and finalize their evaluation.
Can I create a matching quiz in Google Forms for free?
Yes, Google Forms is a free & powerful free platform for creating online quizzes & surveys. You can follows this matching quiz creating tutorial to make a matching quiz with Google Forms easily.
Which matching quiz software supports AI webcam proctoring?
Digiexam and OnlineExamMaker. You can enable facial recognition and AI proctoring in OnlineExamMaker during the online exam.