Educators and students commonly use Online Quiz Software as an alternative assessment platform for quizzes and exams. However, it can also be an effective marketing tool for businesses because it allows them to engage their audience and collect valuable customer data. We can use quizzes to generate leads, gather feedback, and collect data about customer preferences and behaviors. The gathered information is then used to tailor marketing efforts and improve the customer experience.
In addition, quizzes can be a fun and interactive way to engage customers and build brand awareness. They can be shared on social media platforms and embedded on websites, which can help businesses reach a wider audience and drive traffic to their websites.
Overall, online quiz software can be valuable for businesses looking to engage their customers, gather data, and generate leads. So, for companies finally trying out the magic of conducting online assessments, we created a list of the top 5 lead generation online quiz software that best fits any business and enterprise. This way, it will be easier for you to choose what you need that can help grow your business from hundreds of online choices.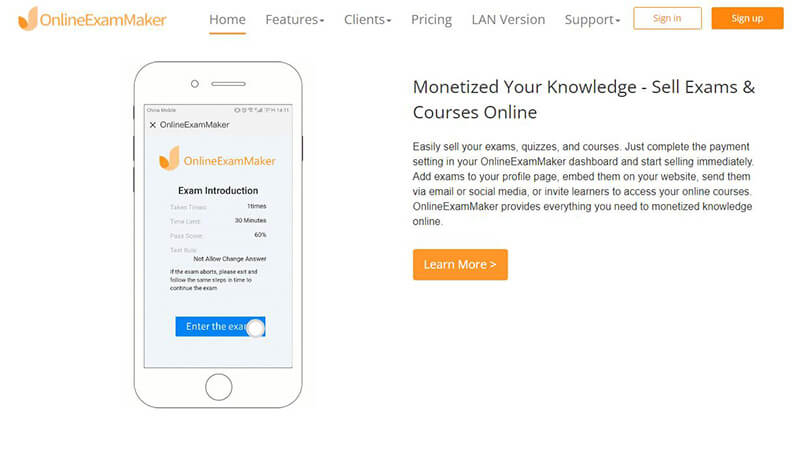 OnlineExamMaker is an web examination system that some of the world's leading businesses and educators use. The system supports users in organizing exams and supports candidates in answering questions on the PC or mobile phone sides. It also supports anti-cheating, statistical analysis, and more valuable functions for managing online exams.
OnlineExamMaker is suitable for enterprises, governments, schools, and educational institutions that want to create online exams. Our easy-to-use interface and customizable features that allow you to create, edit and administer online exams will fulfill your needs. OnlineExamMaker aims to provide convenience for users to handle the exam situation in all aspects.
Key Features
• Assessment Management
• Automated Proctoring
• Automatic Grading
• Candidate Management
• Certification & Licensing
• Online Tests
• Question Branching
• Question Library
• Quizzes
• Randomization
• Reporting/Analytics
• Surveys & Feedback
• Test Scheduling
• Time Limits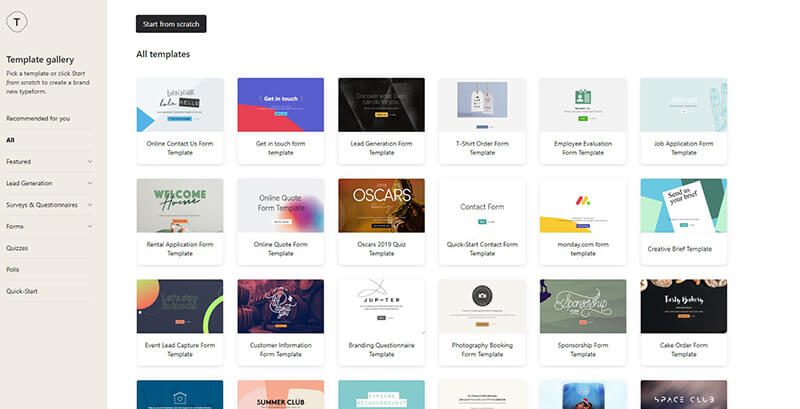 Typeform is an online platform that allows businesses and individuals to create professional-looking quizzes and surveys. It will enable the users to create a variety of different types of examinations and surveys. These types include polls, multiple-choice quizzes, and open-ended surveys. Typeform is a user-friendly platform suitable for businesses and individuals looking to create professional-looking quizzes and surveys for various purposes, including lead generation, customer feedback, and market research.
Typeform also offers a variety of customization options, including the ability to add images and videos, and it integrates with various email marketing and customer relationship management (CRM) tools. And it also offers a range of templates and themes to choose from, making it easy for users to create visually appealing quizzes and surveys.
Key Features
• Customizable design
• Responsive design
• Multiple question types
• Conditional logic
• Automated responses
• Data analysis
• Integration with other tools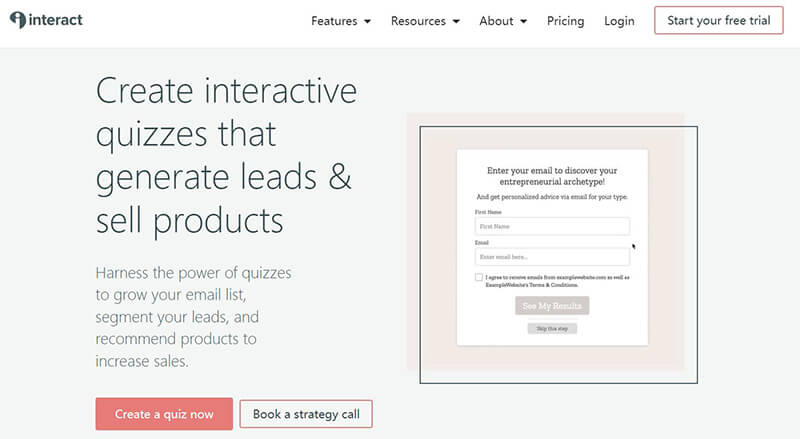 Interact is an online platform that offers a range of assessment tools, including quizzes and surveys, to help businesses generate leads and gather data about their audience. It is an enterprise-grade intranet software serving over 1,000 organizations with an award-winning employee experience platform that boosts productivity and drives engagement.
Interact is built for enterprise and medium-sized organizations that understand the importance of improving employee communications and engagement to drive a better employee experience. The platform's mission is to inform and connect every organization's greatest asset: its people.
Key Features
• Discussions / Forums
• Policy Management
• Activity/News Feed
• Knowledge Base Management
• Search/Filter
• Content Management
• Calendar Management
• Blogs
• Wiki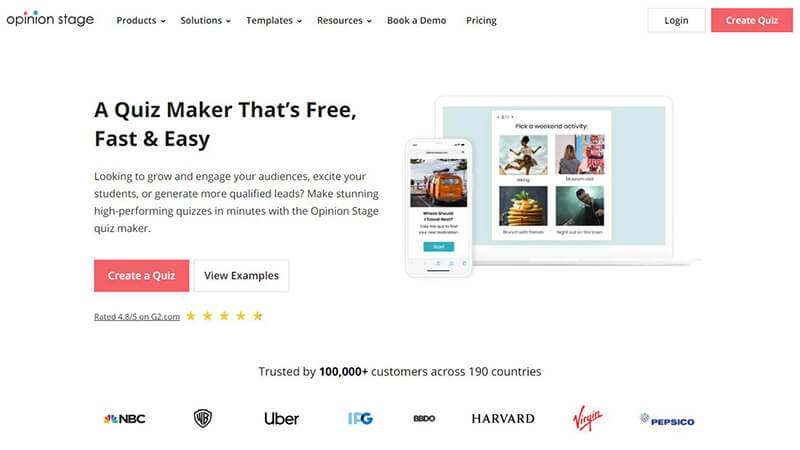 Opinion Stage Quiz Maker is a powerful, easy-to-use quiz creation tool that allows businesses to create and share interactive content on their websites and social media platforms. It helps companies track quiz performance, gather data about their audience, and help create highly engaging content that is used to boost engagement, collect leads, generate revenue, and extract actionable insights.
Opinion Stage works with world-leading publishers, brands & agencies to offer users content engagement experiences that convert to measurable business results. It is highly recommended by marketers looking to increase product awareness, generate qualified leads, increase sales, and extract deep insights from their users.
Key Features
• Engagement Tracking
• Reporting & Analytics
• Content Management
• Customizable Branding
• Campaign Management
• Customizable Templates
• Survey Management
• Collaborative Editorial Calendars / Scheduling Content
• Branding
• Multimedia Support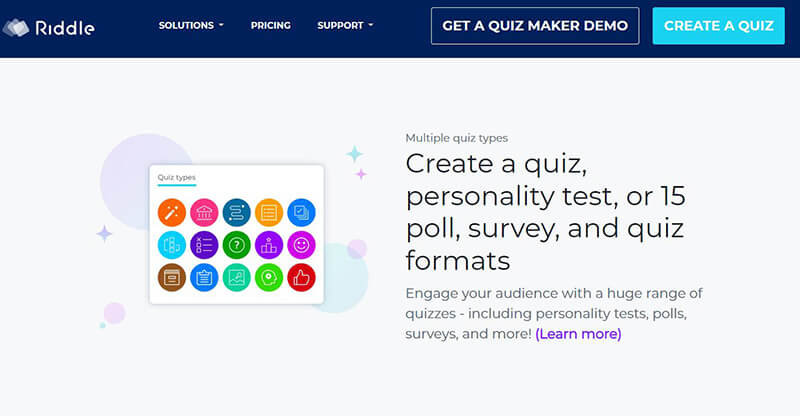 Riddle is a lead generation online quiz maker used by thousands of well-known brands like the BBC, Shopify, and CNN to engage with their audiences. It is an online platform where users can create fully responsive quizzes, personality tests, and polls in minutes – no coding required.
Riddle platform can collect user responses with in-quiz lead generation forms, then sync with 3,000+ marketing tools like ActiveCampaign or MailChimp. Be able to automatically send personalized follow-up messages and more.
This platform is easy to use. Anyone can leverage Riddle's online quiz maker to engage their audience and find/qualify more potential customers, which is best for small start-ups and online publishers.
Key Features
• Customizable CTAs
• Drip Campaigns
• Dynamic Content
• Landing Pages/Web Forms
• Lead Qualification
• ROI Tracking
• Segmentation
• Social Marketing
Conclusion
All the listed online quiz software are the top choices among all the software because of their unique features and advantage that will surely make the user create quizzes easier. They are also the leading generation of software because of the number of users who trust and use them for their online quizzes. There is no doubt that all of the software listed is a top choice for lead generation online quiz software, but the one we recommend that has all the needed features and more is the OnlineExamMaker.
OnlineExamMaker is nominated for top 1 as they have the best and most advanced feature you will need for your quiz creation and its capability to handle the massive wave of the audience and other features. Overall, all the feature of OnlineExamMaker will make the software an all-in-one solution for any quiz, exam, and assessment, as they have more than enough future to satisfy any needs