Proctoring software is a powerful tool for teachers, allowing them to create and administer tests effortlessly. You can choose from several proctoring programs, each with features and benefits.
This article will introduce you to some of the best software used by teachers today: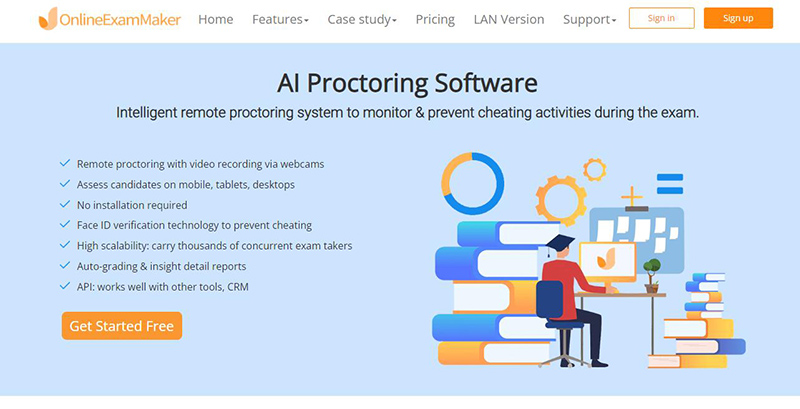 At the head of the line is the rising star of the year, OnlineExamMaker! With a whopping 350,000 clients, this AI test proctoring software provides you with everything you need.
From making tests to conducting and monitoring them and even counting grades! Not only is it accessible and easy to use, but it also gives you the command to oversee the tests yourself. Its uniquely designed software was made possible by OnlineExamMaker team, so the services you require are just within arm's reach!
With the Online LMS feature, you can conduct tests and give lectures in one sitting! OnlineExamMaker also has brilliant anti-cheating technology that entails live ID verification! This feature allows you to filter the examinees manually, a secure exam browser that prevents candidates from cheating and switching tabs!
This unique feature will enable you to monitor the tests live. It gives you a sense of security. That way, you can do your job and check on your students quickly. You can save precious time, money, and energy with this handy and beginner-friendly software made just for you!
Special Features:
● Flexible Online LMS
● Easy-to-use candidate management system
● Auto-grading and reporting feature
● AI-Based Preventive Cheating Measures
● LAN Exam Software – 100% Data Ownership
● Cost-effective Budget Plans
Just to let you know
Sign up for a free OnlineExamMaker account to create an interactive online quiz in minutes – automatic grading & mobile friendly.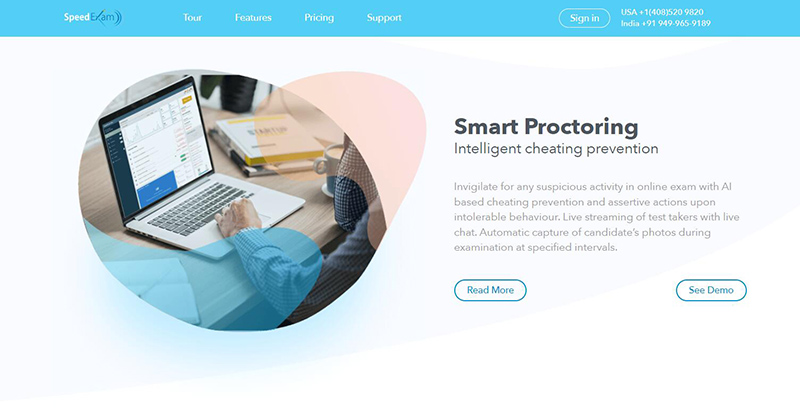 Coming in second is SpeedExam. This an excellent site for an all-in-one online examination portal that helps you conduct exams efficiently and ideally. It features its Smart Proctoring technology that uses AI to prevent cheating during exams. It even has an Exam Monitor that gives you live coverage of the exams!
A test maker software that is user-friendly and efficiently assists in self-study. It also includes an advanced theme builder feature that allows you to fully customize the look and feel of the exam platform based on your company branding.
With SpeedExam's smooth live chat feature, there's continuous and interactive communication amongst test takers and their teachers!
Special Features:
● Smart Proctoring that uses clever cheating prevention technology
● Live Exam Coverage
● Intelligent test maker software
● Advanced theme builder
● Integrated email, SMS, & live chat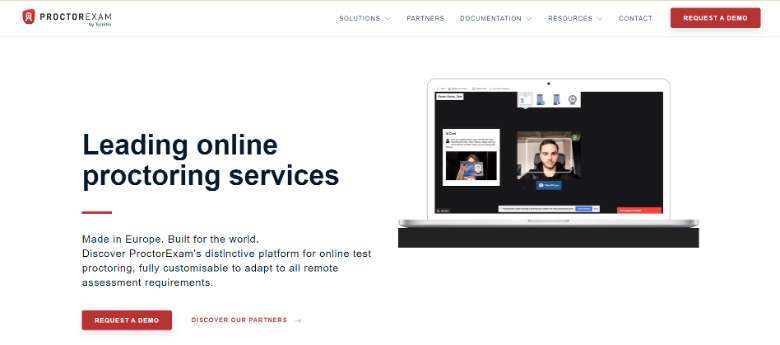 Third on the list is another leading online proctoring service called ProctorExam. It's designed to meet specific assessment requirements. The platform works under strict European privacy regulations and operates in tight partnerships with both academic and professional institutions.
ProctorExam has a dual-view proctoring feature with up to three simultaneous monitoring options, amazingly ranging from sharing to a 360° view of the candidates' workspace using their smartphones! It even includes dual-view security for teachers to supervise test takers in real-time or during the after-session review.
ProctorExam is a fully web-based online test proctoring solution compatible with Linux, Mac, and Windows operating systems. This allows the candidates to take their tests easily using their device of choice! ProctorExam delivers your exams with a convenient, flexible, and secure online test proctoring solution.
Special Features:
● Available at any given time
● Privacy and Data Security
● Custom Supervision Choice
● Dual-view Proctoring
● Flexible OS Compatibility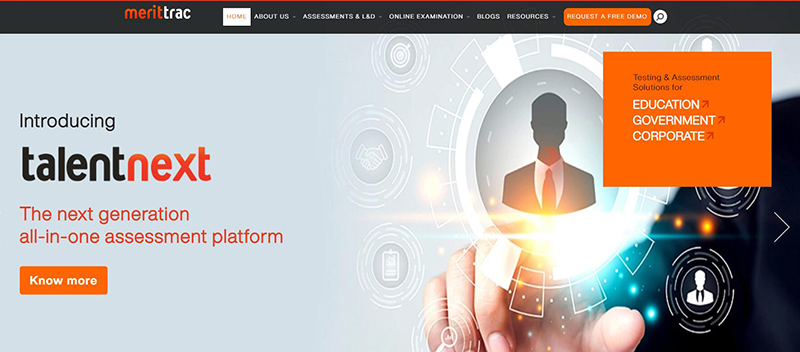 One more rising test proctoring software is MeritTrac. It's a neat solution for exam management that helps test takers and educators. It supports both paper-based and computer-based testing, as well as optical mark recognition for test takers who aren't able to access electronic devices!
MeritTrac offers a secure and convenient offline and remote proctoring service to analyze mouse movements.
Its platform also offers browser recording and other actions to generate a report on the integrity of the candidates' performance and results. MeritTrac's platforms CodeTrac, Pariksha, and SmartTest, offer end-to-end assessment solutions from test design to generating results. It can be accessed through any electronic device!
This test proctoring platform has a plug-and-play feature, which allows easy integration with other tools.
Special Features:
● Supports Paper-based and Computer-based testing
● End-to-end examination delivery
● Optical Mark Recognition
● Sensitive Mouse Movement Analyzation
● Plug-and-play feature for External Sources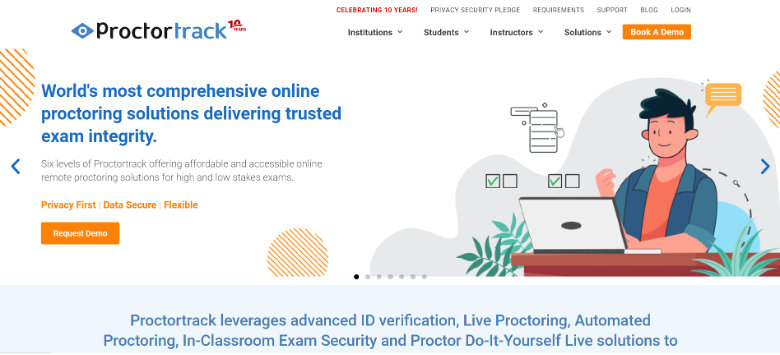 Another promising contender on the list is none other than Proctortrack. A wise exam proctoring software that offers you advanced ID verification, live and automated proctoring, and in-classroom exam security to ensure the integrity of the test takers!
It combines with several learning management systems such as Moodle, Edsby, and Canva, offering a smooth experience for examiners and examinees.
Proctortrack offers different levels of proctoring solutions, such as ProctorLock, ProctorAuto, ProctorTrack QA, and ProctorAI, with unique features. Proctortrack also provides remote access so the learners can conveniently take exams from the comfort of their homes or anywhere at any given time!
Special Features:
● Proctortrack's 360 Test Monitoring
● ID Verification
● Multilevel Proctoring Solutions
● Secure Testing Browsers
● World-class technical support 24/7/365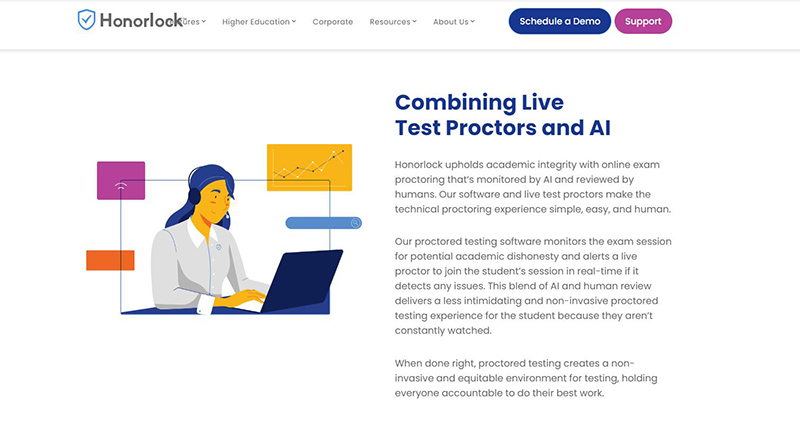 The sixth one on the roll call is Honorlock. A flexible and unique test proctoring software that is cheap and available 24/7!
Unlike the standard test proctoring systems, it provides quick ID Verification for online proctored tests that don't need face recognition and other biometric technologies. A fast and efficient approach for managing online quizzes and examinations!
With Honorlock, you can detect cell phones or other devices used while taking an exam. Honorlock is accompanied by an analysis window that allows you to monitor and moderate when there's suspicious activity during exams: a solid solution or preventive measure for cheating.
You can proctor and host exams anywhere and anytime! May it be from the comfort of your home or to a booth of a random cafe. The flat-rate cost also helps you estimate service costs so you can budget your money wisely while finding the best offer simultaneously! Not only will your work be reduced, but it will save you time and energy.
Special Features:
● Live Remote Proctor
● Multi-device Detection
● Third-party Test Proctoring
● Meaningful Voice Detection
● In-depth Proctored Exam Reports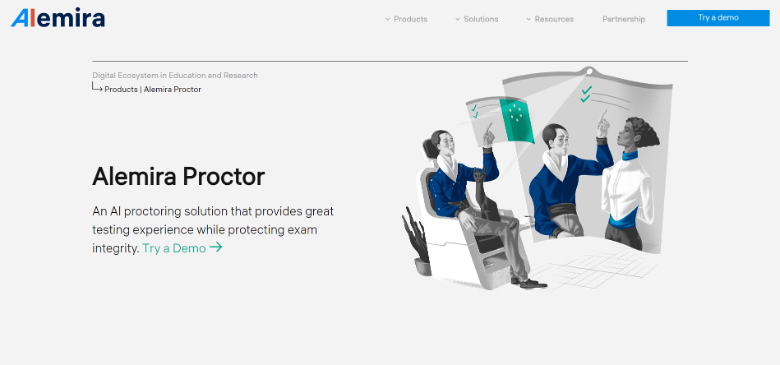 Last but not least is Alemira Proctor. It offers an AI-powered proctoring answer that provides a smooth and secure testing experience. Alemira is safe to use and can protect the integrity and reputation of its program, certification, or exam!
Its platform is involved with different learning management systems. A designed testing platform, plus a customizable proctoring base that you can change to fit your needs!
Alemira Proctor uses patented AI technology to observe behavior and detect any anomaly with face, emotion, gaze, voice detection, changing of tabs, and even having a second screen!
Alemira Proctor offers a simple and scalable solution since no video streaming is required. It supports any weak internet and electronic devices. They also provide 24/7 support in multiple languages, which makes it easy for the proctors to conduct secured exams!
Special features:
● 24/7 Support or Help that comes in different languages
● Clever AI Movement Recognition Technology
● Customizable Proctoring Platform
● Supports Weak Connectivity and different devices
● Multiple Proctoring Options