If you are looking for a cost-effective online examination system, Online Exam Maker is a rather good choice for you! Online Exam Maker is a web based online examination software with powerful and useful features.

Online Exam Maker is the best online examination software for exam creation, delivery and analysis. The following powerful features provided by Online Exam Maker make it really cost-effective to purchase.
Features provided by Online Exam Maker:
Efficiency to create a question bank
Efficiencyto create online exams
Candidate management
Diverse question types
Random order of questions and options
Date&time restrictions of exams
Timed exams
Practice mode exams
Questions with images,audios and videos
Powerful anti-cheating functions, including live&AI proctoring, face recognition, surveillance camera, full screen mode and so on
Automatic grading
Transcripts Generation
Statistical analysis
Exportable question paper, reports, answer sheets and so on
Branded homepage
It is these powerful features provided by Online Exam Maker that make it cost-effective to buy Online Exam Maker. What's more, since Christmas is coming, CHRISTMAS PROMOTION is offered by Online Exam Maker at present. For Online Exam Maker, you can get a 30% discount on an annual payment; and for LAN version, to pay annually, you can even get a 50% discount!!! We promise you it is the lowest price in the year, which is good news for our long-term users as well as for those whom are satisfied with OEM after free trial and would like to purchase our system. So if you are in need of online examination system, you should really seize the opportunity!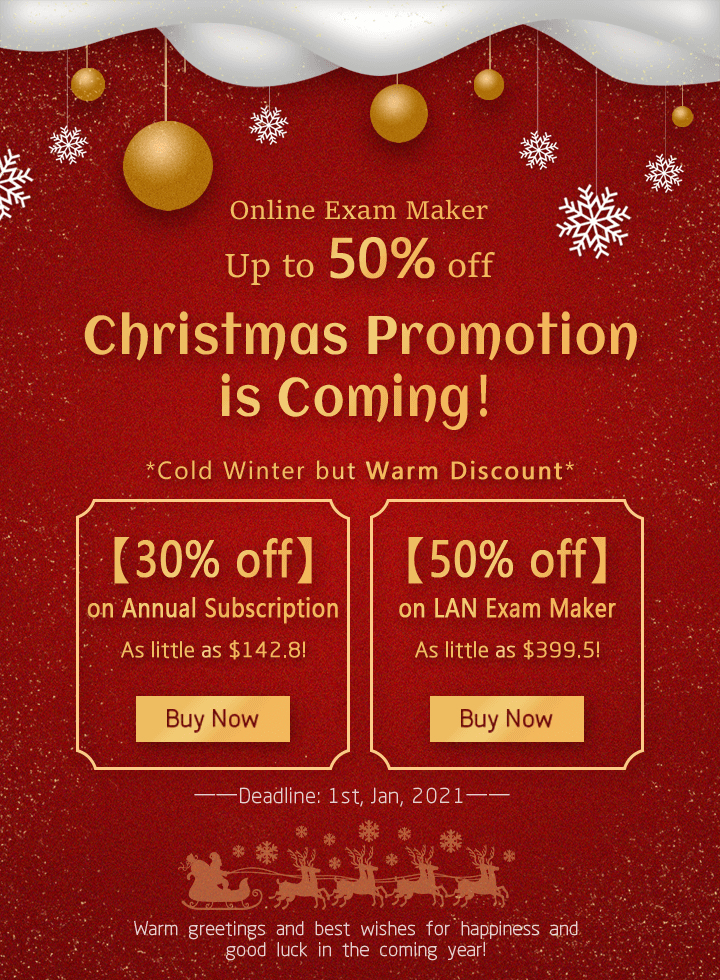 If you are in need of an online examination system but you are not familiar with OEM, you can have a free trial of OEM to see if it meets your needs. But please REMEMBER, if you are satisfied with our system, the Christmas Promotion just lasts for ONE month, so please seize the day!