Quizzes will always be part of school no matter what year it is, mainly in assessing a student's knowledge in a particular subject. Quizzes help teachers and educators to evaluate their students' knowledge, and when it is done right, it showcases the areas students will need additional support. In this case, math or mathematics is an important subject taught at all school levels, whether in high school, elementary, or college, so schools will continue to test your knowledge through quizzes.
But the challenge with quizzes is that it demands a lot of time and effort to create and grade, mainly when a teacher handles multiple classes a day, and examinations become troublesome. So people invented quiz software with various tools and features where the heavy labor in quizzes will be gone and done instantly. Quiz software is the modern way to conduct, create, and grade quizzes as they can be done remotely online and has features to easily make the teacher's and educators' job easy in terms of quizzes. Quiz software can handle complex questions in math like algebra while automatically grading the results accurately. And in terms of stability, quiz software can take a massive wave of users instantly, comparing it to a usual paper and pen quiz.
With all the quiz software popping up, it may not be easy to find one that can handle math questions and has auto-grading, so in this list, we got six auto-grading math quiz software in 2023.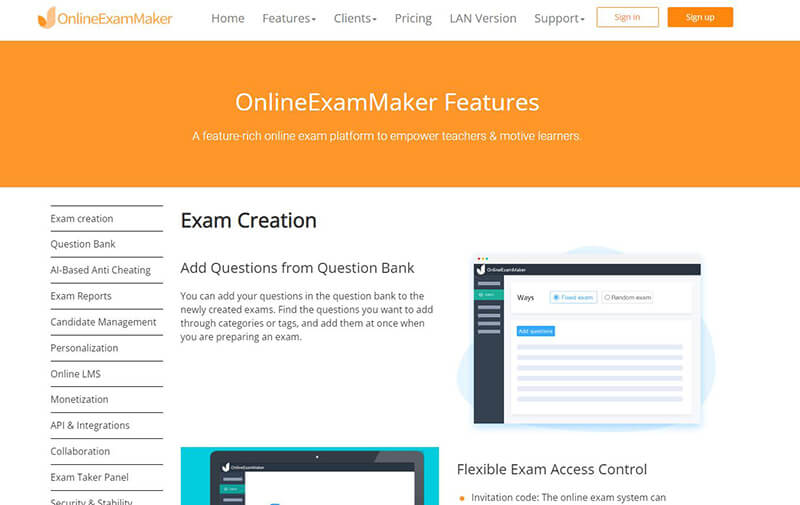 OnlineExamMaker is first in the list and arguably one of the best rising elearning quiz software in the year 2023 as they have an advanced AI in every feature and tool. OnlineExamMaker is used by many famous schools, universities, and companies as well.
Examples of those are Berkeley City College, the University of Sydney, and Texas state technical college, as for company's samples are Facebook, new balance, and Amazon. OnlineExamMaker uses a lot of advanced ai in its features, making it more accurate and can give more detailed insights while having a lot of stability for large scale, increasing its security.
Pros
• High flexibility – Capable of customizing exams and personalizing them, meaning you can brand your quizzes
• Lan and Online – OnlineExamMaker has both an online and LAN version which helps accommodate any settings of the school
• Monetization quizzes – OnlineExamMaker lets you monetize your quizzes whenever you want other people to use or cite some question from your quiz
• Ai anti Cheat system – OnlinExamMaker uses its own advanced Ai combined with other tools, like remote and live proctoring, to detect any forms of cheating accurately.
• User-oriented GUI – OnlineExamMaker makes it easy for users to navigate and browse their software comfortably.
Cons
• Relatively new –Being a new software, it could
• be prone to bugs and glitches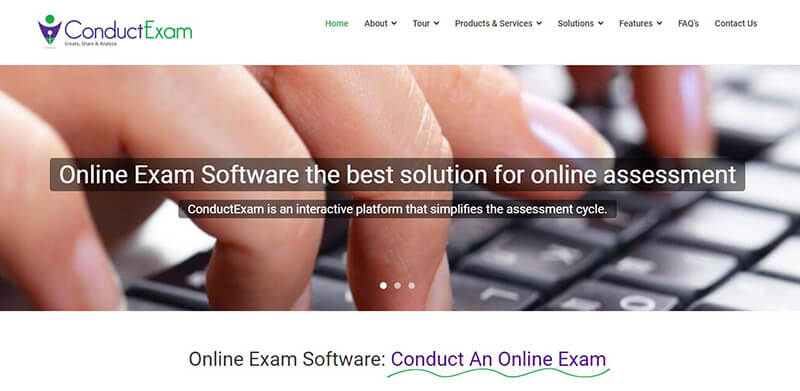 Conduct Exam is developed by R K infotech, famous for creating an online exam platform suitable for any level of education and branching into corporate as well. Conduct Exam is a web-based exam software making it flexible on any device like mobile and laptop. The software also runs in an offline and online mode which is useful for places with limited internet. The company software focuses on simplistic use for administrators and users but can handle complex problems like advanced math.
Pros
• Auto quiz maker – Conduct Exam has an automated question finder based on a specific topic cited from different quizzes
• Integration – Conduct Exam lets the administrator integrate third-party software in their quizzes when needed
Cons
• Only Paid version – Conduct exam does not have a free version of their software.
• Less update – Conduce exam updates their software over long periods making them late for new trends
Think Exam is run by a globally known technology company named Ginger webs, whose objective is to improve and innovate assessment software. With this, Think Exam is both user-friendly and powerful quiz software that prioritizes customer satisfaction. Think Exam is famous for their feature, which includes an interactive interface, an advanced reporting system, and a support system which are always ready.
Pros
• Cloud-based- Think Exam can be used anywhere as long as there is an internet connection.
• Exceptional reporting – Think Exam uses various solutions to provide accurate and valuable reports.
• User-oriented – Think Exam is famous for its easy-to-navigate interface making users and administrators comfortable using the software.
Cons
• Many Bugs – Think Exam holds many features, but with it, there are bugs found in each one and need improvement
• Lots of lags – I think the Exam can be very laggy if it is used in the long run and when many bugs are found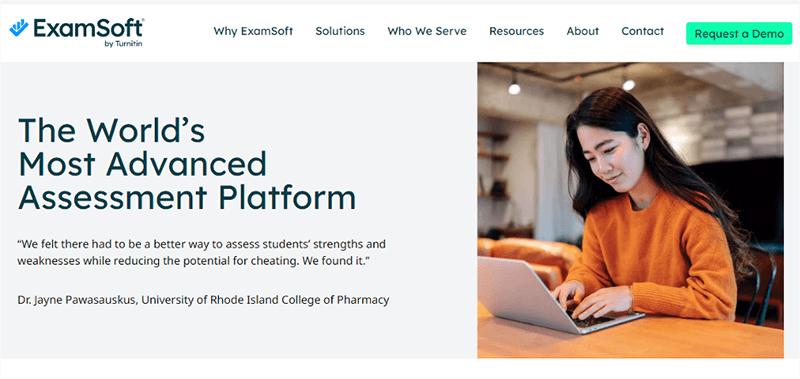 ExamSoft is another excellent choice for auto-grading math software, as thousands of institutes, universities, and schools worldwide use it. ExamSoft caters to k-12 up to college in creating and conducting quizzes for their students. Another critical thing about ExamSoft is its security of data and the integrity of the examinations.
Pros
• Secured data – ThinkExam boasts the security of data to ensure the institute's privacy
• Simplistic interface – ThinkExam is also user-friendly in terms of its interfaces making it easy to navigate and use
Cons
• Multiple Errors – ThinkExam users encounter a lot of errors in using the software, especially in logging in
• Unexpected Crashes – ThinkExam also faces many crashes in their software which could lead to the loss of quizzes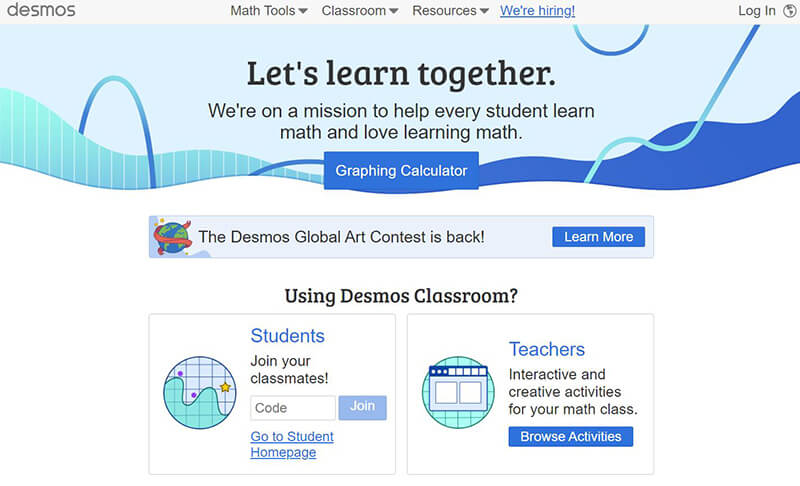 Desmos is a perfect math testing platform for schools because its software is math-oriented style. Desmos has various tools and resources perfect for any math situation, from graphs to circles and more; Desmos can handle it. Desmos is essential for any math quiz and teachings you will need in your school and colleges.
Pros
• Math-focused – Desmos can run any math problems and a situation like graphs and lines, which is handy for any school and college use.
• Free version – Desmos has a free version with enough tools and features to use independently.
Cons
• Lacking in Quizzes – Desmos is currently trying new things in their quiz mode; therefore, it is the only limited option for their quiz.
• Complicated tools – Desmos can be an excellent tool for any math problem, but their interface and tools might get complex and confusing, especially if the math problems get more advances.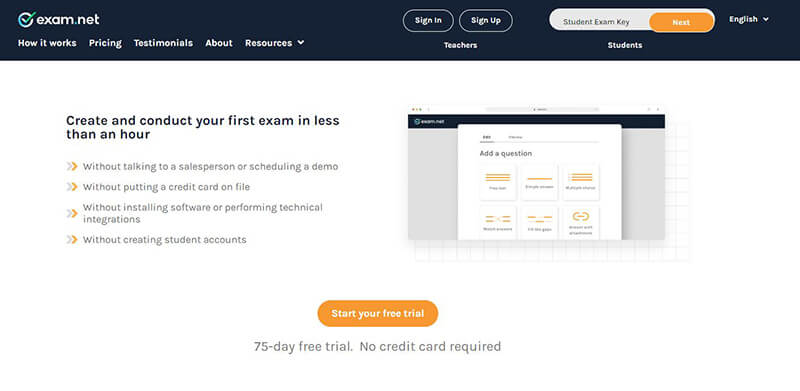 Exam.Net is a powerful and comprehensive quiz software with a proctoring feature that can be done live and remotely to increase security and engagement between educators and students. Exam.Net is also famous for its excellent interface making different tasks like creating exams, administering the Exam, and viewing the exam's result straightforward. Lastly, Exam.Net's anti-cheat system makes the Exam much more secure.
Pros
• Increase relationship – Exam.Net has integrated google classroom into their software, making it easy for teachers and students to interact.
• Comprehensive quizzes – Exam.Net also collaborated with multiple software, which makes any examination possible, especially math quizzes.
Cons
• Confusing auto-grading system – Exam.Net has a confusing AI reporting the results and grading.
• Unexpected bugs – Exam.Net faces a lot of bugs that are both confusing and unexpected, making it unreliable at times
• Lacks features –Exam.Net may have many features, but there are still missing features that are a must-have that makes it less convenient to use