If you are a teacher by profession, you would understand the dilemma when it's time to check those piles of exams for grading. You would also agree that most of the time, you finish everything manually. Just imagine the number of hours you spend doing this repetitive task when there is a way to automate it. Interesting, right?
When the pandemic hit and everyone had to adjust to online schooling, the popularity of auto-grading online test software rose. Many of these have been around for quite some time, but the main focus of use is in online marketing. Thankfully, a lot of these software opened the doors for teachers and trainers to use them in their classes. Admit it, using these up-to-date auto-grading online test makers has been life changing.
Below are our top 7 picks which can help you save time and use it for other purposes like refining your lessons, attending career training, and others.
Online Exam Maker makes it to the list of our top 7 auto-grading online software to try. It recently made its debut in the online marketplace and has somehow proven valuable for teachers and trainers. It is a powerful tool in creating online exams and having them auto-graded. There is certainly so much you can do with a FREE plan.
Key Features
✅ Access or save questions from or in the question bank
✅ Multiple question types such as fill in the blanks, multiple choice, true or false, etc.
✅ Variety of candidate management functions
✅ Issue custom certificates
✅ Enhance your exams with audio, video, or image
✅ Auto-grading & intensive reporting
✅ AI-based anti-cheating technology such as Live Monitoring, Secure Exam Browser,
Live ID Verification, etc.
✅ Option to monetize your courses
✅ Different sharing options like website embedding, social media buttons, etc.
✅ Can handle large scale exams
✅ Online LMS
✅ LAN and online versions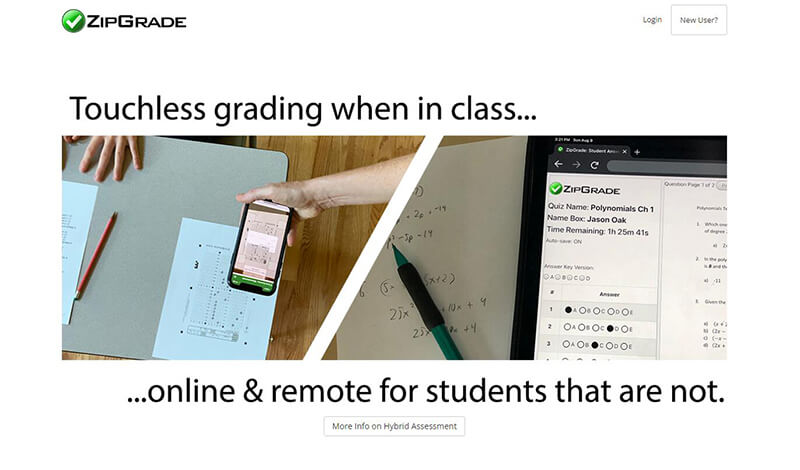 Would you even believe that you can automatically grade paper-based tests? We were actually pretty surprised too. ZipGrade does not only have useful features but also comes at an affordable price tag.
Key Features
✅ Compatible with Android OS 5.0+ and Apple iOS 9+ devices
✅ You can sync between multiple devices
✅ Does not require Internet connection when scanning or grading papers
✅ Option to sync data to zipgrade.com
✅ Comes with reporting and analytics
✅ A FREE account can grade up to 100 papers per month
✅ An unlimited grading plan is only $6.99 per year
✅ Identifies question sizes of 20, 50, or 100
✅ Custom Form Wizard
✅ Creates answers for true or false, multiple choice, gridded-numeric, and matching
questions
✅ Student portal
✅ Cost-efficient in printing
✅ Tutorial video available on website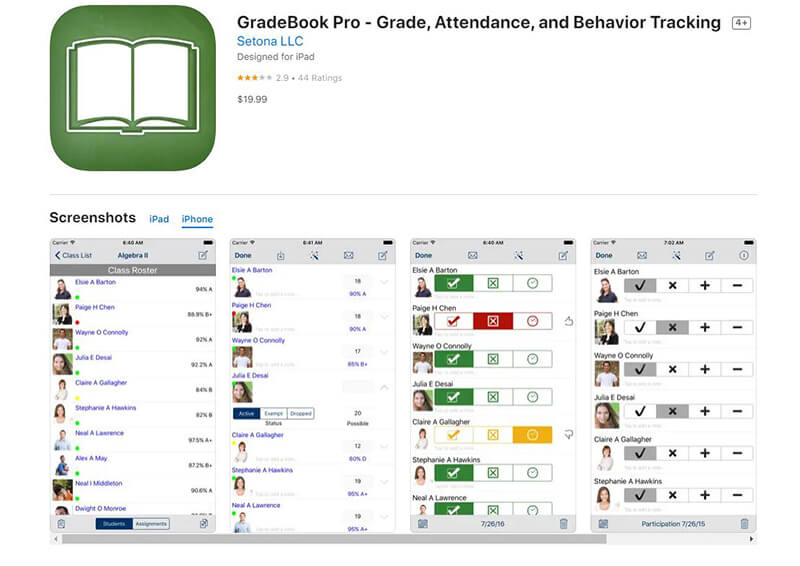 Gradebook Pro is an intuitive and powerful classroom management platform. It offers countless features to help make teachers' tracking of their students' class performances easy. It not just grades exams, but it also tracks attendance and behaviors of students. Take note that this is a paid app though.
Key Features
✅ No in-app purchases, ads, third-party services, limitations, and subscriptions
✅ Customizable grade scale
✅ Set up assignment categories
✅ Set penalty points or extra credit
✅ Record notes along with scores
✅ 4 behavior marks that you can assign labels to
✅ Mark students when present, absent, or tardy and send appropriate emails
✅ Comprehensive reporting
✅ Choose from 5 color themes
✅ Compatible with cloud storage like Dropbox, Box, iCloud, etc.
✅ Passcode protected access
Book Widgets is another auto-grading online test software to try. Teachers can create interactive quizzes and assignments and follow their students' progress real time. There are 30-day free trial and paid plans. The current price is at $9 per month for an individual teacher account. There is a group plan for teachers and higher-end plans for creators.
Key Features
✅ Over 40 digital exercises templates
✅ Compatible with computers, tablets, and smartphones
✅ Customizable learning games such as bingo sheets, memory games, crossword
riddles and others
✅ 35+ evaluation question types
✅ Auto grading
✅ Reporting dashboard
✅ Custom feedback
✅ Real-time following of students' activities
✅ Compatible with Microsoft Teams for Education, Google Classroom, Canvas,
Moodle, Schoology, etc.
✅ Access to public groups where you can use activities created by other teachers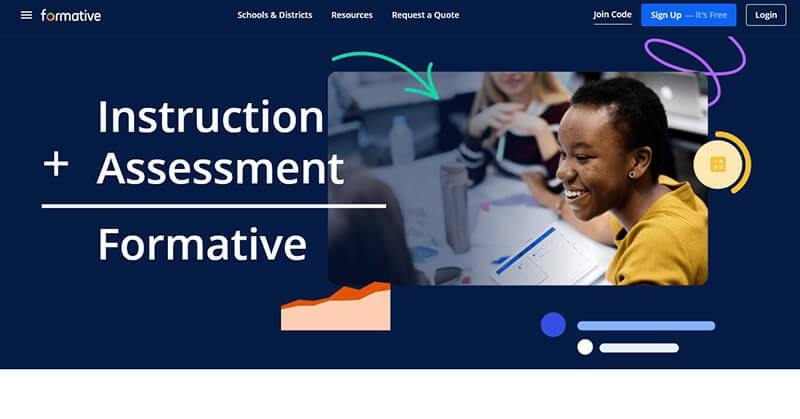 If you are looking for a software that offers teaching tools for instructing, assessing, and engaging your students, Formative is a great choice. Make learning moments more fun through auto-grading online test software like this. It comes in 3 plan options including the Bronze pack, which is the FREE version.
Key Features
✅ Unlimited lessons, assessments, and assignments
✅ Transform a Google doc or a PDF into a graded quiz
✅ Present paced lessons using slides with built-in questions
✅ Add a YouTube video with questions that you can timestamp
✅ Enhances passages reading by adding a question
✅ Audio and video responses available
✅ Provide student feedback fast
✅ Watch students real-time
✅ Detect copy and paste answers
✅ Collaboration options
✅ Use rubrics for evaluation
✅ Different question types
✅ Google Classroom partner
✅ Respondus Lockdown Browser
✅ Integrations with Schoology, Canvas, etc.
✅ Wide array of reporting options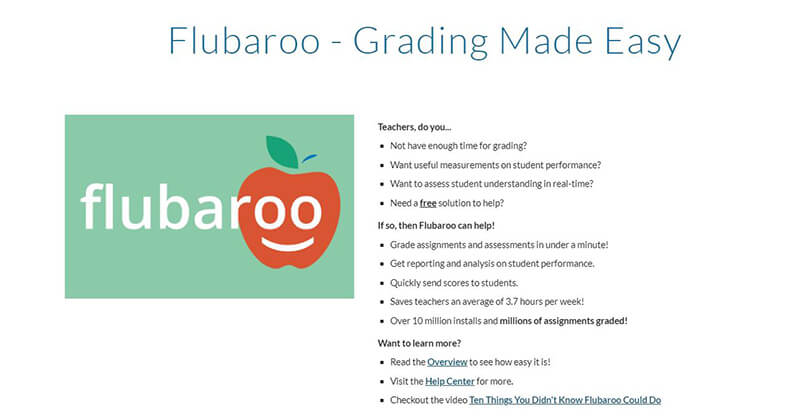 Flubaroo makes grading more convenient for teachers. It is an auto-grading solution that lets you save time while enjoying useful functionalities to measure your students' academic performances. What's more exciting to know is that this software is free to use!
Key Features
✅ Computation of average assignment score
✅ Flagging of low scores
✅ Computation of average score per question
✅ Individually email students with their scores
✅ Individual feedback
✅ Integration with Google Forms
✅ Easy to learn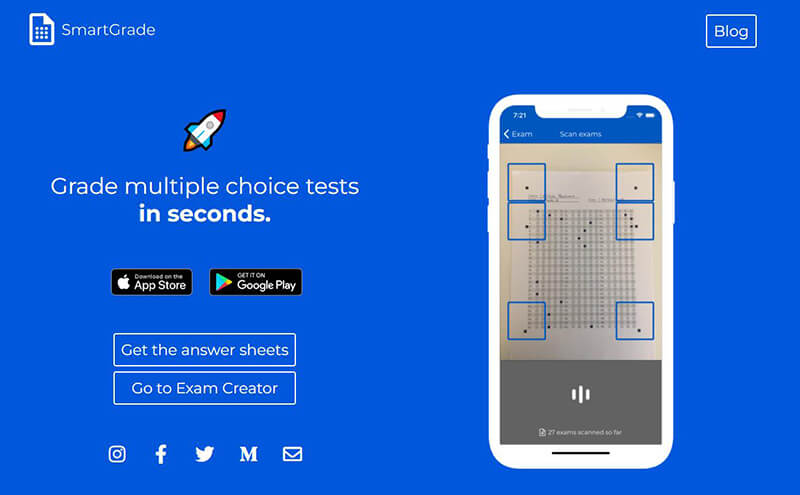 Imagine grading your students' piles of multiple choice exams in a few minutes by using just your smartphone. That means a lot of hours saved compared to manual checking. You only basically do pointing and clicking while Smart Grade crunches the numbers for you.
Key Features
✅ Compatible with Android and iOS devices
✅ Your smartphone's camera acts as an answer sheet scanner
✅ Displays the score right away
✅ Automatic grading only need a few seconds per student
✅ Free trial available
✅ Shows the minimum, average, maximum, and standard deviations
✅ Best paired with Exam Creator
Which Auto-Grading Online Test Software Is Best for You?
It's very hard to single out the best auto-grading online test builder software among these 7 options we laid out for you.Your personal requirements can help you identify which of these has all the functionalities you need. However, if you want a free plan that includes all the essential tools for exam creation and auto-grading, you may want to consider checking out Online Exam Maker. You'll definitely experience the huge difference between automated scoring and manual checking.