Are you having trouble managing your applicants? Or are you struggling to keep up with the different people you interview every day? New faces and new personas to deal with one after another. We ask each of them the same questions again and again. And the list goes on and on. It feels as though it's never ending! It's already a difficult feat to look for potential and capable hires. We have to worry about their character, morals, and identity too!
But do you know why finding the most promising recruit matters? It could make or break our business. That's why you've got to be wise and precise with your decision-making. But worry not, cause I've got the solution to all your problems! Thankfully, we've got platforms designed to carry out the deeds! And with these, finding the right person for the job will be much easier! Here are the six leading driving personality assessment software: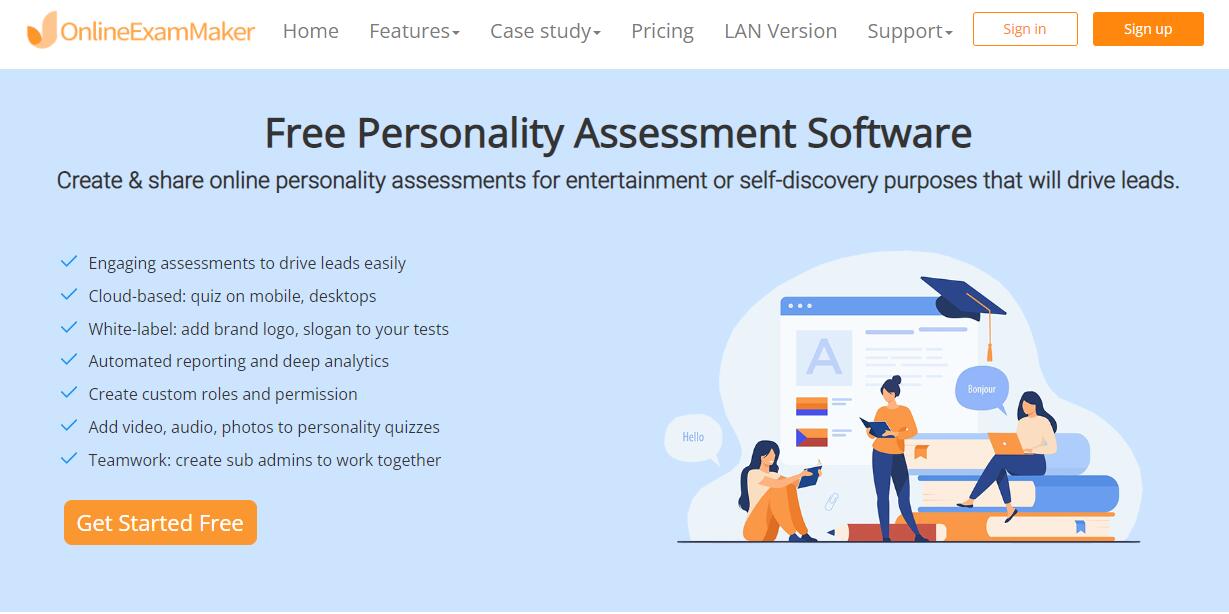 The first and leading personality assessment maker is OnlineExamMaker. OnlineExamMaker has the best and most appropriate tools for making job assessments. With this intelligent software, you can evaluate a potential hire's knowledge, skill, and personality! It has a user-friendly interface that even beginners can easily understand and use. OnlineExamMaker allows you to overlook your applicants as they take the assessments. It's a great fix to your neverending workload.
OnlineExamMaker allows you to create assessments freely. They ensure to give you secured tests and results. Its website is easy to navigate, and results are even easier to assess! It's because it has an automated grading and scoring system. Not only is your job made effortlessly, it even provides insightful reports and score analyses! OnlineExamMaker lets you look at your candidates as real individuals – not just people on paper. And what's amazing is you don't have to install anything at all! So make your life easier with OnlineExamMaker.
Key Features:
● Auto-Grading and Analyzing
● Instant Feedback
● Ensured Data Security
● User-friendly Interface
● Multiple Interactive Question Types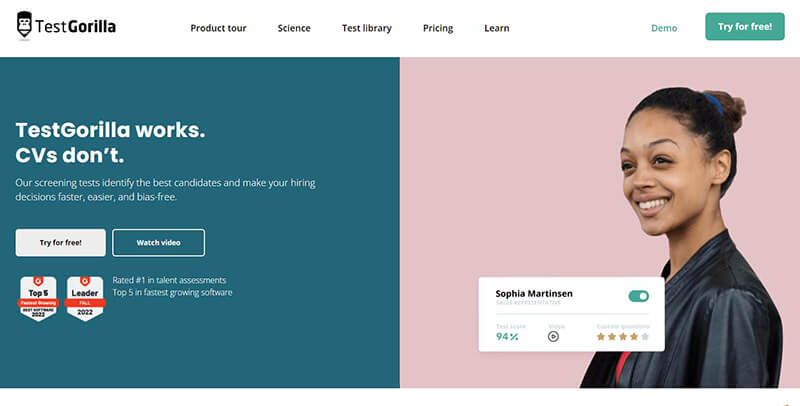 Up next is TestGorilla. TestGorilla is another test-making software built for your hiring needs. It has fantastic screening tests that help you identify the best candidate for the job! It makes hiring decisions quicker, more uncomplicated, and free of bias. TestGorilla has over 200+ validated test templates that you can use. Its personality and value tests let you get to know your applicants better.
TestGorilla lets you focus on the best person for the job. It automatically ranks and grades your candidates from top to bottom. There's no need for interviews and CVs anymore. Good screening tests attract great candidates. And you can make just that with TestGorilla!
Key Features:
● Auto-Ranking and Grading
● Direct and Simple
● Smart Integration
● Mobile-Friendly

The following leading assessment software is Filtered. Filtered is the reinvention of technical hiring. It aids in looking for the right person for the job! At the same time, it empowers your candidates and highlights their knowledge and skills. Filtered is a skills-based hiring software that assesses candidates and foresees their future performance. Interviewing and reviewing time is reduced big time!
Filtered has an incredible Interview-to-Hire ratio. It prevents top candidates from tapping out halfway by giving them the best assessments! It encourages candidates to do their best while speeding up the interview process!
Key Features:
● Developer Assessments
● Technical Interviews with Video Explanations
● Candidate Verification and Authentication
● Virtual Interview Fraud Detection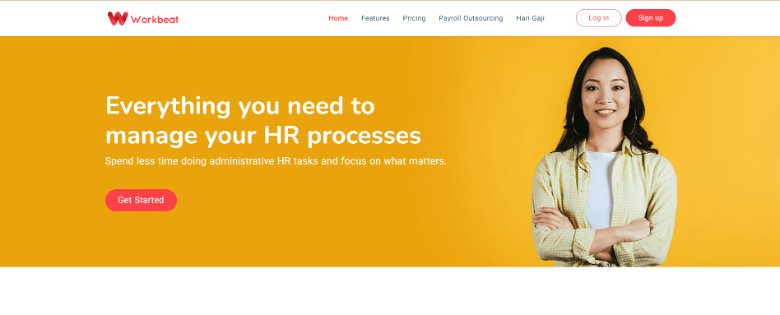 Right up next on the list is Workbeat. Workbeat gives you everything you need to handle your hiring and employing processes! With Workbeat, you can spend less time working and more time focusing on what matters most. And that is the satisfaction of your employees and potential hires! Workbeat has everything you need, all in one place. It even has an easy-to-use website that you can navigate easily!
Workbeat gives you a hassle-free platform to execute your HR work. You can create timely and relevant assessments. And you can send them to your applicants with one click. Not only can you manage new hires, but you can also overlook and manage your team! Workbeat makes your work less complicated as an employer and a leader.
Key Features:
● HR Hub
● Leave and Claims Tab
● Payroll System
● Checklists and Assessments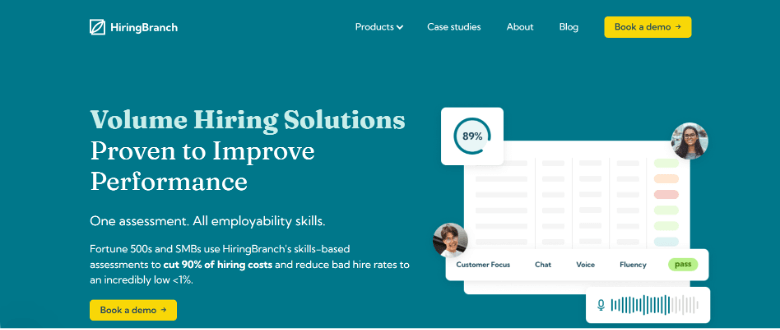 Next in line is HiringBranch. HiringBranch is not your typical assessment tool. You can create a test or assessment and see the best results in just minutes! It even guarantees you an improvement in the hiring process. In that way, you can bid manual hiring and patched tools goodbye. HiringBranch allows you to stream and standardize assessments and interviews in one click! A convenient take to online tests and surveys.
HiringBranch is tested and proven to boost your applicant or employee's performance. It's an intelligent tool that employers like you can use to their advantage. It even provides you with a training ground for your employees. Or one you can use after finding the right people for the job! With HiringBranch, you can hire with confidence.
Key Features:
● Selection Accuracy
● Quick Hiring Time
● Four Assessments in One
● Training and Upskilling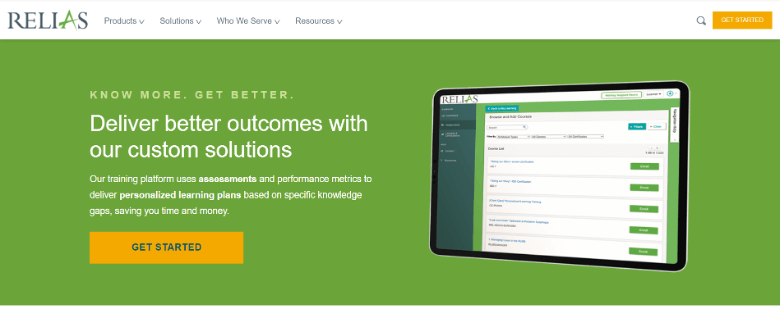 The last leading online assessment software on the roll is Relias. Relias is an all-in-one training and learning platform. It uses assessments and performance measuring to learn about your applicant better. It gives you an insight into both their skills and skill gaps. Relias improve training and hiring outcomes for the better! It helps you look for skillful and possible hires to add to your team. It's a performance management software that has played a significant role in working progress.
The assessment technology has a unique method of performance training. It sifts through your applicants like a needle in a haystack! You won't have to worry about lifting a finger or using an extra hand. Relias can do it for you. It has a wide array of solutions that consist of multiple assessment types you need. With Relias, you can know more and do better.
Key Features:
● Compliance Training
● Tactical Assessments
● Hiring, Onboarding, & Retention
● Management & Leadership Training