Training and teaching students or employees go hand in hand. It's easy to teach your students something new. The challenging part is to make them learn it. Yes, they might understand a lesson or skill now. But what's the use if students forget about it in the long run? I mean, where exactly is the learning in that? And this is where appropriate teaching methods are significant.
It's because knowledge is absorbed with time and perseverance. It doesn't immediately stick like velcro on wool! You have to build on it patiently. Establish learning with thorough exercises and practice. But as teachers and instructors, we always have our work cut out for ourselves. And we can't handle training each individual personally and manually. Another factor is that every person has different learning capabilities.
So how can we cater to each one and find their strengths and weaknesses? Well, we can do this with online assessments. And with the help of AI technology! Don't know how you can use AI for your online work? Don't worry! We're just at the tip of the looming iceberg of AI Technology. Let us look at five creative ways to use AI in your online quizzes. But first up, what is AI technology? And how is it used in training and testing?
Table of Contents
What Is AI Technology for Training & Assessments?
AI technology is not a newfound discovery or innovation. It has been around since the 1950s. The first computer machines made jobs and life in general a little easier. It started with the storage of data, faster searching, and cheaper means of it. And it has spurred newfound ways of making life more comfortable for us. With its "deeper learning" feature, it not only allows computers to acquire learning, but it also lets computers use this data to encourage learning! AI technology for training and assessments could be in the form of: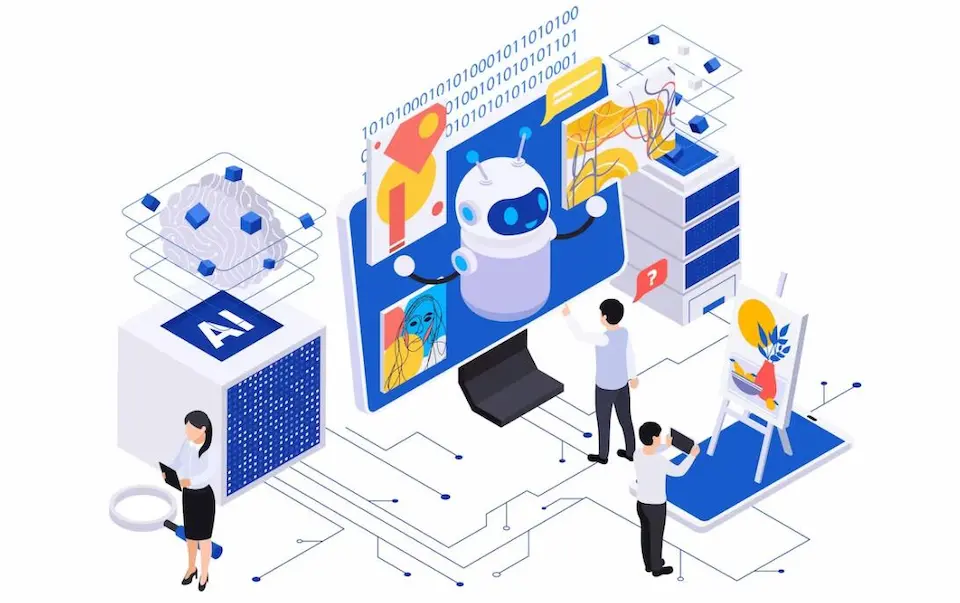 Generating Diverse Quiz Sequence
Among the benefits that AI has brought to online quizzes is randomized sequencing. In this way, AI helps prevent the possibility of cheating and getting fake results! When creating a quiz, there needs to be room for discrepancies. Questions need to be in different order to create fairness.
It helps students or learners rely on their understanding and comprehension. A monotonous and repetitive sequence only leaves a pattern. It's something that can be copied and passed on. Cheating is only a temporary fix for the sake of passing. It causes ineffective teaching and no learning at all. And you won't be able to follow everyone who's cheating or not. But AI can do that for you!
Analyzing Answers
Checking sheets and mounds of test papers is not only tedious work but is also a complete bore! You'll have to review individual test papers and refer to the answer key. Sometimes, you'll even get it wrong! And this whole endeavor takes away precious time. We have to make every second count and mean something.
But if we do all the work and labor ourselves, isn't that a waste? Time that should be for improving teaching methods. Reaching out to students and providing them with guidance. Luckily for you, AI technology has an automated grading feature! It's present in almost every eligible quiz maker. AI grades papers and quizzes automatically!
Providing Instant Feedback
Another factor we overlook in training and teaching is the impact of feedback. Do not be discouraged by your learners' low grades or markings. It is your aid in figuring out how and where to help them improve. Again, like analyzing answers, it takes time if we do it by ourselves.
Now that results are automated and done, there should still be further analysis. AI can help you identify questions where learners have difficulty. Testing doesn't end in the scores and answers, after all. You should follow it up with significant advice and guidance. Words of encouragement can make a difference. It can be a small wave that creates an endless ripple. And our instant feedback works the same way!
Adapting Difficulty Levels
Quiz performance will vary from one student to another. You can't guarantee that every student will have the same results. And that's perfectly normal! We teachers shouldn't have to make it more difficult for them. Instead, we guide and figure out a way to help them! Offering a helping hand is better than making them face another obstacle. If they struggle, we should be sensitive, helpful, and patient.
However, we can not simply handle it all on our own. Each student will have varied comprehension and capabilities. Fortunately, AI can adjust the online quiz difficulty for us. AI has a Recognition of Prior Learning (RPL) feature based on learners' previous performance. It's an extension of guidance for students from time to time. It helps enhance their learning and quiz process. And you won't have to do it manually or personally. AI has got your back!
AI has quite a promising set of qualities. The best part of it is it doesn't end there! AI offers limitless possibilities in the different aspects of life. It's much like an endless staircase that you need to climb. But the more we learn and look into it, the more versatile we become!
Instead of turning away, we should keep track of AI and how it will help improve outcomes! The solutions it can give to creating quizzes and enhancing learning are endless. And among them, here are five ways to conduct better online quizzes with AI:
5 Ways to Conduct Better Online Quizzes with AI
1. AI for Quiz Questions Writing – Create Questions Using ChapGPT
AI is indeed an intelligent entity on its own. It is continuously evolving each day with new knowledge to collect. And we are feeding into it in everything we do on the internet! This collection of knowledge has then transformed into a helpful aid. And it is in the form of ChatGPT. Based on uploaded, downloaded, searched data, and more! It can even create questions for you using the prompts you give it. All from the knowledge programmed into it. Are you not convinced? You can ask ChatGPT itself!
2. AI for Candidate ID Verification
AI has played a big part in verifying students and personnel. Now, AI plays a role in the official verification of online quizzes. One software that has this feature is OnlineExamMaker! OnlineExamMaker has Face Recognition Anti-Cheating Technology. A real-time face scan verifies the identity of students. It compares the students' features in the virtual image to their ID photos. This feature is effective for avoiding cheating incidents in tests. It solves the problem of manually checking for mistakes. And it creates a fair test experience for everyone!
3. AI for Online Quiz Proctoring
Another feature AI can do is allow teachers to monitor or proctor tests. We discreetly manage tests through online quiz proctoring! OnlineExamMaker has a remote proctoring feature. It is an intelligent anti-cheating monitoring function. Cheating makes the students vulnerable and sets them up for failure. But we can solve that with OnlineExamMaker's AI anti-cheating feature! It monitors suspicious business that could be cheating, like sounds, bowing/turning heads, and face detection!
4. AI for Automatic Grading
Since grading is laborious work that can be repetitive, we need peace of mind. Not pieces or sheets of paper to grade! But never fear cause AI is here! AI has proposed yet another feature that does the grading for you. In that way, your overall workload becomes easy to handle! OnlineExamMaker even provides instant results and sends them to students. You don't have to check and send their results one by one!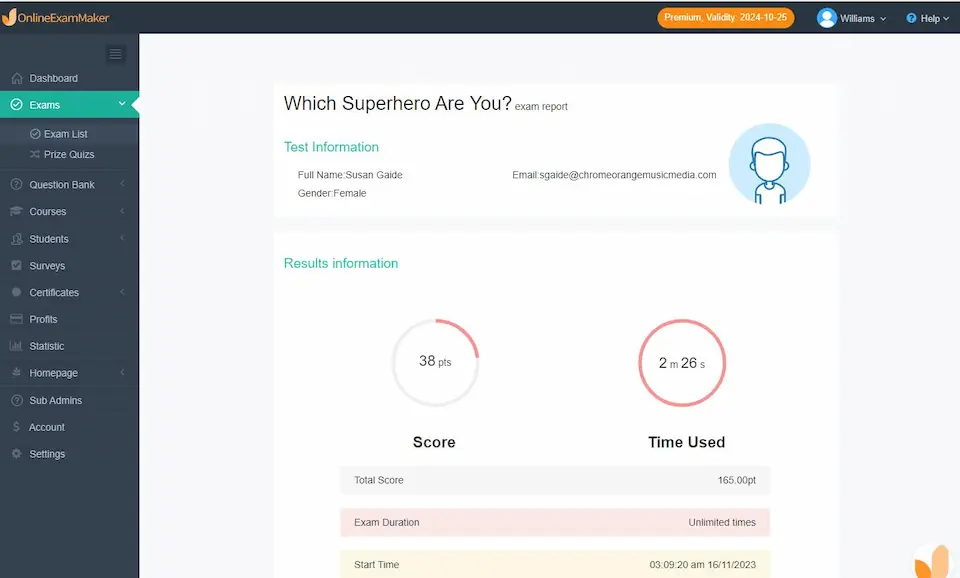 5. AI for Quiz Report Analytics
AI doesn't only analyze test answers but also the results! In OnlineExamMaker, it provides detailed reports on test results. It gives you an in-depth analysis of students' correct and wrong answers. OnlineExamMaker gives you further insight into where you can help them improve. And it can also show you how you can improve your online quizzes.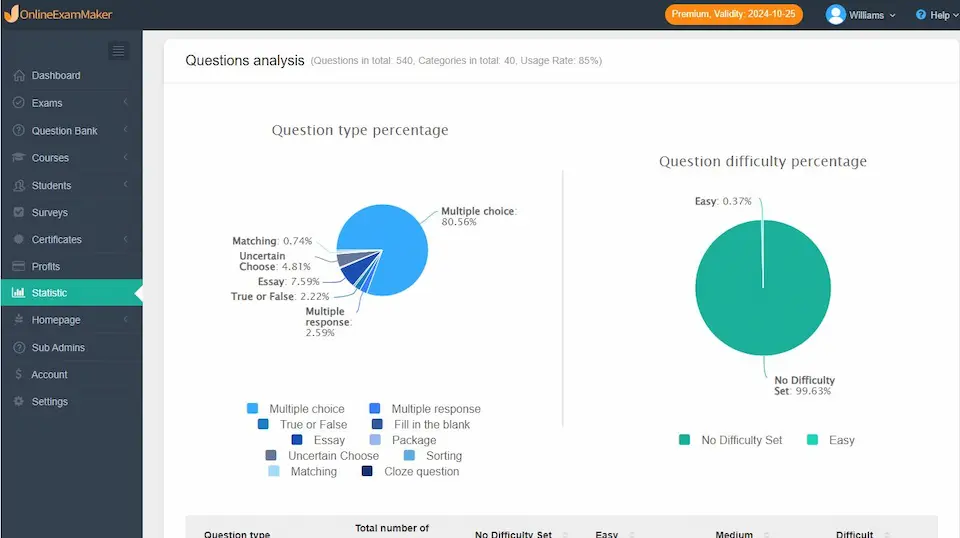 How to Create An AI-powered Quiz with OnlineExamMaker
Step 1: Navigating OnlineExamMaker
First, go to the left side of the dashboard and click on 'Exams.' It opens a new window, and then click 'Exams List.' Once you've done that, click '+ New Exam' to start making your AI-powered quiz!
Step 2: Type in Basic Information
In this step, fill in the necessary details for your assessment. Select a fitting title and category. Categorizing your quizzes helps you stay organized and accurate. Click 'Advanced Settings' to open additional options. You can either choose from the templates or upload one! Type in the necessary keywords and a short description. It helps students know what the quiz is about. Click 'Save and Next' to proceed to add questions.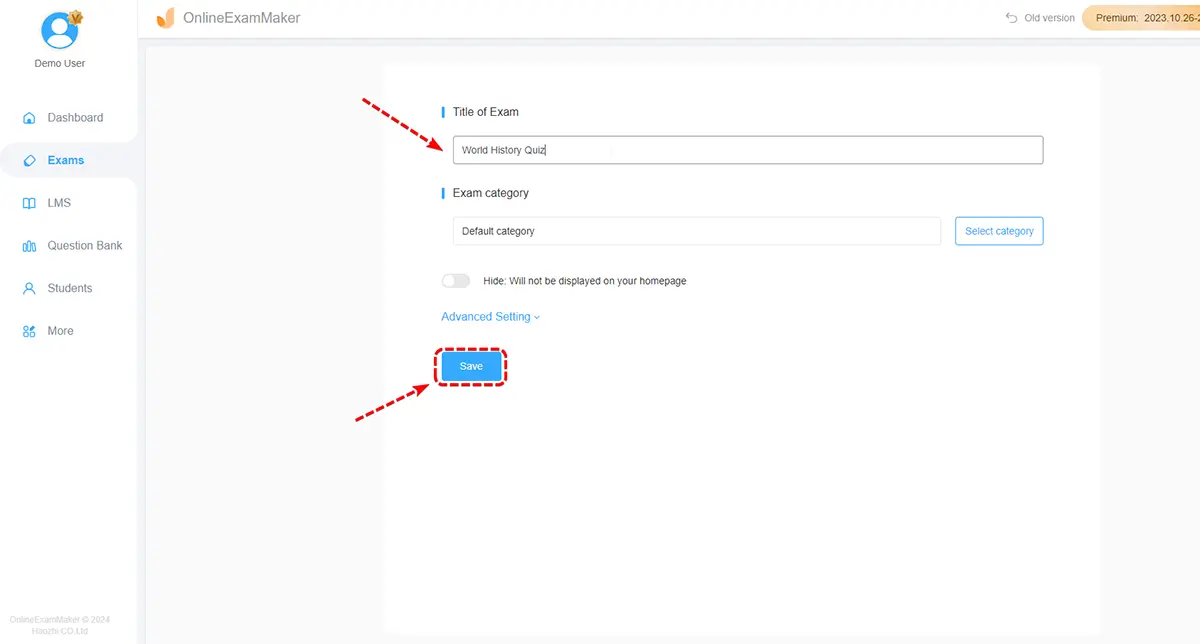 Step 3: Adding Questions
The next step is to type in the questions for the quiz. Click '+ Add questions' to create your questions. You can choose from many question types! Along with the questions, type the potential answers to choose from. Select the correct one and set the corresponding points. Click 'Save' to finish making the question. You can use the randomized question feature here. It generates a unique set of questions for each student. Once the other questions are encoded, click 'Save and Next' to proceed.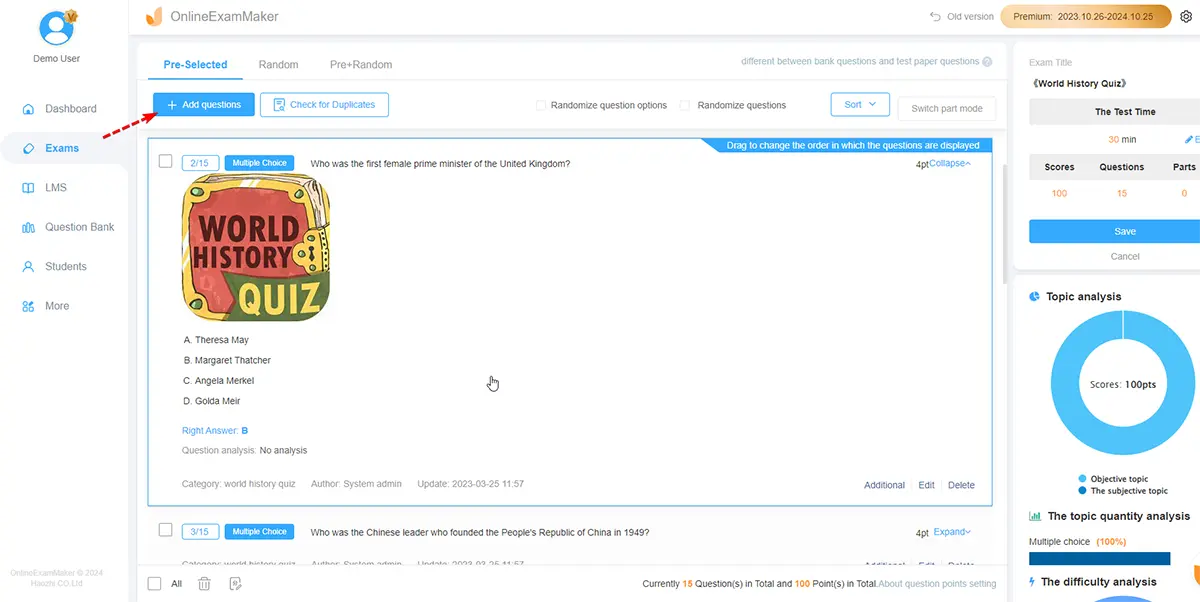 Step 4: Adjusting the Anti-Cheating Settings
After creating the quiz, go to the 'Anti-Cheating' settings. Allow surveillance cameras before checking 'Enable Intelligent Anti-Cheating Monitoring.' In this step, you can adjust the other settings of your assessment. You can manipulate the schedule and rules however you need to. It should be a convenient time for your students to take. Double-check the schedule and time to ensure there are no mistakes. You can also change the theme of the assessment! You can edit the quiz however you like to make it your own. After adjusting your settings, click 'Save and Publish.'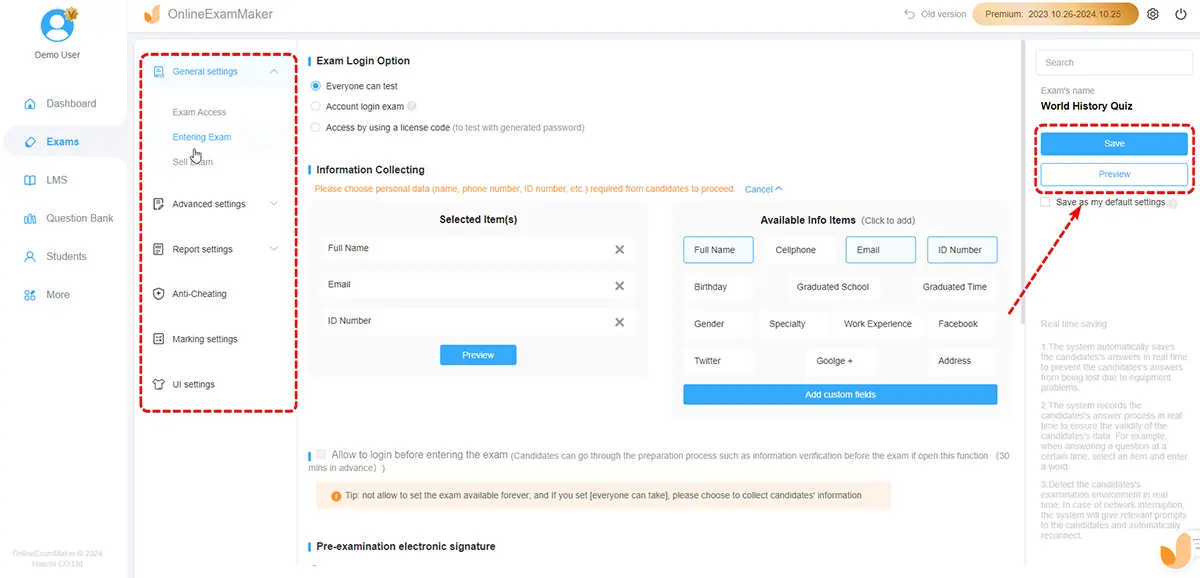 Step 5: Setting Up Face Recognition
First, select the 'Exams List' button to look for the quiz you made. Now, click 'Settings.' On the settings page, click 'Anti-Cheating' and check 'Enable Face Recognition.' Note: You need to purchase the face recognition function for this step. After that, you now have an AI-powered quiz!


Step 6: Publish & Distribute Your Quiz
Publish your exam privately to a select student group, you can invite students to attend the exam by sending email or short messages.
AI for Online Quizzes FAQ
Q1: Is it difficult to use and learn AI features?
It's easy! AI can be intimidating, especially for people who aren't techy or informed about it. Its purpose is to become an aid that helps you from the get-go. And for teachers, this is by making quizzes easier and more versatile. Ignorance of technology can lead to blocks in improvement. Don't be afraid to experiment and try AI technology!
Q2: How are these AI features different from actually doing them?
AI technology will significantly decrease manual, physical, and mental workload. In the case of teachers and frontline workers like us, AI is our friend in working. AI will do the dirty work and complex tasks for us. We don't need to struggle to do tedious work. It conserves our energy, resources, and time. And since it is AI, it is infallible and a stable partner who never gets tired!
Q3: Are AI features limited to Educational or Academic ideals?
AI features go way beyond the academic and educational scope. You can find AI in different aspects of life. AI doesn't have a limit in assisting and helping us humans. You can use it in various working sectors or fields of science! It started in the computer science field but has extended its influence greatly. AI technology is consistently improving itself.
Q4: Is AI helpful or a hindrance to teaching?
AI technology has been utilized in the teaching scene longer than you think. It's labeled Artificial Intelligence in Education (AIED) and has existed for over six decades. AIED includes an automatic grading feature, personalized learning paths, and intelligent tutoring systems. From those three alone, AI in Education has been helpful to educators. And it continues to be a facet of teaching to this day.
Q5: What is an AI quiz maker?
An AI quiz maker is a tool that utilizes artificial intelligence to create, design, and sometimes even grade quizzes. It automates the quiz creation process, making it more efficient and allowing for personalized and dynamic quizzes.
Q6: Do I need programming skills to use an AI quiz maker?
Generally, no programming skills are required. AI quiz makers are designed to be user-friendly, allowing individuals with varying levels of technical expertise to easily create and deploy quizzes.
Q7: What is AI quiz question generation?
AI quiz question generation is the use of artificial intelligence algorithms to automatically create questions for quizzes, exams, or assessments. It involves the generation of questions based on predefined criteria, such as topic, difficulty level, or learning objectives.
Q8: Can AI generate questions for any subject or topic?
Yes, many AI question generation systems are versatile and can be adapted to generate questions for a wide range of subjects and topics. The effectiveness may vary depending on the complexity and specificity of the content.
Q9: Can AI-generated questions mimic the complexity of human-generated questions?
AI has made significant strides in mimicking the complexity of human-generated questions. However, while AI can generate high-quality questions, the nuanced creativity and contextual understanding of humans may still set some human-generated questions apart.
Q10: What is the best AI-powered quiz maker for beginners?
There are several quiz creating software with AI technologies, such as OnlineExamMaker, Proprofs, SurveyMonkey, OpenEdx, and more. However, if you are looking for a beginner-friendly tool, OnlineExamMaker is the best choice. OnlineExamMaker's user-friendly interface, automatic grading calculator, and hundreds of pre-made questions can help you save tons of time in quiz creating.