Open-source exam software refers to computer-based applications or platforms that are developed and distributed under an open-source license. Open source means that the source code of the software is freely available, allowing users to view, modify, and distribute the software according to the terms of the open-source license.
In the context of exam software, open source offers several advantages. Firstly, it provides transparency, allowing users to inspect and understand how the software works. This transparency helps build trust and ensures that the software functions as intended. Additionally, open-source exam software allows for customization and flexibility. Users can modify the software to suit their specific requirements, add new features, or integrate it with other systems or tools.
Online exams have become a popular and efficient way to assess students' knowledge and understanding. With the advancements in technology, numerous open-source online exam software options have emerged, providing teachers with powerful tools to create, administer, and grade exams seamlessly. These open-source solutions offer flexibility, customization, and cost-effectiveness, making them an excellent choice for educational institutions.
Table of Contents
How to Choose An Open Source Exam Software?
Are you looking for an open source exam software for your schools or training institutions? Below are several factors that you should consider before choosing which open source assessment software is most suitable for you.
Compare Versions: Look at frequency of updates, bug fixes, and new feature additions. Active open source exam creator software projects indicate reliability and continuity.
User Experience: A exam maker system with an intuitive interface & detailed tutorials will save you a lot of time & energy.
Features: Does the open source exam software meet the requirement of my teaching goal? Question bank, student management system, and remote proctoring tool are essential for a helpful exam system.
User Community: Look for an engaged user base that provides feedback, shares tips and tricks, and contributes to documentation and issues log.
Licensing Terms: Ensure the open source license aligns with your usage like commercial use, modifications, redistribution etc.
Platform and Device Support: Ensure the exam software works across your required operating systems, browsers, and devices.
Check Professional Backing: Open source exam software projects with sponsoring vendors behind them tend to be more mature and sustainable long term.
In this article, we will explore the top 10 open-source online exam software products that empower teachers to conduct assessments efficiently and effectively.
OnlineExamMaker – Best Free Online Exam Software for Teaching & Training
Before we explore the learn the 10 best open source exam software in this post, we can have a look of OnlineExamMaker, an all-in-one exam maker for teachers and trainers.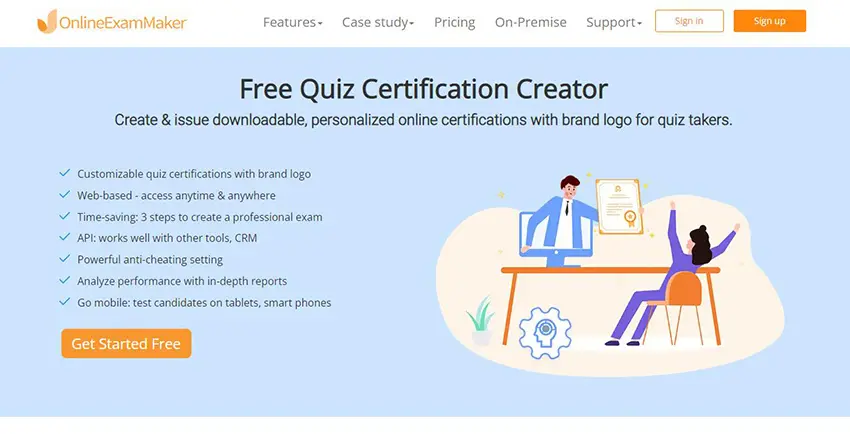 OnlineExamMaker gives you everything you need to create interactive online quizzes to assess students and staffs, and engage potential customers. The online testing platform offers options for adding multimedia elements, such as images and videos, to enhance the quiz-taking experience.
With OnlineExamMaker quiz maker, teachers can easily create, customize, and distribute quizzes with just a few clicks. The intuitive interface provides a range of question types, including multiple-choice, true or false, fill in the blank, and open-ended questions, enabling users to make professional assessments that suit their specific needs.
Key Features:
• Enhance your exams with audio, video, or image.
• Lower testing & training costs.
• Track learning results and measure success.
• Automate grading & insightful reports.
• Remote proctor with video recording via webcams.
• Mobile-first testing & learning platform.
• Assess candidates on all devices: mobile, tablets, computers.
• One-click to embed exam to your website.
• White-label: add brand logo, slogan to your exam.
10 Best Open Source Online Exam Software Comparison Chart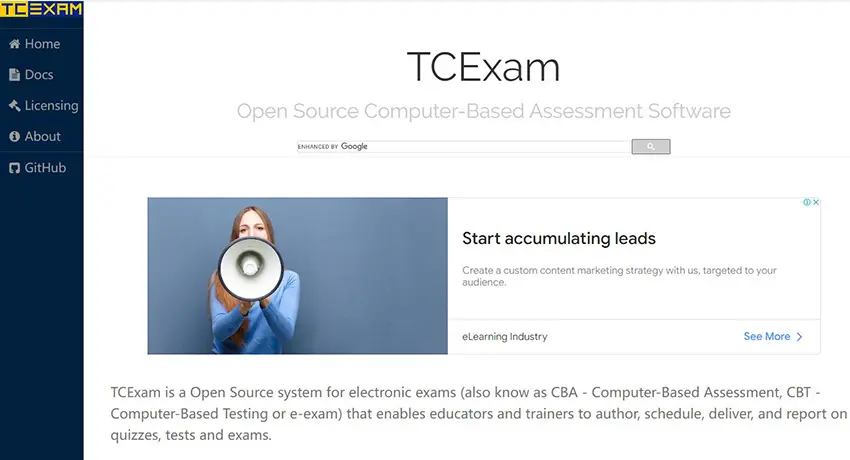 TCExam is a web-based open-source assessment platform designed for creating and managing online exams. It offers various features to ensure exam security and provides a user-friendly interface.
As a CBA (Computer-Based Assessment) system (e-exam, CBT – Computer Based Testing), TCExam helps universities, schools and companies, that enables educators and trainers to create, schedule, deliver, and report on surveys, quizzes, tests and exams.
Key Features:
• Easy Exam creation and management.
• Web-based and developed with LAMP (Linux, Apache, MySQL, PHP) technology.
• Enable various selection filters and providing numerous statistical indexes.
• Add video, audio, photos to quiz questions.
• Question bank management & randomize question options.
• User/password, access level, group, IP address for secure testing.
GitHub Project: https://github.com/tecnickcom/tcexam
Pricing: Free and open source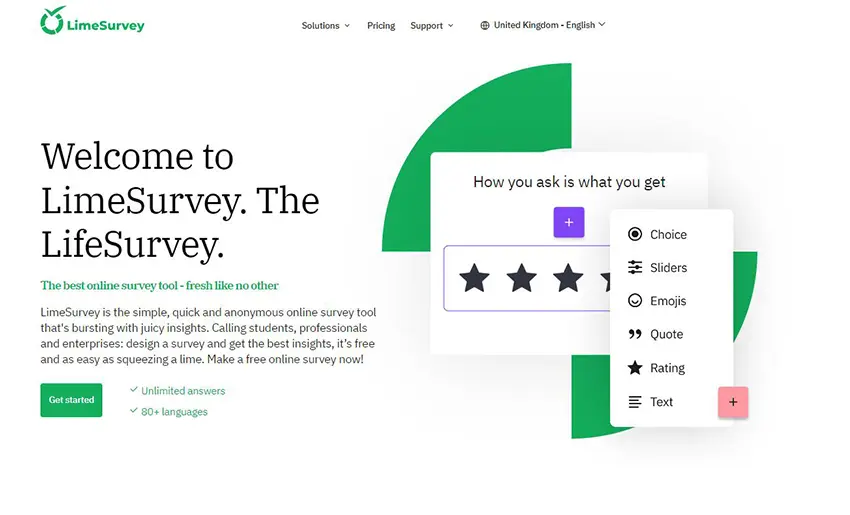 LimeSurvey is an open-source online survey software that can also be utilized for creating and conducting online exams, surveys, and polls. It offers a comprehensive set of features for exam creation, delivery, and analysis.
LimeSurvey provides a versatile platform that allows instructors to create and manage online exams with a8 different types of questions in over 80 languages. You can share online quizzes and invite your customers to participate in your online exams and send them reminders directly from the application thanks to our all-in-one solution.
Key Features:
• White-label: Add your brand to online exam.
• Unlimited number of quizzes and surveys.
• Multiple admin users for teamwork.
• 80+ languages for administration and quizzes.
• Import / export of questions and surveys
• Connect your online exams with your own domain.
Pricing: Free and open source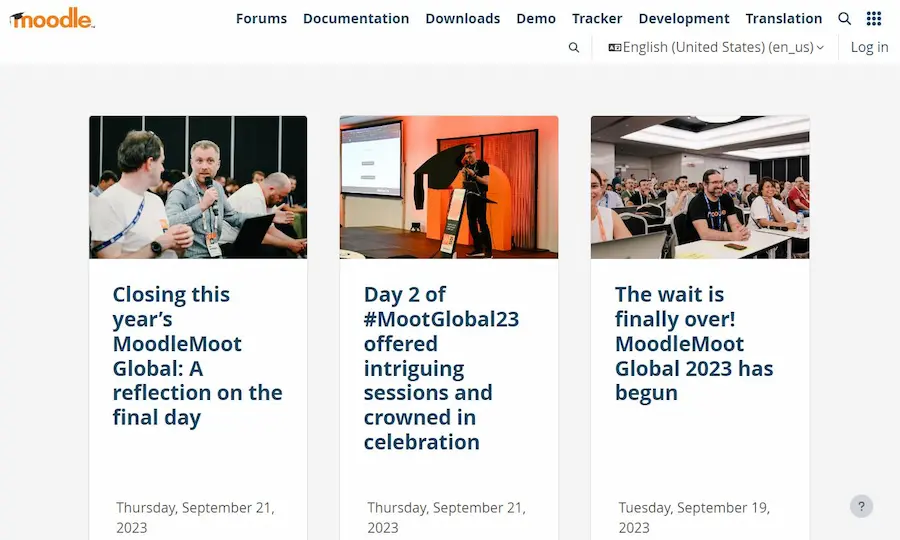 Moodle provides a robust platform for course & assessment management and delivery. Educators can easily create, customize, and organize courses with various resources, activities, and assessments. The platform supports multimedia integration, allowing instructors to incorporate videos, documents, quizzes, and interactive elements to enhance the learning experience.
Moodle offers comprehensive assessment tools, allowing educators to create quizzes, assignments, and exams with various question types and grading methods. The software's grading and feedback features enable instructors to provide personalized feedback and track student progress.
Key Features:
• Course creation and customization options.
• Assessment and grading capabilities.
• Open-source and community-driven development.
• Discussion forums for student interaction.
• Assignment submission and feedback.
• Mobile-friendly interface for on-the-go access.
Pricing: Free and open source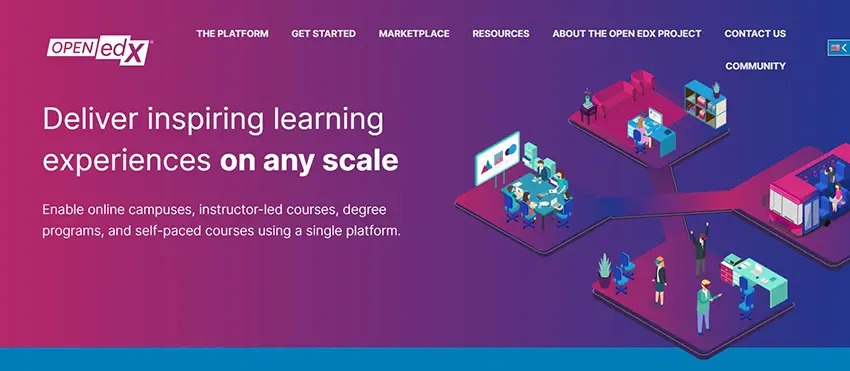 Open Assessments is an open-source online assessment platform integrated with the Open EDX learning management system. It offers features for creating and managing online exams and assignments.
Open EDX provides cross-device and cross-platform online exam solution. The released exams created by Open EDX can work on mobile phones, tablets and desktops. The platform can seamlessly integrate with third party tools and extensions such as Salesforce, MailChimp, Hubspot and more.
Key Features:
• On-premise or in the cloud for self hosting.
• Interactive content with multimedia & animation.
• Dashboards with near real-time data analysis.
• LMS to manage courses, learners, exams together.
• Manage your course schedule, course team, and grading policy.
• Intelligent reporting and analytics.
Pricing: Free and open source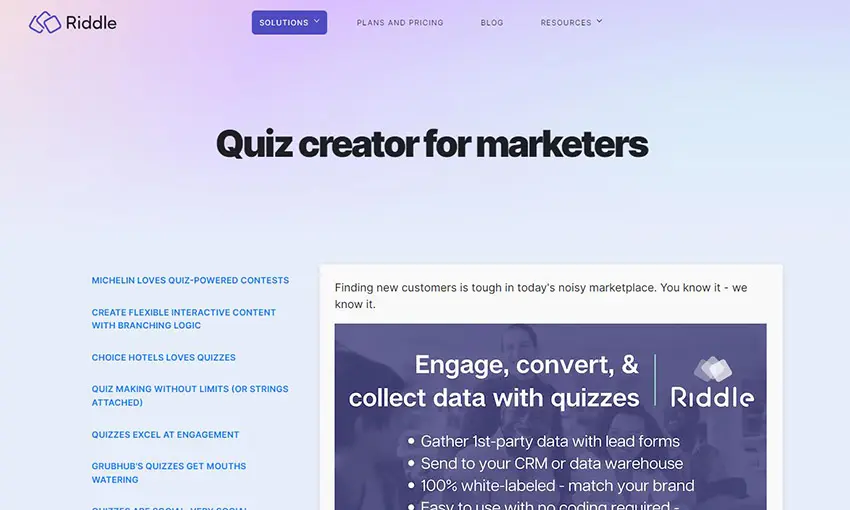 Riddle is a versatile online platform that empowers individuals and businesses to create and share captivating quizzes, polls, and surveys. With its user-friendly interface and extensive feature set, Riddle makes it easy to create interactive content that sparks curiosity and engages participants. From personality quizzes to customer feedback surveys, Riddle offers a diverse selection of templates and customization options to suit your specific needs.
Riddle provides a comprehensive learning management system with built-in online exam features, making it suitable for educational institutions and organizations looking for a complete e-learning solution.
Key Features:
• Create content in minutes with drag & drop creator.
• Publish your quizzes on any site, WordPress, Wix, Squarespace.
• Convert test takers into leads.
• Streamline your work and marketing funnel with other tools.
• Redirect quiz takers to URLs.
• Facebook Pixel Tracking.
Pricing: Free trial.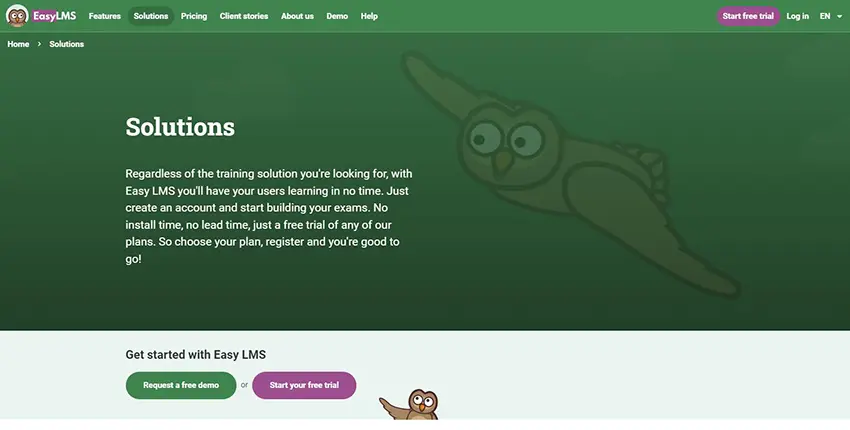 Online Exam Builder is another open-source web-based platform that enables teachers to create and deliver online exams. It provides a user-friendly interface and various features for exam customization.
Online Exam Builder is a straightforward and intuitive online exam software that allows teachers to create exams with different question types, set time limits, and generate instant results.
Key Features:
• A wide range of question types to choose.
• White label your exams to make your students feel at home.
• Invite users to your exams.
• Embed exams on your site or platform.
• Create quiz certification for students.
• Use Single Sign On integration to give secure access.
Pricing: Free trial.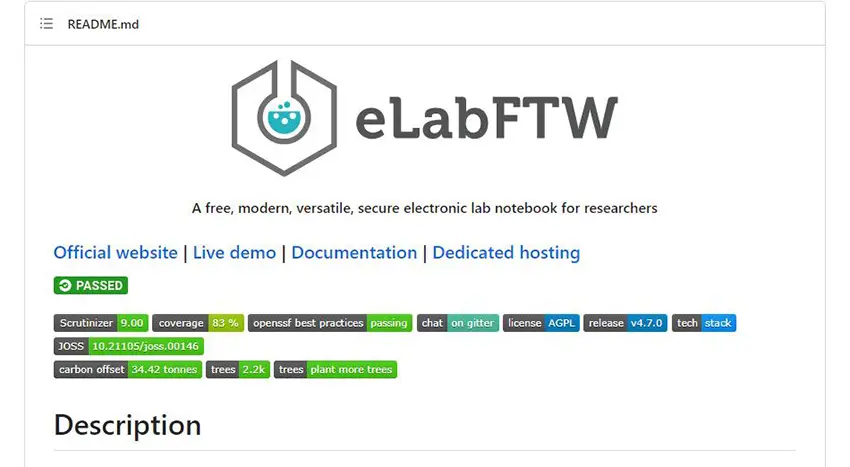 eLabFTW is an open-source electronic laboratory notebook software that also includes exam management capabilities. It offers features for creating and managing online exams in scientific and research-based environments.
eLabFTW provides a unique combination of laboratory notebook functionality and exam management features, making it suitable for educational institutions and research organizations.
Key Features:
• Lab notebook for quizzes & surveys.
• Import and export questions in various formats.
• Molecule/equation question editor.
• Exam scheduling and time limits
• Available in 17 languages.
• Support for various scientific file formats.
Pricing: Free and open source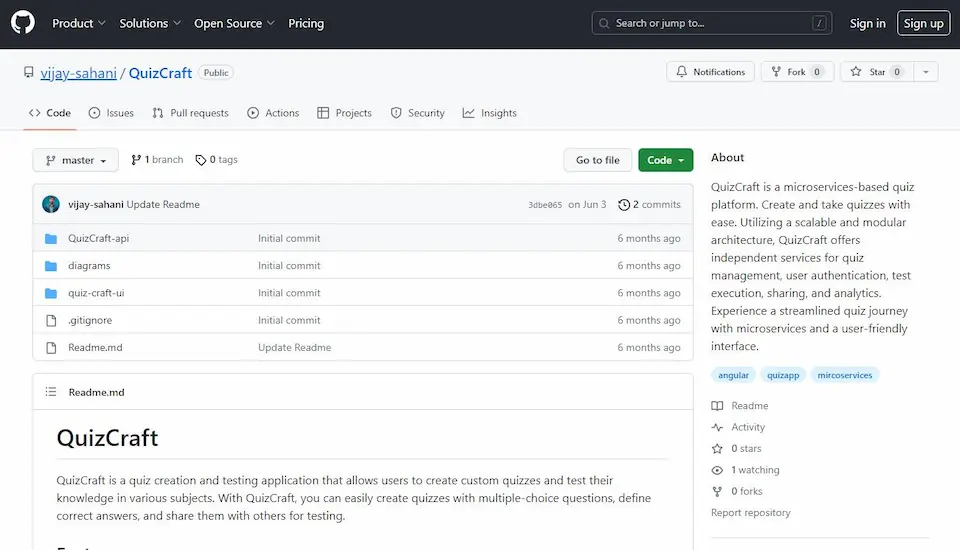 QuizCrafter is an open-source online exam software designed for creating and administering quizzes and exams. It offers a user-friendly interface and a range of features for assessment.
QuizCrafter provides an intuitive platform for teachers to create and manage online quizzes and exams. It includes features such as question bank management, grading options, and customizable assessments.
Key Features:
• Easy exam creation and distribution.
• customize quizzes by setting time limits, and specifying the number of questions.
• Multiple question types
• Share their created quizzes by generating a unique code or URL.
• Intelligent grading & quiz reports.
Pricing: Free and open source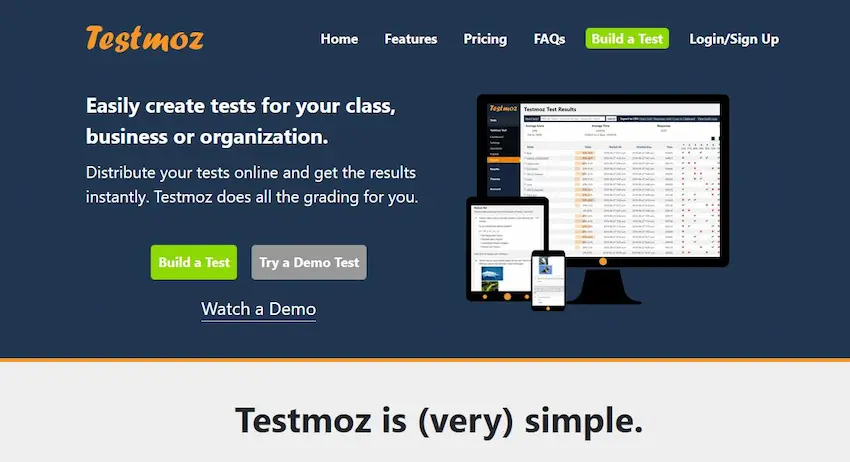 Testmoz is an open-source online exam software that enables teachers to create and deliver online exams with ease. It offers a straightforward interface and essential features for assessment.
Testmoz provides a user-friendly online exam solution for educators, allowing them to create exams, manage questions, and track student performance effectively.
Key Features:
• Create question banks or pools directly.
• Insert math equations for math exams.
• Share a copy of your quiz with a colleague.
• Limit the number of times someone can take your quiz.
• Group your results by student, and display their min, max, first or last score.
• Set open/close dates for the test.
Pricing: Free and open source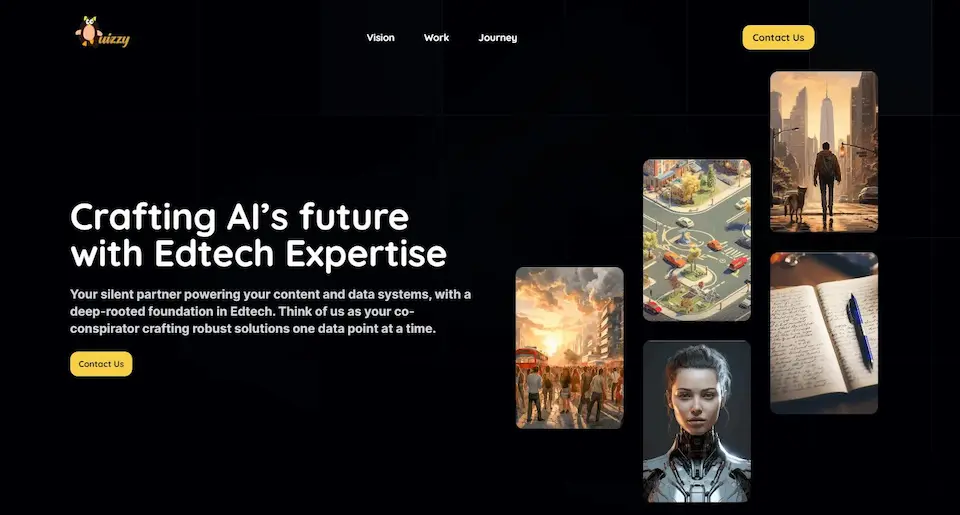 Quizzy is an open-source online exam software that allows teachers to create and administer online quizzes and exams. It provides a simple and intuitive interface for both instructors and students.
Quizzy is a lightweight online exam software that focuses on ease of use and simplicity. It offers essential features for creating exams, managing questions, and tracking student performance.
Key Features:
• Perfect exam tool for K-12, Test Prep, and Corporate L&D.
• Producing video content for student quiz questions.
• Delivering platforms for personalized student game experiences.
• Automated grading & feedbacks for students.
• AI technologies for quiz creation & analytics.
• Utilizing a global remote team with varied skills.
Pricing: Free Demo.
With the availability of open-source online exam software, teachers now have a wide range of powerful tools to create, deliver, and evaluate exams seamlessly. Whether it's the flexibility and customization options of eLabFTW and Quizmaker, the adaptive testing capabilities of Adaptable Tests, or the user-friendly interfaces of Open Assessments and Testmoz, these open-source solutions provide the necessary features to streamline the assessment process. By leveraging these open-source options, teachers can enhance the learning experience, improve exam security, and gain valuable insights into student performance. So, explore these 10 best open-source online exam software solutions and take your assessments to the next level while embracing the advantages of digital learning.
How to Create An Online Exam for Beginners?
Here's a step-by-step guide to creating an interactive exam with OnlineExamMaker, the top-rated free exam maker software.
Step 1: Go to OnlineExamMaker website, click "Sign Up" button to create a new account. If you are already an OnlineExamMaker user, click "Sign in" button to login.
Step 2: Navigate to Question Bank, then upload questions in bulk via an Excel file. You can prepare questions in an Excel file follows the format provide by OnlineExamMaker. If you want to create a question from scratch, you can also create new questions in OnlinExamMaker Question Editor.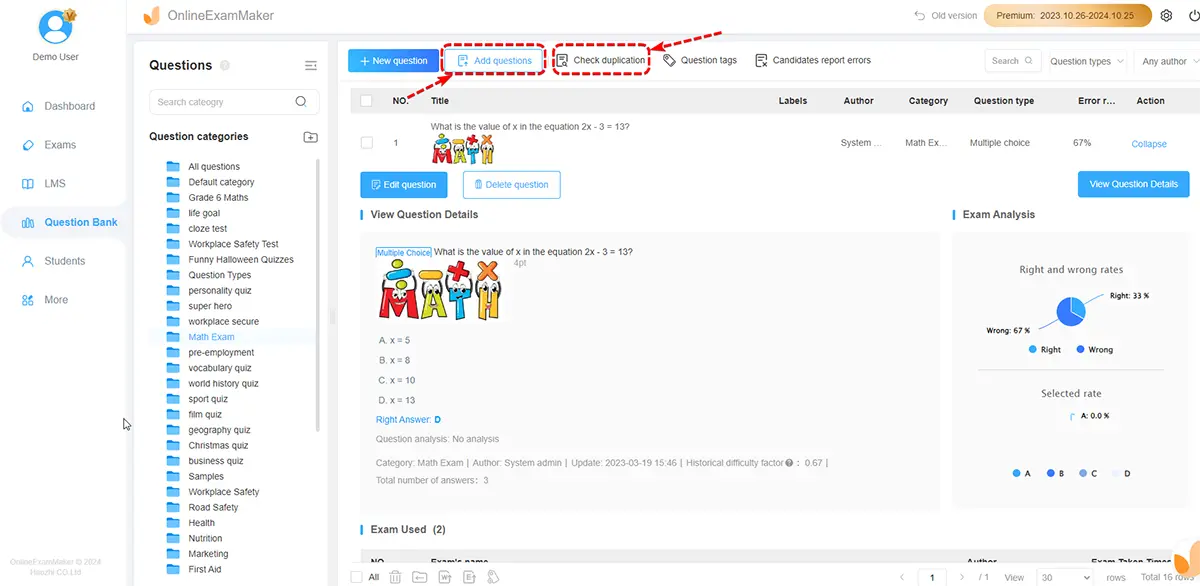 Step 3: Click "New exam" button to create a quiz and fill in essential information like the title, description, and keywords. After the exam is created, you can insert questions into the exam from Question Bank.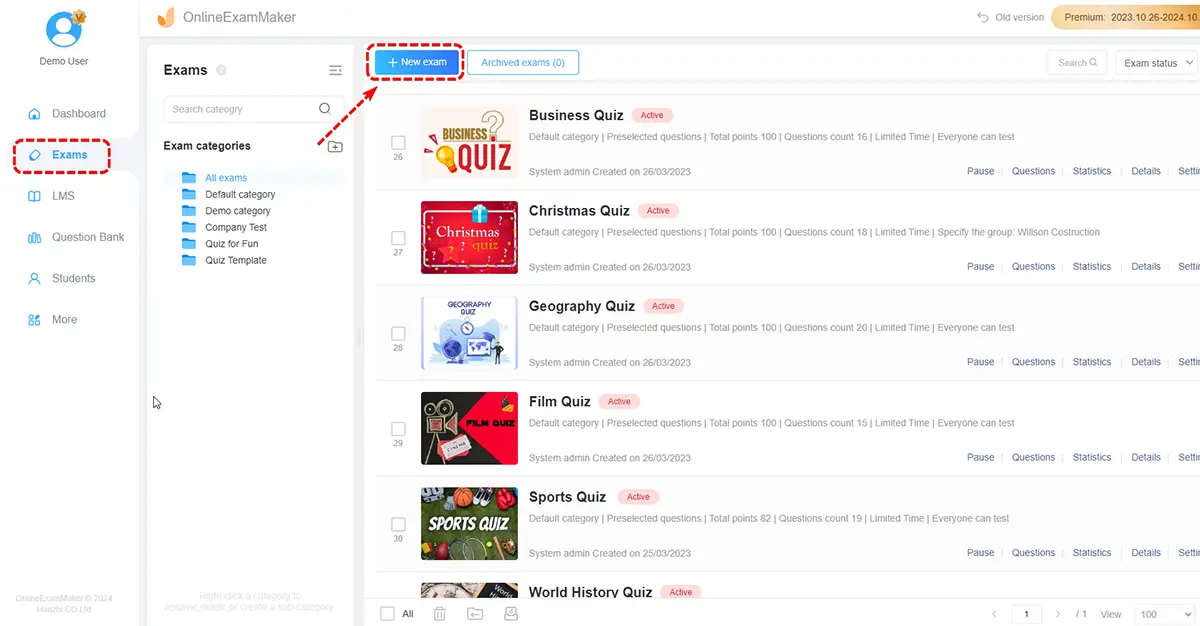 Step 4: It is time to configure exam settings in this step. You can personalized the exam settings for your testing goal, such as quiz date and time, access code, register form, choosing login preferences, and implementing anti-cheating measures.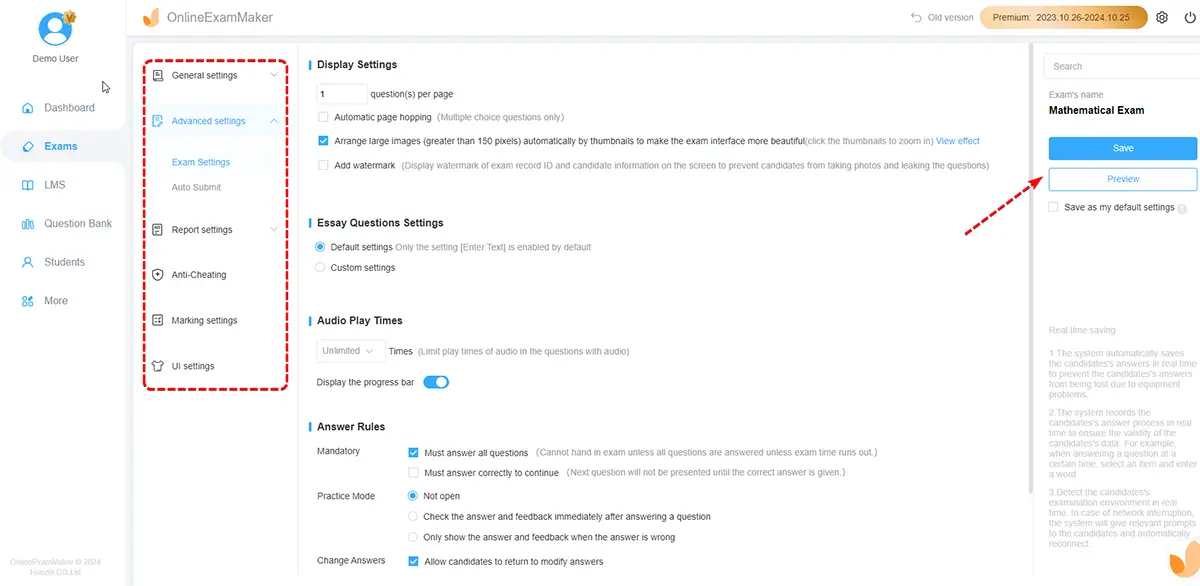 Step 5: Preview & release the exam. Then you can publish your exam privately for a specific group of individuals or make it accessible to anyone by sharing a unique link or a QR code.
Open Source Exam Software FAQ
1. What is open source exam software?
Open source exam software has source code that anyone can inspect, modify, and enhance. These are typically free to use and not owned by any one vendor.
2. What are some examples of open source exam software?
Popular options include Moodle, Open edX, Canvas, Matterhorn, BigBlueButton, LimeSurvey, and more.
3. What types of exams can these platforms support?
They support quizzes, practice tests, proctored exams, high-stakes testing, certification exams, employment screening and more.
4. What question types do they offer?
Multiple choice, true/false, matching, fill in the blanks, essays, coding challenges and more, most of the major questions are supported in open source exam software.
5. Is creating exams easy for non-technical users?
The admin interfaces allow drag-and-drop exam creation requiring no coding expertise.
6. How scalable are open source exam platforms?
The modular architecture of most allows scaling from small to very large user bases.
7. What licensing terms apply?
Depends on the platform – common licenses used include GPL, Apache, MIT etc. with varying usage rights.
8. What are the advantages of using open source exam software?
• Cost: Open source software is often free.
• Transparency: Users can inspect and modify the source code.
• Community Support: Large user and developer communities can provide support.
• Flexibility: Users can customize the software to meet specific needs.
9. Are there any disadvantages of open source exam software?
• Support: Open source software usually may lack dedicated support.
• Compatibility Issues: Compatibility with proprietary software can be a challenge.
• Learning Curve: Users may need to learn new tools or technologies.