Abstract: Teachers can use Online Exam Maker to improve their work effiency.
We understand that it is very important for teachers to make online exams for a group of students. Therefore, Online Exam Maker is built with teacher-centred idea. With Online Exam Maker, you can easily create all your  online quizzes.
There are 10 types of questions teachers can create, such as, Multiple choice, Multiple response, True or False, Fill in the blank, Essay, Package, Uncertain Choose, Sorting, Matching, and Cloze Question.

(Ten types of questions)
Register an account on Online Exam Maker
You can register to experience a free member and enjoy some basic functions.
Import your questions in batches into question bank
All questions are saved and categorized in your question bank. You can re-use questions in all kinds of tests.
Create online quizzes
After importing the needed questions, you can fill in the basic information of the exam.
Select questions from question bank
Questions can be selected from question bank in order or at random. Or you can additionally add the new ones.
Do some exam settings
You can make some settings about exam access, entering way, exam mode, anti cheat, result page ,report page, theme, ranking list, certificates, and sub-admins.
Share the exam to candidates
There are 2 ways to release the exam, shared by link or QR code.
View statistics data of test result
The system will make a comprehensive analysis of the candidates' answers, which reduces teachers' workload.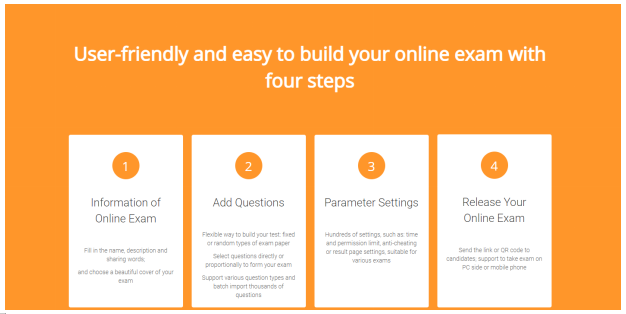 (Four steps to create online exams)
Online Exam Maker is a good assistant  to help teachers create online quizzes with ease.
For more functions, please click the "Sign up" button in the upper right corner of the page to try it.