At present, most users use Online Exam Maker to conduct online exams. Because they believe that a practical online exam system can help them improve the efficiency of organizing exams and reducing the workload. However, Online Exam Maker not only provides examination services, but also offers learning platform. Because the combination of examination and study mode can better detect the learning achievements of examinees. This combination of examination and study model is not only suitable for schools, but also for corporate training and assessment. The following is the introduction to the learning platform in Online Exam Maker.
Courseware management
For exams, the system will provide users with a free question bank, users can upload questions to the question bank in batches. Similarly, when users use the learning platform in the system, they can also upload courseware to the system in batches. The system supports four formats of courseware, video, audio, document and picture.
Course creation
Improve course information. Users can click "course" first, and then complete the basic information of the course, including course title, selection category, cover, course description, etc. This information can help learners understand the general content of the course.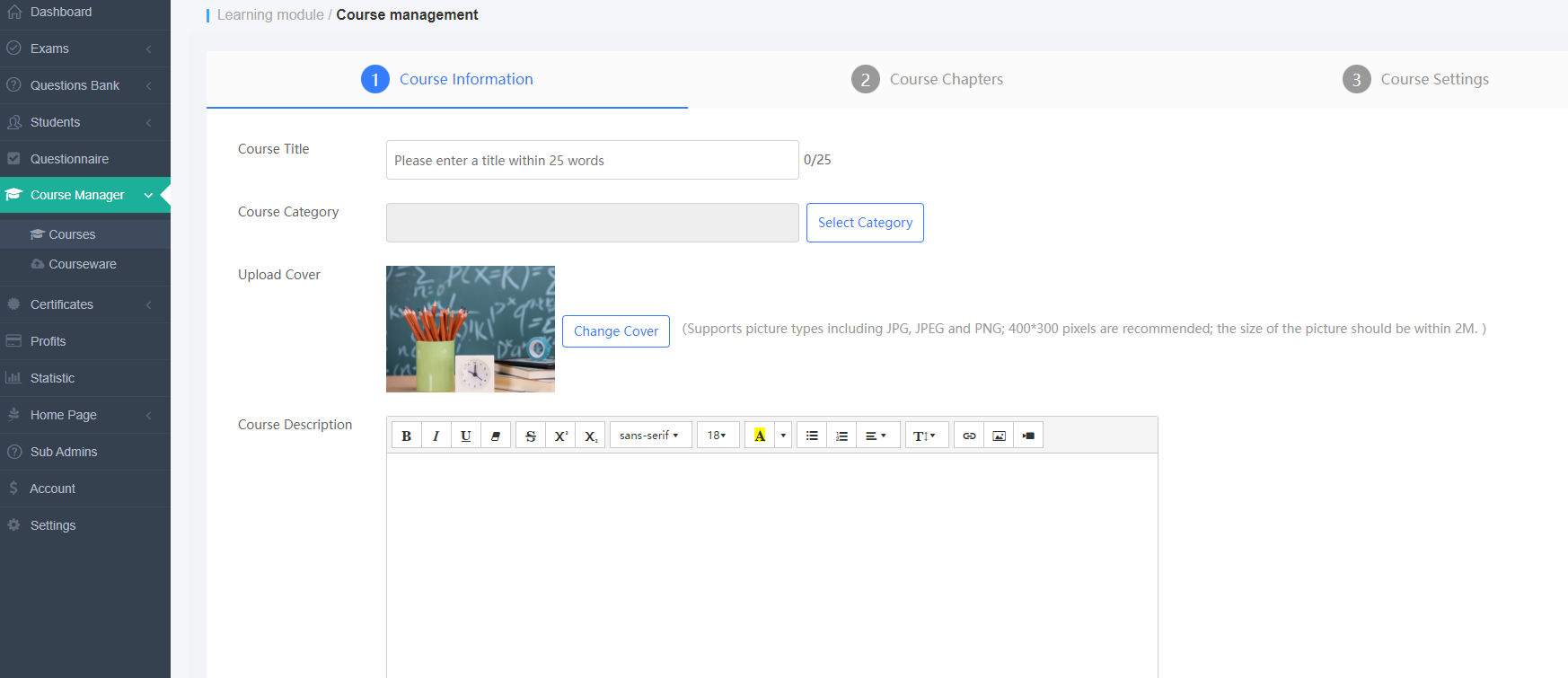 Add course chapters. In this step, the user can design how the course will proceed. After the user clicks "add new chapter", fill in the title and description of the chapter, and add the required courseware for the chapter on the right side of the page to successfully create a chapter.

Course setting. In this step, the user can set the person who participates in the course, the difficulty of the course, the number of times the course can be learned, and the screen switching prompt when learning.

As a popular online exam system, Online Exam Maker is constantly improving its test functions. The combination of examination and study is more conducive to mastering knowledge. In the future, Online Exam Maker will be known not only because of the powerful examination function of the examination. If you are interested in the learning platform of Online Exam Maker, please click the "Sign up" button at the top right of the page to try it for free.