Work-from-home as the new norm is still an argument to this day. Whether it is or it isn't, we are here to bring you 6 of the best Pre-Employment Testing Software out there that will help your remote hiring process.
When it comes to pre-employment assessments, there exist hundreds of options online that a company can buy and use. They vary from performance, flexibility, and accessibility, to the size of the company or business (or individual) and their budget. The hard part is that almost every pre-employment testing software on the internet is flawlessly advertised, making it harder to choose which is the best one to invest in.
However, despite having hundreds of options on what we can choose from, there will always be the perfect assessment software that will fit our company's needs. Fortunately, we are here to review all the most recommended Pre-Employment Testing Software to help you choose "the one."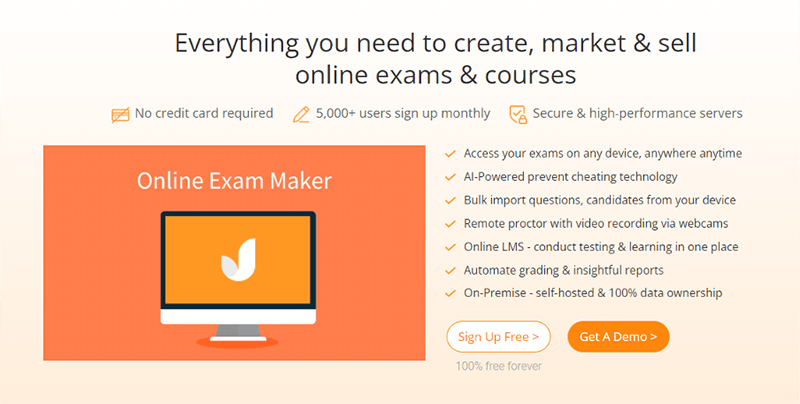 OnlineExamMaker is a flexible, cloud-based SaaS online exam system built to help teachers, HR managers, small businesses, and institutions to create online exams to assess students and future employees. The software offers easy access to a question bank alongside its exam creation features and auto-grading and reporting system. With its Ai-based anti-cheating technology and live ID verification, remote proctoring is made accessible due to its high security, making it plausible to conduct extensive scale assessments simultaneously. It is perfect for large-scale schools, universities, companies, and enterprises.
Why choose OnlineExamMaker:
• Question Bank. Personalized Exam with automated grading and reports.
• Flexible and Scalable. Test anyone, anywhere, and at any time.
• Remote Proctoring and anti-cheating tech, AI-powered face ID verification technology enable the online exam system to capture the image of the exam taker via a webcam and compare it with the candidate's profile photo, which is uploaded to a cloud server.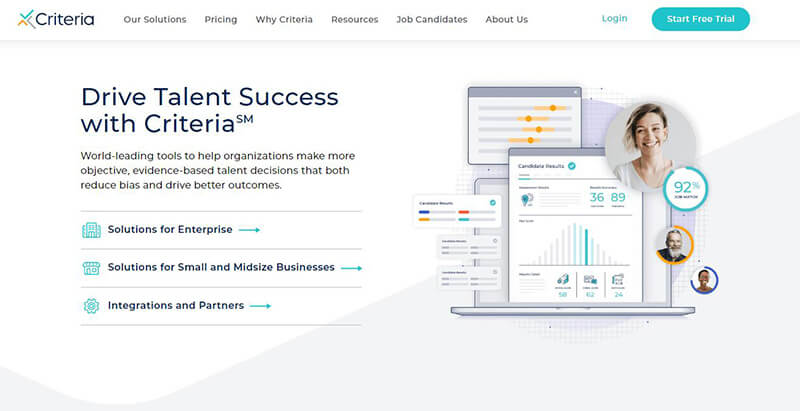 For small businesses to large enterprises, Criteria is an assessment company that offers world-leading solutions to help organizations achieve better, objective results in finding new talents.
The company believes in "Better Science. Better Decisions. More Talent Success," – describing their solutions in making systematically designed assessments for their clients. By combining leading-edge data science with rigorous validation backed by I/O psychologists, Criteria provides the most precise assessments. Criteria have partnered with a wide range of ATS and HRS platforms to offer streamlined integrations to their clients' existing hiring process.
Why choose Criteria:
• Uses objective, multidimensional data for precise and comprehensive assessments
• Flexible, Scalable, and Robust platform. Test anyone, anywhere, and at any time.
• Tests cover aptitude, personality, emotional intelligence, and more
• Intuitive score reports.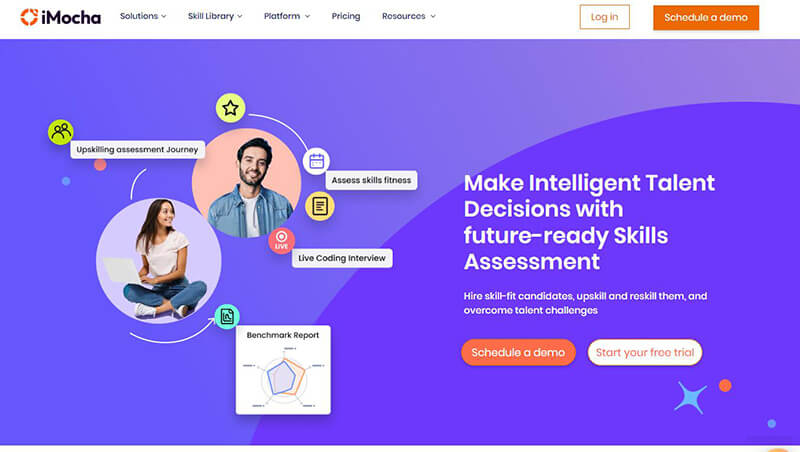 iMocha is the world's largest Skills Assessment platform that helps Mid-sized businesses and Enterprises hire job-fit candidates faster and measure the ROS of their L&D program.
iMocha offers Talent Analytics to solve global enterprises' Talent challenges; this is a skill-assessment platform that allows organizations to test a range of skills and verify candidates' job fitness as part of their hiring process. iMocha also offers a library of ready-to-use skill tests, including coding, language proficiency, business aptitude tests, and more. While all tests are designed and validated by subject matter experts from all over the world, clients can use customizable prebuilt tests or create their assessments from scratch. iMocha also offers custom-made order tests for companies. As soon as tests are finalized, invitations can be sent to test takers, with a test link allowing them to take the test from anywhere using their laptops, computers, or smartphones.
Why choose iMocha:
• Customizable assessments. Clients can choose from a library of assessments designed by subject matter experts globally. Or, clients can create their own tests from scratch or customize built-in difficulties.
• Built-in Integrated cheating detection tools.
• Webcam tools for screening and compelling candidate interviews.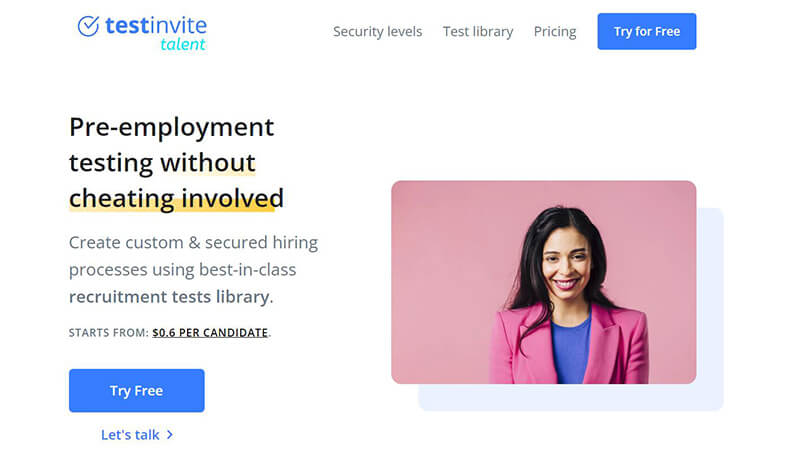 Test Invite is a cloud-based and secure online assessment software with anti-cheat features designed to help SMBs, large enterprises, and public administrations conduct supervised and customizable tests.
Test Invites clients, from freelancers to large companies, to lock down browser activity, monitor and record live video streams, and place access restrictions to ensure security. And users can administer online exams with multiple sections and question formats, time limitations, and in-exam navigation restrictions.
Why choose Test Invite:
• Test Authoring. Create custom tests.
• Security and Proctoring.
• High Scalability.
• Has a marketplace where companies or instructors can buy then use professional aptitude assessments in the recruitment procedure.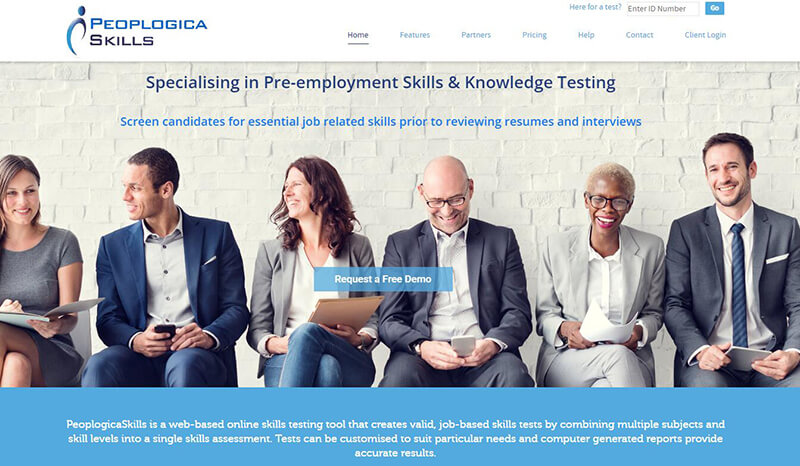 PeoplelogicaSkills is a cloud-based skill testing software that enables organizations to produce credible, job-based skills assessments by merging several disciplines and ability levels into a single skills assessment. The platform allows users to create custom tests using predefined topics and subtopics.
PeoplogicaSkills lets users look at candidates' technical and human resource management skills and professional skills like languages, IT, business management, and more. Additionally, it offers interaction with various outside HR management systems, allowing businesses to speed up the screening procedure. The straightforward dashboard makes it simple to retrieve test results, and HR managers may also receive them via email. Candidate login and test result management via API integration are available on request.
Why choose PeoplelogicaSkills:
• Customizable Tests and Straight Forward Reports
• Assessments screen candidates for essential job-related skills by combining audio and video interview questions with other skills tests and simulations.
• Increased accuracy of hiring processes. Real-time, computer-generated reports provide organized and accurate results.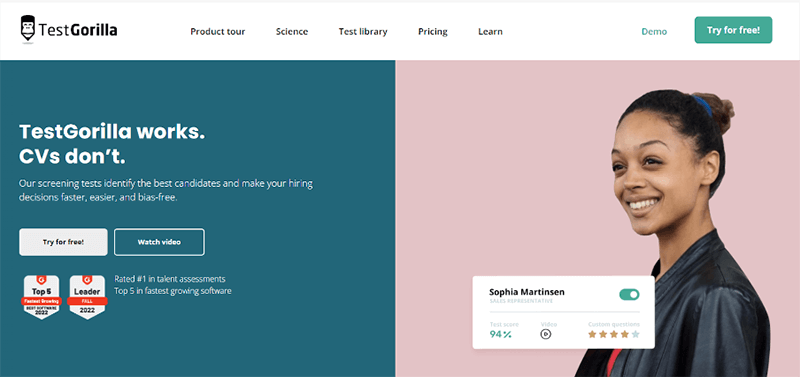 TestGorrilla is a well-known pre-employment assessment software designed to help businesses efficiently manage the entire hiring lifecycle. It helps create assessments efficiently, invite candidates to the evaluation, and even perform in-depth reviews. To stop exam cheating, administrators can view automated screenshots of candidates' screens while exams are still in progress. They can also get notifications when candidates attempt to quit full-screen mode.
TestGorilla also offers a built-in library for hiring teams to select specific assessments, job roles, or employment tests that can then be customized according to the company's demands.
Why choose TestGorilla:
• Customizable Tests and Straight Forward Reports.
• Offers a library of wide-ranged scientifically validated tests (i.e., job-specific skills, aptitude, personality, and emotional intelligence)
• Expert certified test scores ranking.