Are you a busy person who values time? Are you wasting it on making quizzes manually? Whether it be in the working field or the teaching field, time is gold! You can do a lot more in a day than just making assessments and quizzes one by one. Making quizzes and distributing them all at once can be tricky. Tracking and monitoring your students or employees is also a hustle. And the fact that you have to check all of them afterward takes the cake.
You could do much more with your time and energy put in the right place. And that thought kills the motivation you have left. But what if there was a way to save time and do the job all at once?
Well, you're in luck! Technology has brought us the perfect solution. Make your job easier with the top 7 online quiz creators of 2023!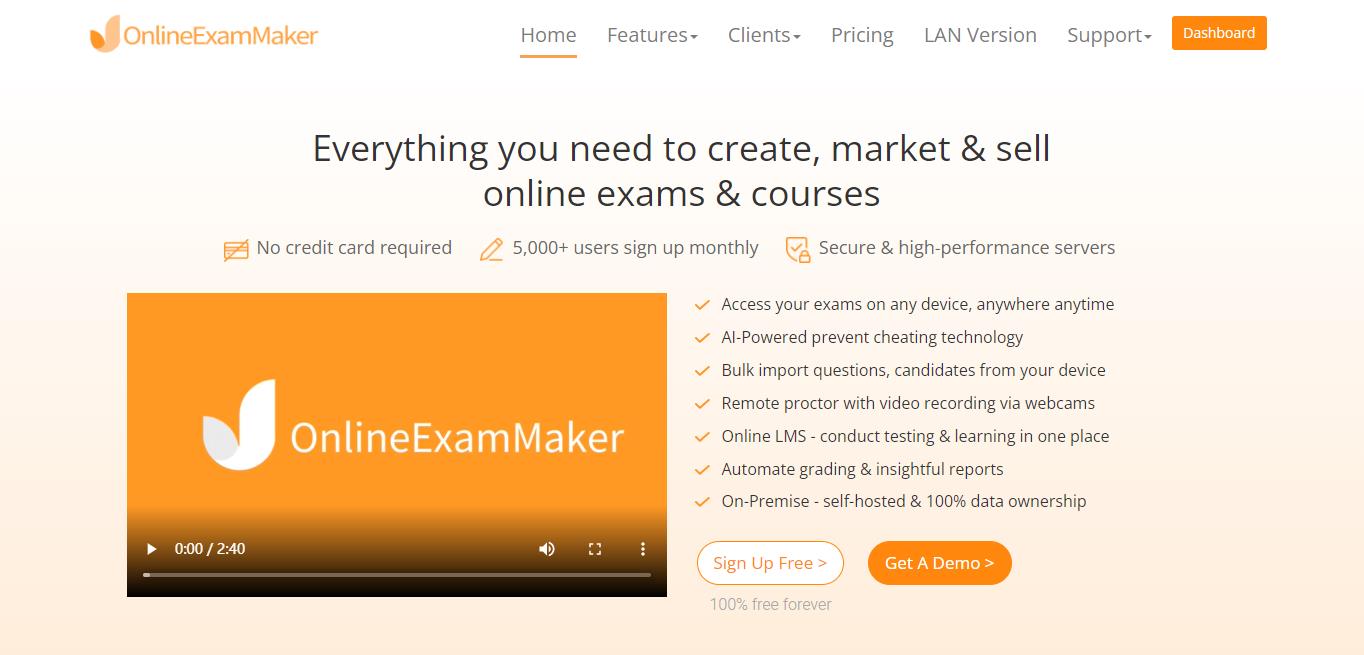 OnlineExamMaker is the quiz maker you need! Its user-friendly software helps teachers or employers with their tasks all the time. It allows you to use a medley of question types. With three different paper-forming modes, you can compare tests effortlessly. OnlineExamMaker also has a magnificent anti-cheating system that tracks suspicious activity during exams!
With its powerful system, you can build extensive question banks. You can create a quiz or assessment with ease in four easy steps! OnlineExamMaker also helps you organize a large number of participants. Rather than managing everything separately, this software does it all for you! It has a brilliant test marking system that shows the scores right after. And it provides you with a detailed data analysis or test report! Not only is it efficient, but it also reduces your workload a ton. Start making smart decisions with OnlineExamMaker now!
Key Trademarks:
● Assortment of Question Types
● User-Friendly Interface
● Automatic Test Data Analysis and Report
● Flexible Question Bank
● Stellar Anti-Cheating Measures
Create Your Next Quiz/Exam with OnlineExamMaker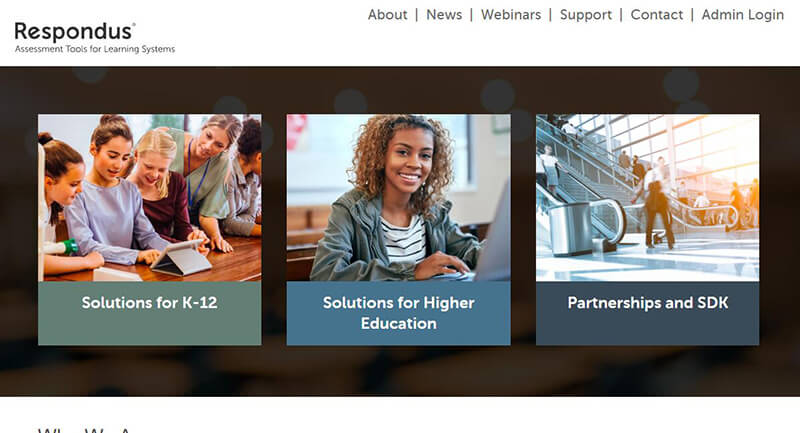 Respondus 4.0 is a software that provides the soundest assessment tools for educators. Its software can create exam questions, self-assessments, and learning games for thousands of schools and universities! Its technology is in 70+ quiz platforms! It can range its service from homework systems to certification testing. Respondus is a handy system in education, training, and certification. You can author and manage exams for your Learning Management System of choice!
Respondus previews, prints, and publishes exams instantly to an online course! And it allows you to move tests from one Learning Management System to another. Not only that, but it permits you to move tests between different courses! Respondus saves time and empowers its users!
Key Trademarks:
● Beginner-friendly
● Flexible Test Movement
● Lockdown Browser
● Respondus Monitor
● Respondus Test Bank Network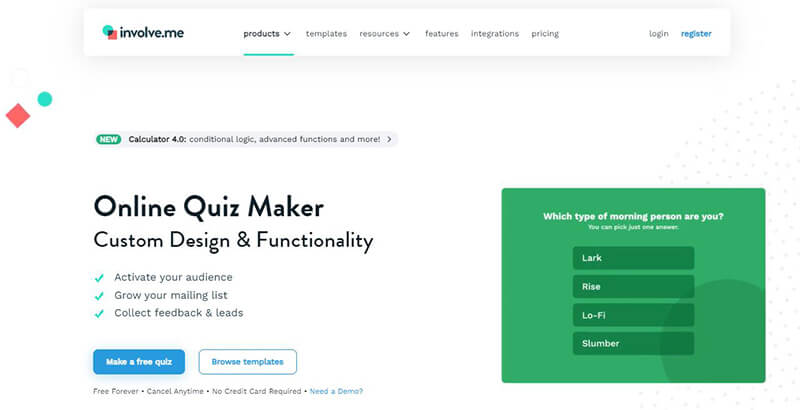 Involve.me is another leading online quiz creator with a custom design and functionality! You can explore your creativity with their variety of test templates. It lets you learn more about your students or employees. Involve.me helps you identify the areas where they need to work or practice. It's also a fun turn on making quizzes and assessments! With Involve.me, you can create feature-rich online quizzes without the need for a designer!
Its powerful system can produce engaging tests and quizzes that spark the imagination! You can customize and tweak everything to your liking. Involve.me gives you options to distribute your quiz as landing pages or embed them in your website! You can even send your students or employees their results with additional feedback. All this without a third-party tool! Cool right? Involve.me is trusted by over twenty-thousand businesses and organizations worldwide!
Key Trademarks:
● Creative Display of Scores
● Fun Coupon Codes
● Multiple Quiz Outcomes
● Drag & Drop Editor
● Detailed Design Settings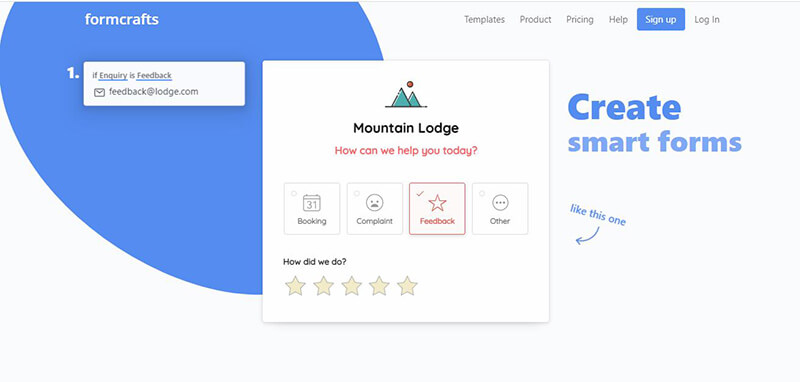 Start your quizzes with FormCrafts! Its online software enables you to create over 20 question types or modern form fields! It varies from primary purposes to surveys and much more. FormCrafts has a straightforward interface that lays out the different forms! You can choose from an array of templates made just for you.
It has a trial plan which allows you to use the premium features for 21 days! With FormCrafts, you can add your team to your account without a problem. The contracts aren't locked in. It means that you can upgrade or downgrade your plan at any time. FormCrafts has a collection of budget plans that helps you save money! They even offer discounts for non-profit organizations. Your bills are pro-rated, which means you only pay for what you use! And you can switch plans at any time during your use of FormCrafts.
Key Trademarks:
● 21-day Free-Trial
● Flexible Payment Plans
● High-grade SSL Form Encryption
● Pro-rated Billing
● Discounted Plans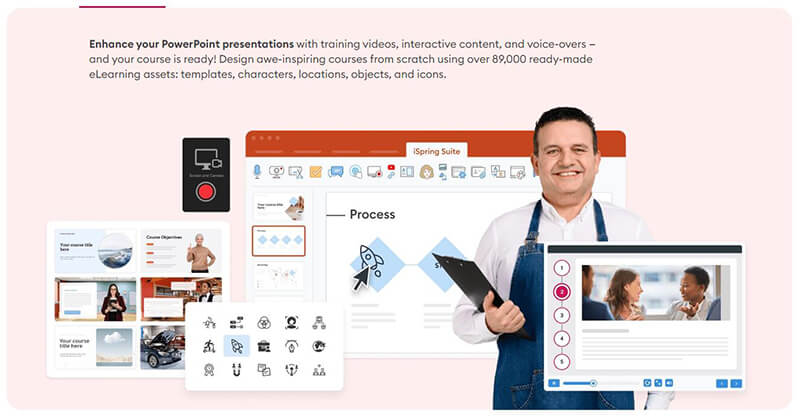 Make quizzes, exams, and surveys right out of the box with iSpring! With iSpring, you can create online quizzes and assessments with ready-made question templates! It has a customized design feature and diverse testing rules. With iSpring, you can monitor your students' or employees' results online! Its software enables you to create interactive and fun quizzes.
iSpring also has a 24/7 support system that can answer your questions! With its easy-to-use software, you can create efficient quizzes and tests. These tests can also identify skill gaps in students and employees. Not only does this help you, but it also helps your worker or student improve! iSpring reduces your funding and increases your productivity!
Key Trademarks:
● Attention-grabbing Quizzes
● Fully-automated Employee Assessments
● Audio-based Questions
● Quizzes and Tests with equations
● Insightful Reports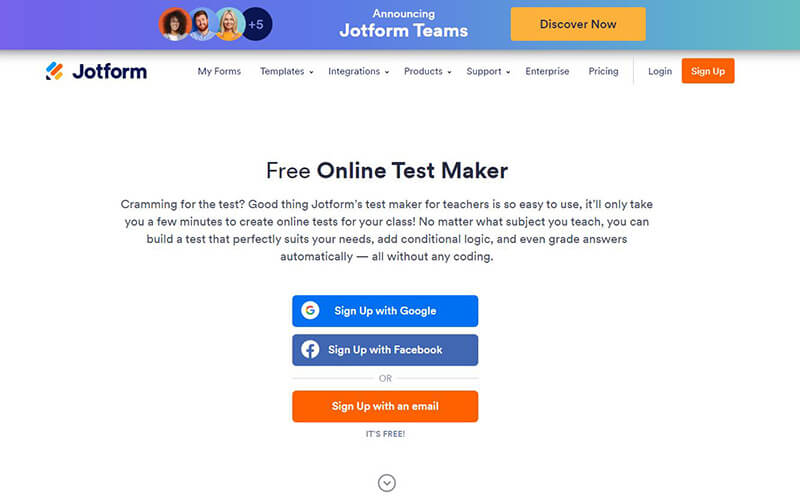 You can create powerful forms and quizzes with Jotform! Jotform helps with transforming busy work into less work. Its software provides powerful forms that use conditional logic to assess and train your students or employees! Jotform allows flexibility in budgeting and payments which saves your resources. It can generate reports that you can review after giving out quizzes. With this, you can check in and monitor your students' or workers' progress!
Jotform has a very efficient automated workflow that does the job for you! You can build the form or quiz you need within a short span of minutes. It even allows you to integrate your forms with different business apps!
Key Trademarks:
● Customized Form Builder
● Seamless Online Payment
● Creative Form Templates
● Discounts for Educational and Non-Profit Use
● 24/7 Customer Support
Last on the list is none other than Question Writer! Question Writer is an award-winning quiz software that can cater to unlimited quiz takers. It has over 20 quiz templates and easy-to-use question forms! The different quiz types enable you to test and train your workers or students. You can also choose from a display of questions choices. You don't have to worry about learning because its direct interface explains every use!
Question Writer has different themes of choice and a collection of fonts you can use. Its software is international-friendly and can cater to over 10 different languages! It enables you to import and export your forms with comfort. Question Writer is a helpful software for employers and teachers alike!
Key Trademarks:
● 30-Day Free Trial
● Rapid Authoring
● Easy Import and Export Feature
● Multiple Languages
● Unlimited Use