It is always tricky to find talented employees based on performance. After posting a job offer, you may find many talented people, but assessing the right person based on skill is challenging. The competitive market jobs are also short, so you may have multiple messages or resumes in your email. So you must be careful while assessing the skills and hiring the relevant person based on performance, not only the educational background.
The hassle of finding the right employee is easy through skill assessment software. The skill assessment software will help you know about a person's credibility and potential performance.
Here we will share some best skill assessment software for employee performance so you can find one according to your choice.
Now let's dive into details.
Things to consider for choosing the skill assessment software
Skill assessments have different kinds of tests, including traditional, paper, and pen assessments. The skill assessment software has automated tools for testing an employee's skills. It will make the skills testing easy through the assessment process.
Now you can choose the customized skills after proper assessments, then particular software is also available. It will help you to assess the skills in a particular niche according to your business.
Here are some essential things to consider for choosing the best skills assessment software.
Easy to use
There is no need to choose specialized software for assessing the skills for employee performance. If you are tech-savvy, you prefer looking for clean and intuitive design. The easy-to-use interface will help evaluate the performance and simplify the process with modified testing.
Ready to use templates
Always check whether the skill assessment software is ready to use templates. It will make your assessment process easy, and you don't need to put your questions and other relevant information. The ready-to-use templates will help to assess the employees according to your niche. It will determine the specific skills and knowledge about the potential scoring in your industry.
Unique software
Every software has unique features, but some tools have traditional questionnaires and assessment criteria. You need to choose special software to get better templates. So ensure to navigate through different software and then select the best option.
Automatic assessment
The automatic assessments and feedback will also make your assessment process easy. So when you hire bulk employees, there must be a resulting automated system. It will provide quality results with mindful analytics.
Best skills assessment softwares
There are plenty of skills assessment software in the market that you can choose according to your industry niche. Here we will share some best software that is unique and versatile from other softwares.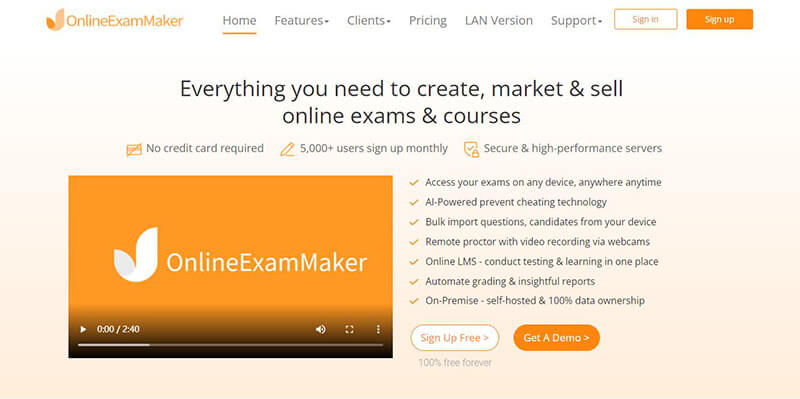 OnlineExamMaker is one of the most easy-to-use skills assessment software. The cloud-based system is based on an AI enabled system and ensures the integrity of candidates through automatic testing. So you can quickly test the employees through key features.
● Contain more than 10 question types
● Provide AI proctoring system for maintaining the test integrity
● Able to conduct live candidates
● Complete AI data insights for testing important skills.
● Cost effective per annual basis.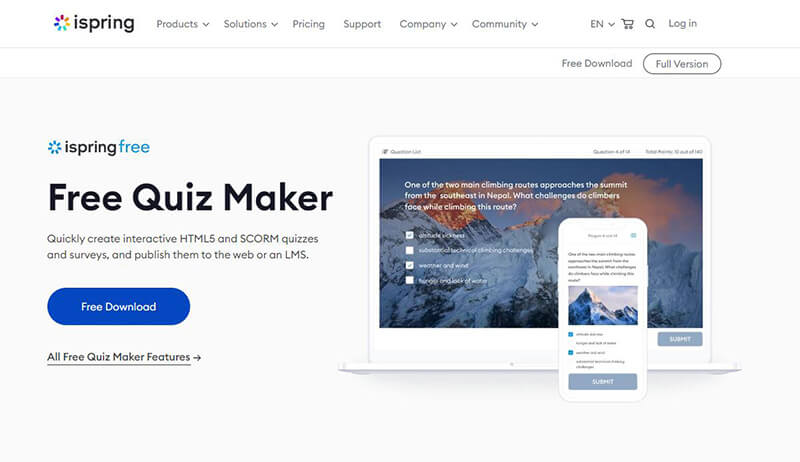 iSpring suite max is a great tool for recruiters as it allows you to interact with other courses and build tests according to your niche. So it is the best place for assessing and training the employees. The key features of iSpring suite max include:
● Fourteen different kinds of questions, including a quick answering interface.
● Detailed feedback through an automated email system and assessment results
● Group questioning when your assessment includes different niche topics
● Strict testing rules include time limits, limited attempts, and negative markings.
● Randomize questions in every attempt for better assessment
● Robust reporting and automatic assessment results.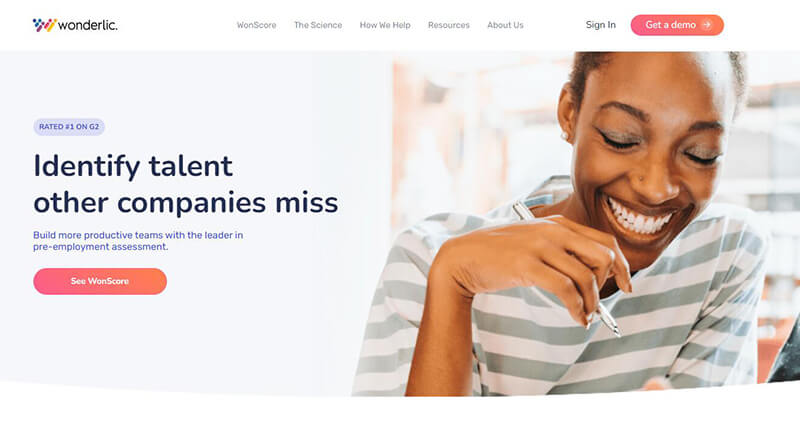 It is the best skills assessment platform for veteran people who want to hire employee after proper testing. It is a data-driven software that you can revamp for every test. The most highlighting features of Wonderlic include:
● Allow to take assessment for team and individual employees
● Give job-specific results for hiring teams
● Complete three type of tests in a single assessment including cognition, personality, and motivation
● Help to Build AI platforms for better testing of employees.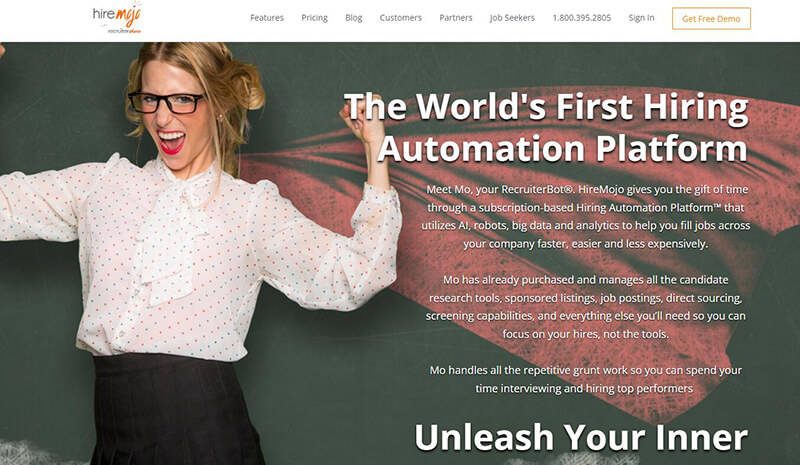 HireMojo is the best choice for high-tech skill assessment using AI-enabling and big-data robots. The analytics will help you to analyze every aspect according to your job description. It will simplify the recruitment process with limited opportunities and customize the tests.
The key features of HireMojo include:
● Quick and smart job marketing for getting the most determined person according to your job description
● Ability to arrange online interviews and eliminate unsuitable persons
● Robust and automatic scoring for all questions
● AI and robots technology will give predictive analysis.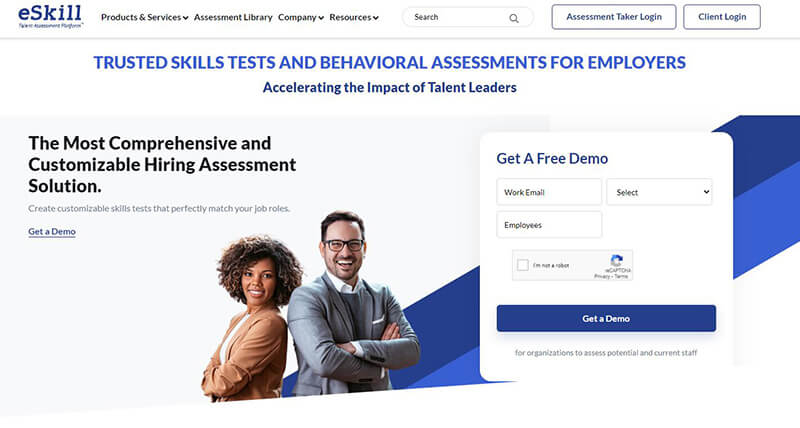 eSkill is one of the solid skills testing tools for organizations to virtually hire an employee. You can screen many employees and hire the best choice according to your choice. Every industry has particular requirements, so eSkill will help you to hire the candidate through proper testing and video-responsive questions. You can also change the templates for your industry skills needs.
The key features of eSkill include:
● Effective branding by eSkill will help you to promote the company and hire the best employee.
● Massive skills library and video response for testing the customized skills.
● It will integrate into your HR system and management database
● Flexible pricing for every subscription to test the employees.
● Digitise the paper testing and training materials for quickly tracking your employees.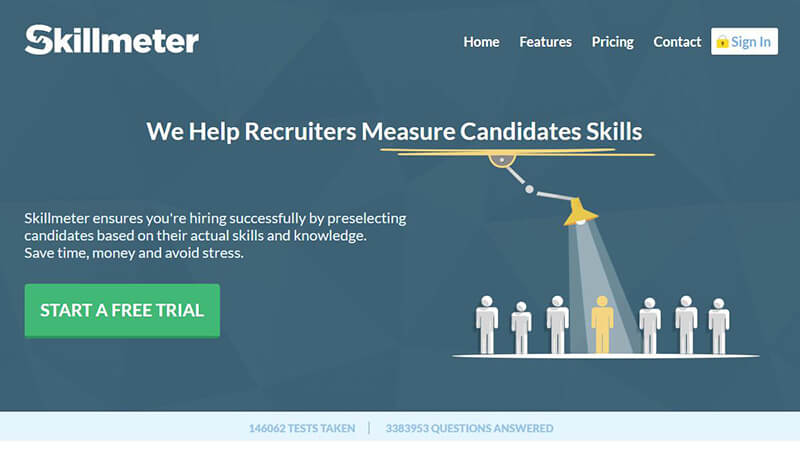 Skillmeter is the best skills assessment tool for hiring teams rather than an employee. It helps to hire the team based on their knowledge and skills relevant to your niche. Skillmeter is famous in the market due to its high customization facilities and branding potential.
However, the key features of the skillmeter include:
● Provide test results for every individual instantly
● Customise the tests and branding by using subdomains
● Contain the 12 different question types based on ranking, typing tests, and many more.
● Convert the online assessment test to a paper test for a single employee assessment
● Provide reports and test result in the form of excel sheets
● Manage multiple candidates for testing at a time.