During the outbreak of the epidemic, online examination system has provided great help to schools. Weekly exam, monthly exam, midterm exam, and final exam all use online exam system. Have you ever heard of any online exam maker? One of the most promising systems is Online Exam Maker. This software can effectively solve the difficulty of transforming from offline examination to online examination.
What functions of Online Exam Maker can reflect its practicability?
Online Exam Maker supports batch upload of test questions. Users only need to edit the test questions according to the template, and then through the batch upload function, they can import the test questions with one click, getting rid of the traditional mode. At the same time, the system also supports three test paper generation mode, including Pre-selected, Random, and Pre+Random, which save a lot of time for users.

In Online Exam Maker, the user does not need to worry about cheating. As long as the webcamr is turned on, the system will act as an invigilator. It can intelligently detect cheating actions in the examination.
For example:
Test takers are detected to make bow, turn and other suspected action.
Voice can be detected during test.
No face is detected (the face is not within the range of the camera or is blocked).
Multiple faces can be detected.
Substitute candidates can be detected (used with face recognition).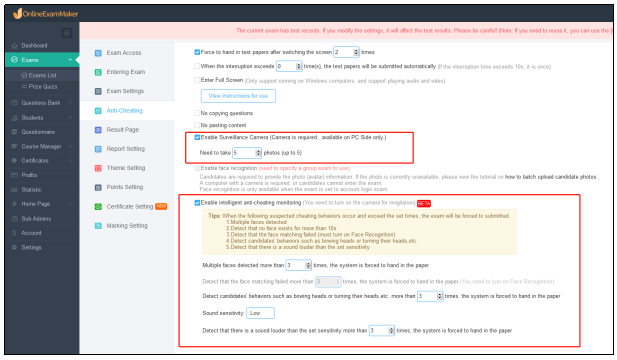 Multiple sub-account assistance
What is a sub-account? In Online Exam Maker, the sub administrator has most of the functions of the main administrator, such as the management authority of the examination paper and question bank and that of the examinee. The main administrator is just like the level director, while the sub administrator is just like the teachers of all subjects, managing the students together.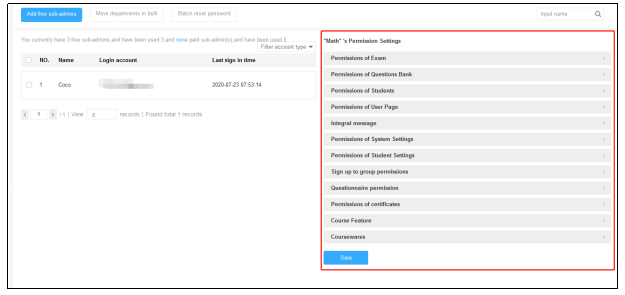 For each test, candidates with different scores can get corresponding points. After several exams, users can reward the top students according to the ranking. This method can stimulate students' desire for learning.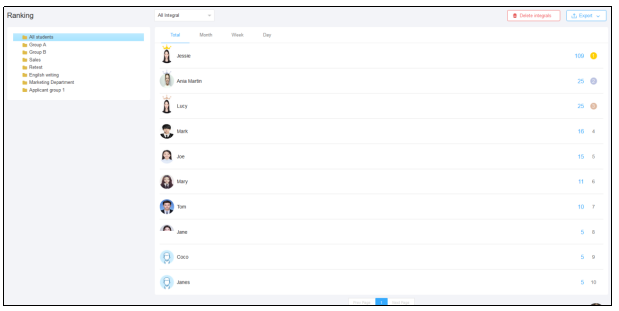 In addition to the above advantages, Online Exam Maker is an enviroment-friendly software devoted to creating a paper-free online exam world. After listening to my introduction, how about your feelings about our software? If you have any questions, please feel free to contact us!