What are the Reasons of creating an open online Exam in the Online Exam Sysyem? Can exam online actually benefit your school courses? Here are the TOP 5 reasons to use online exam systems for schools!

*Profession
All manner of the software supporting the Online classes have emerged.
As we know, learning and examining are tightened. Exams are always needed after classes. So, a professional online exam system is being pursued. Since exam online cannot be monitored by teachers as in the classroom. The online exam system with intelligent Anti-cheating function makes online exams more professional and fair.

*Learning Without Limits
Online examination is taken regardless of time and space as traditional exams require students to gather at a particular time and specific space. Under circumstances now, schools and education institutions are suspended. It is impossible to gather students around. Applying an online exam system is a forward tools for now and future. Not only exams, quizzes, but also questionnaires can be organized in it. It can provide a lot of educative resources for school teaching.
*Increase Access to Education
Offline education and online education can embrace each other well. Online exam is a fresher and interesting way of conducting exams. Online exam system could be a useful and necessary helper for offline exams.
*Facilitate Distance Eduction
Online exam system requires no physical logistics, like scheduling process. When you need to conduct online exams that large numbers of people must complete (pre-class quiz, final exam and questionnaire for example), online exam system is an ideal choice. You can launch an exam and notify students they must complete it by the deadline, and all you need to do is view reports to find who has and has not submitted exams and who has got the good score and who got the bad. Scheduling, organize exams, printing exam paper to accomplish the same exam could take weeks to complete, not to mention the repeated sessions that need to be re-scheduled to accommodate those unpredictable things like who failed to attend their originally scheduled session, original exam paper missing, answers leaking and etc.
*Convenience
Materials Saving: Traditional offline exams require a large number of printed test papers and need to make reasonable schedules. Creating exams in online exam system is easy and fast. In Online Exam Maker, it only 4 steps to create and publish the exams, and then release to students for examinations.
Intelligent Scoring: Manual marking is not needed, because the system supports an automatically scoring, which is fast and accurate. In terms of objective questions, the system can automatically judge. Subjective questions can also be marked with keywords, which truly achieves intelligent scoring. After exams, a detailed report will be formed for students to check their weakness; a ranking list to know their degree of learning results in his or her class and the whole grade. It really meets the sustainable development needs of the school and students!
Devices needed: The organizers only need to share the corresponding link and QR code, or email students to attend exams. Students can attend exams on PC or Mobile phone as long as they are available. Students don't need to worry not able to attend in time with no computer or phone in hand.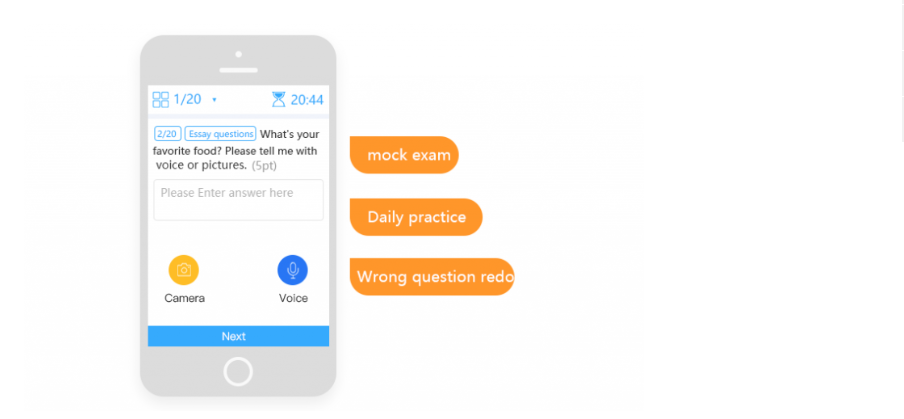 Applying a professional online exam system with convenience, accessibility and no limits is making effort to facilitate distance learning for schools. Sign up in Online Exam Maker now and get it improved your education.